On this page you'll find all of our stories on the city of Detroit.Suggest a story here and follow our podcast here.
Why are so few Detroit streets named after women?
Streets in Detroit have many origins. They're named after civil rights leaders, forts from the 1820s, cities in other states, and early leaders in Detroit's history.
But what are Detroit streets rarely named after?
Women.
A recentanalysis by Mapbox developer Aruna Sankaranarayanan plots "male" and "female" streets on maps of major cities, including London, Mumbai, Paris and San Francisco.
The findings? On average, 27.5% of streets are named after women.
Michigan Radio set out to analyze the history behind streets in Detroit, focusing on downtown. We traced the history behind the 55 streets that make up downtown Detroit, bordered by East Jefferson Avenue, Chrysler Freeway, John C. Lodge Freeway and Fisher Freeway.
Our findings?
Thirty-four of these streets are named for men.
Fifteen streets aren't named for people at all. They're named for trees, geographical landmarks and more.
We couldn't find the origin behind the names of five streets.
And only one is named for a woman -- Elizabeth Street. It was named by the first elected mayor of Detroit, John R. Williams, in honor of his daughter.
Downtown Detroit grew quickly in the mid-1800s. According to Joel Stone, senior curator at the Detroit Historical Society, between 1820 and 1830, Detroit's population nearly doubled. From 1830 and 1840, the city more than tripled in size. Streets needed names, and the most prominent Detroiters -- politicians and early settlers -- were men.
Stone said that most streets in Detroit were named by 1960, when city government was still controlled by men.
"Prior to 1960, men held all the positions in the mayor's office, and on the various boards, councils, and developers that made these decisions," he said. "I would suggest that most street names in the city were assigned by men."
In areas that developed later outside of downtown, streets named for women become easier to find, but still are few. Most are named after the wives and daughters of influential men.
Alexandrine Street, on the east side near Midtown, is named after Bernard Campau's wife, and Piquette Street in the New Center neighborhood is named for his daughter.
Adelaide Street in Eastern Market is named for Elijah Brush's wife, and on the east side, Spencer Street is named after Lewis Cass' wife's maiden name.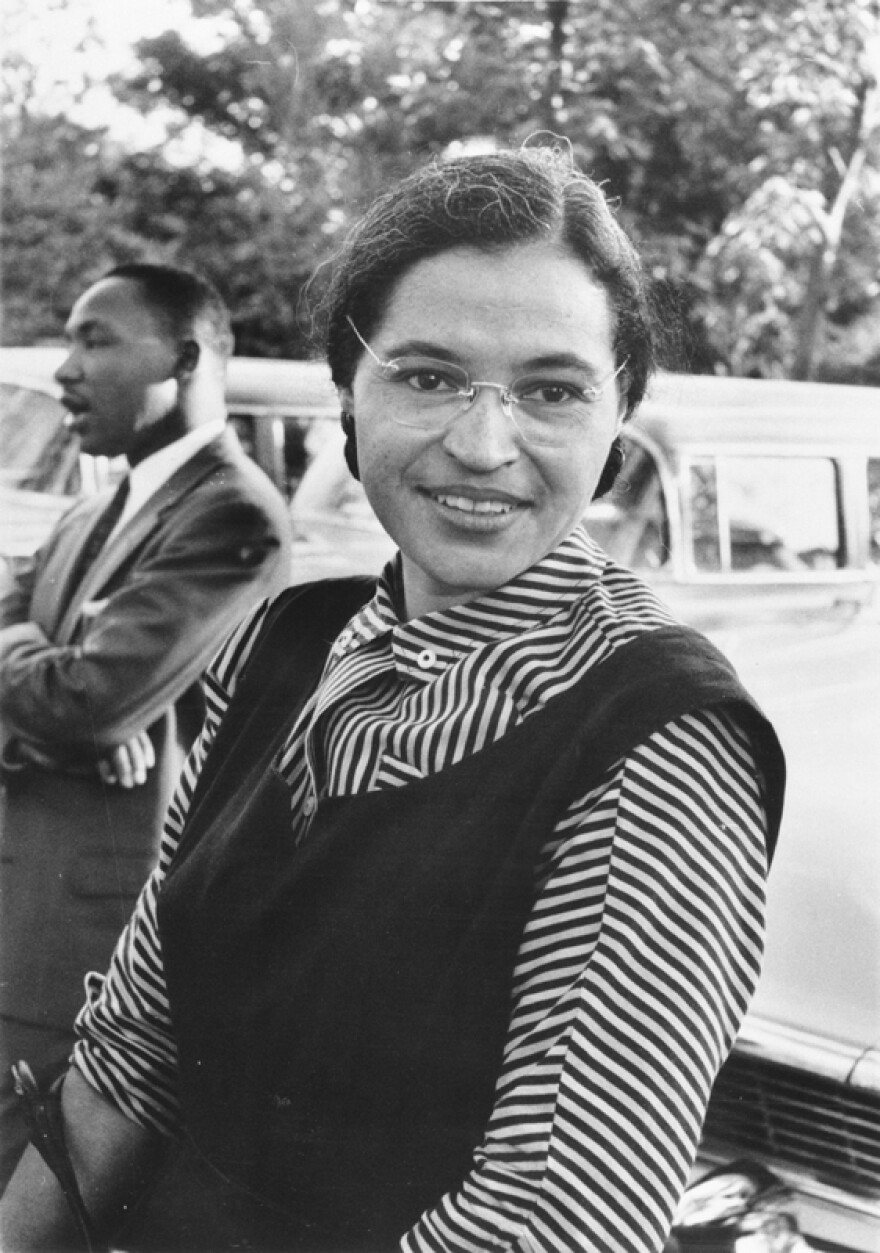 Rosa Parks Boulevard is one of the only roads in the city named by an influential woman.
In 1976, mayor Coleman Young and the Detroit City Council -- of which two members of nine were women -- renamed 12th Street in honor of the civil rights leader.
Amy Elliott Bragg is the president of Preservation Detroit, a conservation organization. She said that although street names can be telling, there are many stories -- especially about women in early Detroit -- that aren't as visible, but are still important.
"Lewis Cass was a really important political figure in early Michigan, but I don't think we would know as much or care as much about him if there wasn't a major road running through Detroit called Cass Avenue," she said. "But a lot of women found a way to contribute to their city. These legacies are still around, even if they aren't as physically or visibly evident."
An example is Mary Chase Perry Stratton, who founded Pewabic Pottery in 1903. In 1907, it moved to the Jefferson Avenue location, designated a National Historic Landmark in 1991. Pewabic Pottery can be found in museums, churches and public buildings all over the world.
And Beulah Groehn Croxford was an early activist for historic preservation in Detroit, something Bragg wrote about for Model D Media. Croxford owned a home in what is now the West Canfield Historic District in the Cass Corridor, and after two houses on her block were slated for demolition, she became an activist for historic preservation. West Canfield became Detroit's first historic district in 1969.
The fact that most Detroit streets are named after men is hardly unique. It's a trend reflected in cities worldwide.
In Rome in 2012, a group of women went through more than 16,500 streets and found that only 3.5% of them were named for women.
And in August, a French feminist group renamed 60 Paris streets after women. Previously, only 2.6% of streets were named after women, and most of them after wives and daughters of influential men.
What does it take to get a street renamed, like 12th Street was in 1976?
Proposals must be presented to and approved by Detroit City Council committees. Currently, plans are underway to rename streets after three men: musician Stevie Wonder, boxing star Thomas "Hitman" Hearns and Eugene Gargaro Jr., chairman of the board at the Detroit Institute of Arts.
Bragg said that it's integral to talk about the stories of female Detroiters, so that they aren't forgotten.
"I have to remind myself that the stories of women may be harder to find and take a little bit more legwork to uncover, but it is such important work to do," she said. "Because otherwise, the stories disappear."
So how about some proposals for philosopher and social activist Grace Lee Boggs, singer Aretha Franklin, and comedian Lily Tomlin?
Click around on the map below to see the origins of different streets.
Can you think of any other prominent Detroit women who should have a street named after them? Let us know in the comments below!