Tremendous beer is now part of Michigan's soul, author says
Author William Rapai drinks a beer at Arbor Brewing Company in Ann Arbor.
Jodi Westrick / Michigan Radio
Rapai (left) and Graham (right) drink and discuss Michigan beer.
Jodi Westrick / Michigan Radio
Tremendous beer has "become part of the soul of our state."
That's what William Rapai told Stateside host Lester Graham at Arbor Brewing Company in Ann Arbor the other day.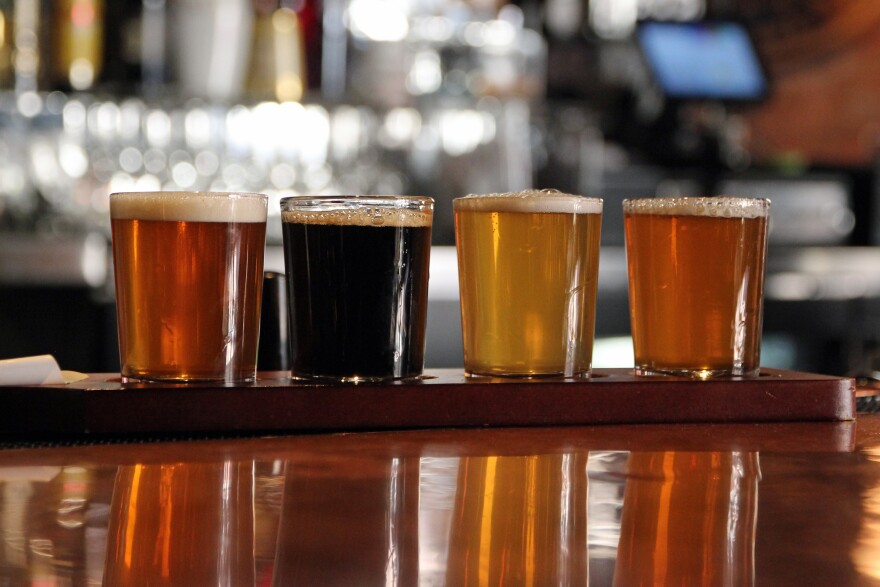 Rapai is author of a new book titled Brewed in Michigan: The New Golden Age of Brewing in the Great Beer State.
While enjoying some beer themselves, Rapai and Graham discussed who brews beer in our state, how brewers go about making Michigan beer, and how beer became a part of Michigan's identity.
Rapai started by explaining what makes Michigan beer different. Here's what he said:
"Well, for starters, it's the water," Rapai said. "We have terrific water to work with. Second, it's the ingenuity of the Michigan brewers. These are creative people. And third, it's the passion.
"They want to make beer as good as they can. They wake up in the morning, they think, 'What am I going to do today to make a great beer?' They go to bed at night thinking, 'What am I going to do to make that beer even better tomorrow?' They have left jobs where they were working behind desks, they were doing all kinds of professional jobs, and they said, 'No, I would really prefer to be making beer.' And they just followed their passions."
Listen above for the full conversation.
(Subscribe to the Stateside podcast on iTunes, Google Play, or with this RSS link)