Two Detroit artists on how they use painting, photography to capture complexity of black life
Sydney James in front of her mural "Our Issues." James said it wasn't until she started painting murals in 2014 that she fully realized the power of having black people represented in fine art portraiture.
Courtesy of Sydney James
A portrait by Justin Milhouse. Milhouse often uses what he calls the "one light" technique and dark backgrounds in his portraits to draw attention to a particular aspect of the subject he's shooting.
Courtesy of Justin Milhouse
"Maya Ode to Sweet Thang" by Syndey James. 2019. Acrylic and oil on canvas, diptych. James said she wants to paint black women not as they're seen by the world, but how they deserve to be seen.
Courtesy of Sydney James
Milhouse's mother is Judge Donna Robinson Milhouse. Justin took this photo to commemorate her 20th year as a judge in Detroit's 36th District Court.
Courtesy of Justin Milhouse
The fine art world has not always been friendly to African American artists. But that's starting to change, and black artists are now more visible than they've ever been. That includes prominent artists of the past, like Harlem Renaissance painters Jacob Lawrence and Norman Lewis, as well as more contemporary figures.
In 2017, a 1982 painting by Jean-Michel Basquiat sold at auction for more than $110 million. The presidential portraits of Barack and Michelle Obama, painted by Kehinde Wiley and Amy Sherald respectively, put an international spotlight on contemporary black portraiture when they were unveiled in 2018.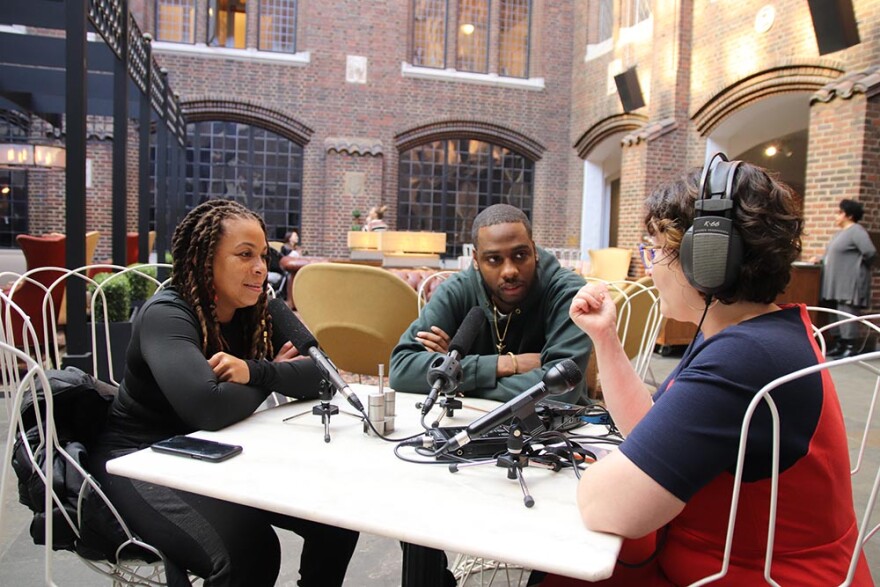 We talked to two artists living and working in Detroit to talk about the role portraiture plays in representing the experience of black Americans. Sydney James is a fine artist and muralist. Her work can be seen around Detroit, Los Angeles, Atlanta, and elsewhere. Justin Milhouse is a photographer and filmmaker with a full commercial and sports portfolio, in addition to his art photos.
You can find examples of James' and Milhouse's work, as well as excerpts from our conversation, in the slideshow above.
Support for arts and culture coverage is supported in part by an award from the Michigan Council for Arts and Cultural Affairs.
Want to support programming like this? Consider making a gift to Michigan Radio today.