Michigan wine: Success in a bottle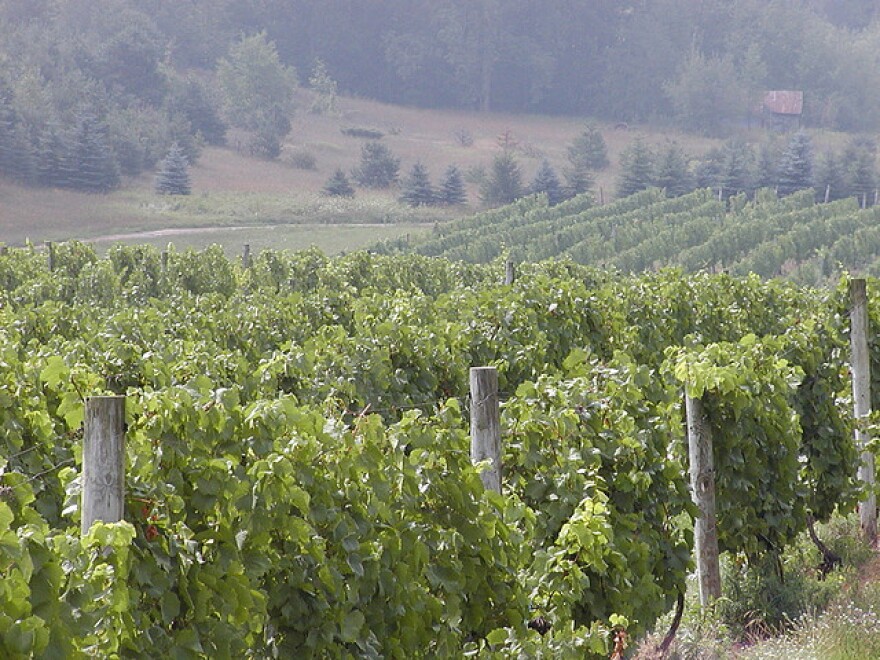 As we continue our "What's Working" series this week, Christina Shockley sits down to speak with Linda Jones, the Executive Director of the Michigan Grape and Wine Industry Council. Over the past decade, the wine industry in Michigan has grown ten to fifteen percent each year, with most of the wine being produced in the southwest and northwest regions of the Lower Peninsula.
With 14,600 acres of vineyards, Michigan ranks fourth amongst all states in grape production. Most of these grapes are used to make juices, but about 2,000 acres of vineyards are devoted solely to wine grape production, making Michigan the eighth largest producer of wine grapes. Ms. Jones says that when we talk about Michigan's wine industry, we are really talking about the grape industry as well.
"They're an integrated function. Many of the wineries in Michigan grow their own fruit. And our program is housed in the Michigan Department of Agriculture because wine is really an exemplary industry for value-added agriculture, meaning you take a crop that is grown here in Michigan and you add value to it on the farm property and attract customers to come and visit you, and that translates into a huge economic boom for that area when you can do that."
In a state that has seen its industries and population decline in the past decade, Michigan's wine industry has continued to grow steadily. Jones says this is because wine production incorporates two of Michigan's strongest assets.
"It combines our second and third largest industries: agriculture and tourism. Michigan is a long-standing fruit-producing state, especially on the west side of the state, but increasingly throughout Michigan we are planting wine grapes with new varieties that are being developed."
But Michigan isn't just good at growing fruit because we've been doing it for centuries. The climate in Michigan is particularly well-suited for growing grapes, says Jones.
"We have a great climate for fruit because the Great Lakes provide some moderation to our climate that makes it more ideal for growing tender fruit, like wine grapes, than some of our surrounding states. So we have a climatic advantage, which we like to call `the lake effect', which makes Michigan an ideal place to grow wine grapes. And then our entrepreneurs have capitalized on that and developed their wine-making skills to make very fine wine here."
On top of Michigan's agricultural advantages when it comes to grape growing, the wine industry also benefits from Michigan's strong tourism industry, says Jones.
"A lot people have their first exposure to Michigan wines when they're travelling throughout the state and they come upon a winery, or they plan to go to a winery for a weekend trip, and they taste a lot of different wines. And that's a great way for people to learn about how they enjoy wine because they can talk to somebody knowledgeable and have a number of different small samples to learn about their pallets and what kinds of wines they like."
After visitors find a wine they like at a winery, Jones says they tend to search for that wine and request it from retailers in their local community.
"What we find is when people go back home, they start to seek out those wines at their local restaurant and retailer… So we're really seeing strong growth in the wine that's being distributed through wine distributors, to retailers and restaurants, to be made available to consumers all around the state."
Michigan's climate and tourism industry do a lot for the state's wine industry, but the wine industry does a lot for Michigan, as well. While there isn't any recent data on the wine industry's economic impact on the state, Jones says the figures from the past would only be stronger today.
"The last time we did analysis of this was based on data from 2005, and the industry has certainly grown twenty-five percent or so since that time. But in 2005, it was estimated that the economic impact of the wine industry was over 300 million dollars."
In the future, Jones expects Michigan's wine industry, as well as its share of the state's wine market, to continue expanding.
"Our market share is continuing to grow. Right now, Michigan wine comprises 6.5 percent of the wine consumed in Michigan, and that's doubled in about the last ten or fifteen years. And we really feel that it's very achievable to reach a target exceeding ten percent to twenty percent of the market as Michigan plants more wine grapes and its consumers become more and more familiar with the quality of wine that we can produce here."
April is Michigan Wine Month, so keep your corkscrew handy. For more information on Michigan's wine industry, visit www.michiganwines.com.
- Eliot Johnson - Michigan Radio Newsroom