To prepare workers, retraining programs try to predict the future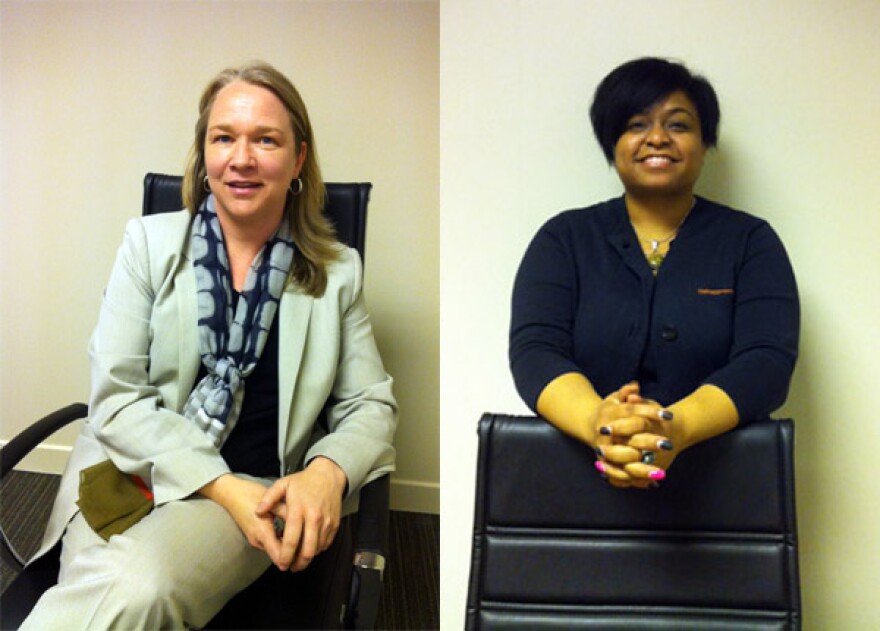 Unemployment numbers in the Midwest are bad. Not as bad as when the recession was at its worst, but there are still a lot of people looking for jobs. Even so, we keep hearing that some employers can't find enough skilled workers. Michigan Governor Rick Snyder says in his state alone, there are more than 77,000 job openings that can't be filled.
There is really only one way to bridge that gap. People need training. And the way people are getting that training is changing.
Wendy Whitmore is the CEO of EMR Approved, a company in Chicago that works with doctors and hospitals that are making the switch to electronic medical records.
Four years ago, EMR Approved didn't exist. Back then, Wendy Whitmore was running SSG Consulting, an IT consulting firm that wasn't doing so well.
So she decided to try something new, and she took 12 of her employees with her.
Whitmore still runs SSG Consulting, and some of her employees straddle both businesses, but what they're doing now is totally new.
According to Whitmore, they didn't have many other options. "At that point, what are you going to do? Do you want to continue to have a job and do something a little different or do we need to work toward shutting it down?"
That transition wasn't easy. It took about two years for EMR Approved to get on track, and those years were filled with a lot of uncertainty.
Penny Smith had been working for Whitmore since 2002, and she decided to stay when Whitmore turned her old IT company into the new IT company it is today.
"Was I taking a risk? Yeah, but I knew it was somewhat calculated as well," says Smith.
Now Smith works in business development at EMR Approved, but she had to go through six months of training and certification to get there. Training like that is a lot of work, and it's not cheap. Whitmore spent more than $100,000 to retrain her 12 employees.
But she accomplished something that a lot of people are trying to do: Break in to growing industries, like health care, by learning new things, like how to work with electronic medical records.
In 2009, the US government spent $18 billion on retraining programs. That money is distributed by state agencies.
They are trying to do the same thing that Whitmore did, which is basically like trying to predict the future.
Retraining takes time, and those agencies want to make sure that there are jobs waiting at the other end of those programs, six months or even a year from now.
Whitmore explains that there is an element of guesswork involved, "But we do know that the baby boomer generation is aging, and we do know that health care is getting a lot of attention," she says. "We've got to stick our pin in the map somewhere."
Jeff Smith is an economist at the University of Michigan. He says it's a lot harder for government agencies to make strategic decisions like that on a big scale. That's because it's not easy to make predictions.
It comes down to this: How can you use information about labor market demand to plan a retraining strategy?
Smith says, "It's a hard task, I think harder than you might think at first blush to try to figure out what there is actually demand for, in some sort of quantitative way, and then apply that information to your training program or community college course offerings."
So to help figure out where that demand is, Michigan is trying something new, a business driven model. That model is being used by Michigan Works, the association of state agencies* that hand out federal funding for retraining programs.
Tyne Lucas is the Career Transition Coordinator at the Michigan Works drop-in center in Washtenaw County.
"Our new customer is the business," says Lucas, "and that doesn't change what we do for job seekers, because if we're making sure that we're providing the businesses and the employers what they're looking for, we're doing a good job for the job seekers as well."
Michigan Works is trying to build the workforce that employers need by asking them exactly what they want.
"We try to make a perfect match. We're a match making agency for employers and job seekers," says Lucas.
And when you can match job seeker skills to employer needs, everybody wins.
This story was informed by the Public Insight Network. If you want to learn how to be a part of our network, click here.
*An earlier version of this story called Michigan Works a state agency that hands out federal funding for retraining programs.