Michigan apple growers changing orchards, adding technology to boost production
Steffens' Fuji apples are just about ready to pick.
Lindsey Smith / Michigan Radio
Shorter and more tightly packed, trellised apple trees in Steffens' orchard produce more fruit per acre than traditional growing methods. ";
Lindsey Smith / Michigan Radio
Lindsey Smith / Michigan Radio
Apples float in a sort of water conveyer belt to be sorted at Elite Apple's packing plant in Sparta.
Lindsey Smith / Michigan Radio
"The brains" of the packing plant sorts each apple by color, weight and defects.
Lindsey Smith / Michigan Radio
Workers grab apples destined for small paper tote bags or school lunches.
Lindsey Smith / Michigan Radio
A machine scans and sorts the apples according to weight, color and defects.
Apples rejected by the machine roll down a line. Many of these apples will be rescanned.
Lindsey Smith / Michigan Radio
Rob Steffens holds up an apple that the machine has rejected because of a defect on the fruit's skin.
Lindsey Smith / Michigan Radio
Shorter and more tightly packed, trellised apple trees in Steffens' orchard produce more fruit per acre than traditional growing methods.
Lindsey Smith / Michigan Radio
An automated system at Elite Apple's packing plant in Sparta lifts crates full of apples and dumps them on lines to be sorted. ";
Lindsey Smith / Michigan Radio
In West Michigan, it's apple harvest time. That may conjure up images of picturesque orchards and old-fashioned fun. But modern technologies are playing a bigger role in the business side of the apple harvest.
Right now it's crunch time for growers like Rob Steffens. He's got 280 acres of apple trees in Sparta; a part of West Michigan's fertile "fruit ridge" northwest of Grand Rapids.
Apple orchards are changing
Steffens walks me through a block of stubby Fuji apple trees. They're only about 12 feet tall, and they're strung together more like grapes than apple trees. The branches are just full of fruit.
"This block here is really going to pick heavy this year," Steffens moves back a bunch of green leaves unveiling a clump of red apples. "They're really - I mean – this is just gorgeous size fruit on here," he says with a bewildered smile.
Steffen palms a Fuji apple nearly the size of a softball. It's not just the size and color he's impressed with, but the taste too.
Michigan apple growers are expected to bring in a potentially record-setting 30 million bushels this year. Michigan is typically only behind Washington and New York state in apple production.
That has a lot do with good weather and luck, but it's also because growers have been changing their orchards.
"Our industry is changing," Steffens said, "We're planting higher density trees, higher density blocks. Even in 4 or 5 years I see a big difference in what we're doing."
Randy Beaudry studies apples after they're harvested at Michigan State University. He says growers have been ripping out older, taller apple trees and replacing them.
"The trees are shorter, they're closer together. We create what we call fruiting walls," Beaudry said, referring to the trellised apple trees in orchards throughout the fruit ridge. "That's a relatively recent innovation, but it's part of a long term trend to reduce the size of apple trees so that they're harvested more easily and more efficiently. So we don't need as much labor," he said.
Finding enough labor is not a new problem, Beaudry said, but it's been really hard this year with the huge crop.
More apples means more packing and processing
Steffens says he's got about 800 to 1,000 apple trees per acre. But when his father ran the orchard there was only about one-third the trees packed in now.
With so many new trees, growers on Michigan's fruit ridge are producing more apples per acre. Technology is helping process the extra apples faster.
Rob Steffens leads the way into a packing plant just 5 miles away from his orchard. This is where his apples are sorted, washed, waxed and packaged. He and six other growers nearby went in on this roughly seven million dollar packaging plant together. It opened this summer.
Wooden crates with "Steffens" stamped on the side tower against one wall. A machine picks up the crates and dumps the apples onto a sort of water conveyer belt. The three-foot wide river of bobbing apples moves quickly as a machine sorts them.
"Really this is the brains of that," Steffens said, pointing to a scanner that wraps around the line the apples head down. "This takes a picture of that apple, I think it's between 25 and 29 times a second. Each apple gets a picture taken of it."
Each apple is sorted by weight and color in a fraction of a second. Bruised or misshapen apples are rejected.
"See and it's kicking out fruit like this," Steffens said, picking up one of the rejected apples. "That's got a little – that – on it." Steffens points to blemish, no bigger than a dime, on the skin of one of the defective apples.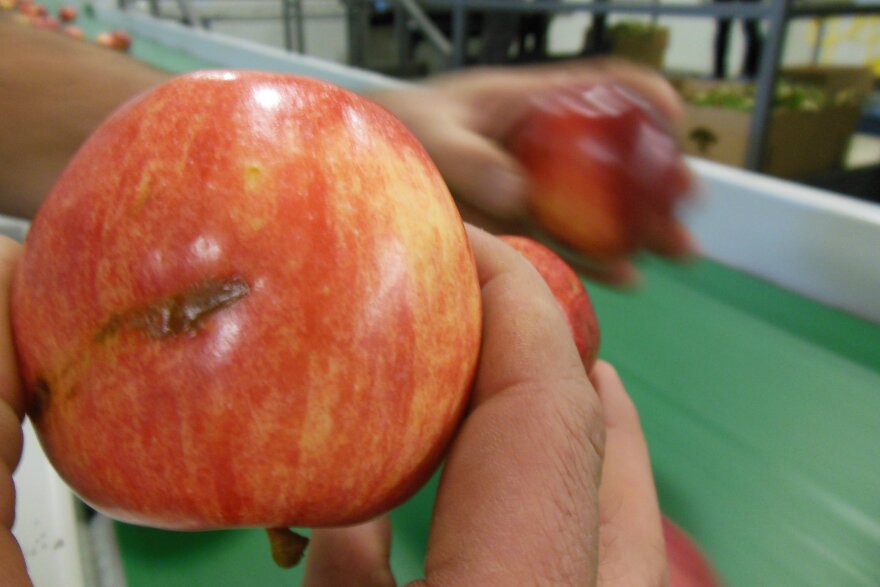 The high tech machine means the growers can process and pack way more fruit with the same amount of workers. The day I visit it was scanning almost two-thousand apples a minute.
"I know, I know – it's processing at an astonishing rate," Michigan State's Randy Beaudry said. But he says this new technology is what Michigan apple growers need to compete.
"If, for instance, a large box store says, 'OK, we want fruit that are between two and one-half inches and two and three-quarter inches' – OK. And they want them 80-percent red coloration? OK. And they want zero defects? They can get that fruit. And they can do it within a few hours' time," Beaudry said.
Beaudry says more and more technology is needed to efficiently move labor-intensive agricultural products like apples to market.
Fortunately for us, the end result still tastes like an old-fashioned Michigan apple in October.