Weekday mornings on Michigan Radio, Doug Tribou hosts NPR's Morning Edition, the most listened-to news radio program in the country.
Detroit's going to restart water shutoffs. Here's how you can avoid one.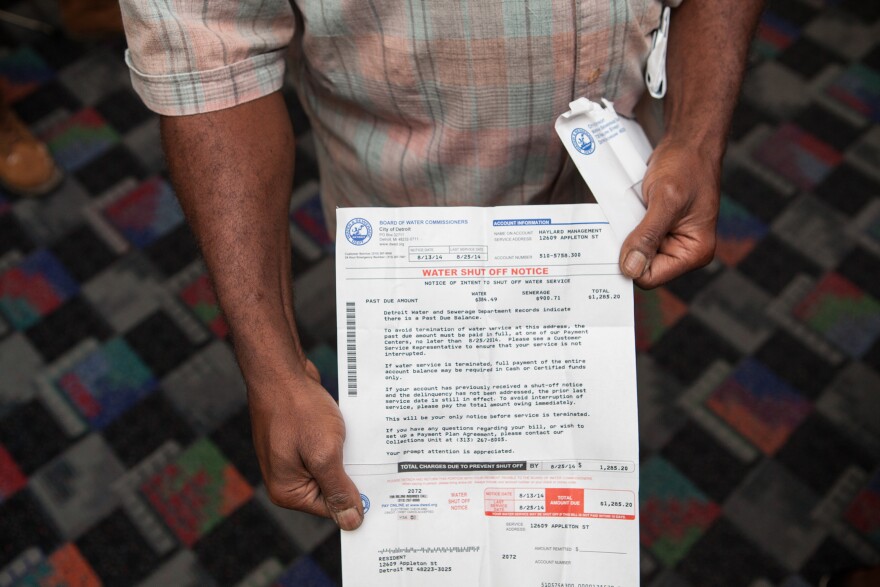 Tens of thousands of households in Detroit could find themselves with a water shutoff notice for non-payment, now that the city's moratorium has lifted after nearly three years. But Detroit Water and Sewerage Department officials say that won't happen to anyone who enrolls in an assistance program or gets on a payment plan.
The city's new water affordability plan for low-income Detroiters caps water bills at as little as $18 a month. The program, called Lifeline, also helps customers pay off their past-due water bills, and paid over $8.9 million for some 9,000 households that enrolled in the program in 2022. Department officials say residential customers racked up $85 million in delinquent bills over the pandemic.
Michigan Radio's Briana Rice and Lauren Talley discuss water shutoffs.
Ashley Patrick is a single mother of three living on Detroit's west side. She's been enrolled in the program since September.
Patrick said she owed over $1,200 to the water department and was afraid of facing a shutoff if she didn't enroll in the program. She called it a lifesaver.
"It's hard out here. Things is getting expensive. Everything is high. You know, some people are working paycheck to paycheck. Some people are still paying off debt and things like that. And when you get hit with all type of bills, $300, $400 to $200 a month, you got mortgage, you got rent, you have insurance, it adds up, it becomes a stress factor," Patrick said.
The city is also offering payment plans for residents who don't meet the income requirements for the Lifeline affordability plan. Those residents will need to put down a percentage of what they owe to qualify.

How do I avoid a shutoff?
Every residential Detroit water customer who reaches out to the department and signs up for assistance will avoid shutoff, no matter how much they owe, said DWSD Director Gary Brown.
"It doesn't matter what your income is. We have a program that will fit your needs. Every residential customer has an opportunity not to experience a disconnection or service interruption as long as they just ask for the help," Brown said.
Brown said residents will receive five to six notices before their water is shut off. The first notice is on a customer's bill. Brown said after that, letters are mailed to the residence and workers knock on doors to notify customers.
Detroit shut off water service for nonpayment about 100,000 times from 2014 to 2019. In 2019 alone there were close to 25,000 disconnections.
Almost a quarter of those families had their water shut off repeatedly, said Emily Kutil, a member of We The People Detroit community coalition and co-author of Mapping the Water Crisis.
"Unfortunately, the water department has misrepresented water shutoffs. For example, repeating that residents are only shut off for 48 hours on average, when our research has shown that shutoffs have averaged between 30 and 45 days," Kutil said during a July press conference about the city's water affordability plan. "Our research has also shown that shutoffs have dangerous health implications, which the city has consistently denied."

What is the water affordability program?
The city's new affordability plan, called the DWSD Lifeline Plan, has three rate tiers that will cost low-income families $18, $43 or $56 dollars a month, depending on household income.
Households enrolled in the Lifeline plans are limited to 4,500 gallons a month, and will be charged more if they exceed that cap. The Environmental Protection Agency estimates that the average American family of four uses more than 300 gallons of water a day, or 9,000 gallons a month.
If you think you may be eligible for the DWSD Lifeline program, call Wayne Metro at (313) 386-9727 or enroll online at https://www.waynemetro.org/dwsdlifeline/
You will need a government-issued photo ID, a current water bill, and proof of your most recent 30 days of income.

What if I'm not eligible for the low-income plans?
If you're not income-eligible for the Lifeline Plan, the city offers payment plans for both residences and businesses.
How it works: Customers make a down payment of 10%, 30% or 50% of their past-due bill.
The percentage is based on the number of payment plans the customer entered in the last 18 months. First-time enrollees have to put down 10%; the second time it's 30%, and after that the department requires 50% of the debt to be paid. The balance of the past due amount is spread out over a 6-24 month period, which the customer has to pay in addition to their monthly bill. Each payment must be made on time and in full in order to stay in the program.
If you want to sign up for a payment plan, apply online through the Customer Service Portal or call DWSD at 313-267-8000.

What is the future for water affordability in Detroit?
DWSD has about $15 million in federal and regional help to finance the affordability program initially. But Brown acknowledged that its long-term viability will require more help.
"What's truly needed not only for Detroit, not only for Michigan, but for all states in the country, is a permanent funding source. Through Washington," Brown said. "The gas and light industry enjoys a permanent funding source to help their customers with gas and light bills. Well, their customers are the same customers that I have. If you have a home and you have gas and light, you need water. It's the same customer base."
About a quarter of Detroit's residential customers were behind on their bills as of late last year, with a $700 average delinquency, according to Brown. But the department believes only about a third of those delinquent account owners – around 20,000 households – are actually unable to pay.
Brown said he hopes those customers will claim the assistance that's available to them.
"I've lived in Detroit my whole life. I understand how proud Detroiters are," Brown said. "You know, they don't like asking for help. It's not something they are used to doing. They want to figure it out. But in this case, the money's available and we need them to self-report."