Michigan is running out of money to lend to schools in financial distress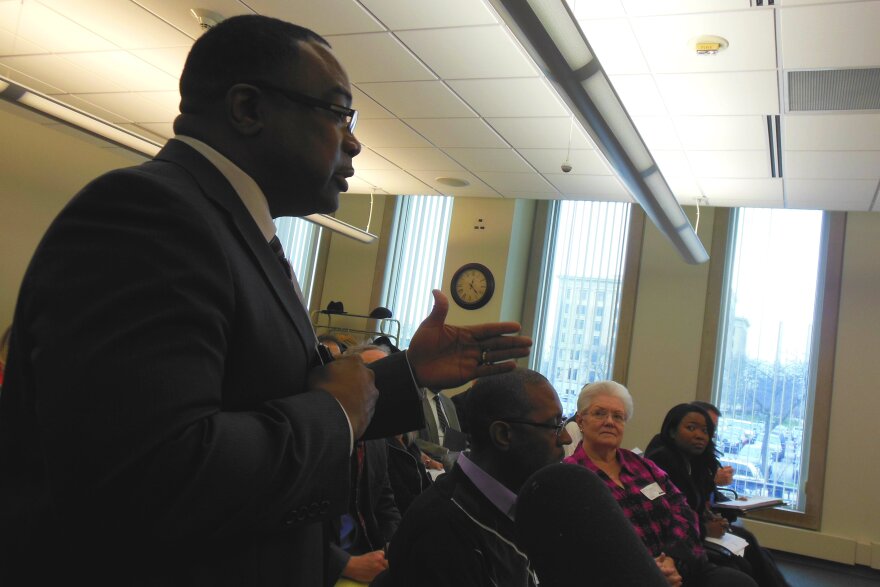 State law gives a special board up to $50 million to loan to schools in financial distress. The long-term, low-interest loans are supposed to help school districts restructure and pay down their debt.
But it appears $50 million isn't going to be enough.
With the loans the Emergency Loan Board issued Monday, it's nearly reached that cap, four years ahead of schedule. Treasury Spokesman Terry Stanton says the board has issued $48.5 million to schools so far.
Stanton says Treasury will work on legislation to raise the cap, but would not provide more details.
On Monday the board approved a $1.4 million loan to Muskegon Heights Public Schools. It's the third emergency loan the district has received. The board loaned the school district $7.6 million in August 2012 and another $3.5 million in January 2013.
The latest loan will cover expenses through the rest of this school year. Michigan's Department of Education had to advance the district more than $400,000 this month to make payroll.
Over the weekend, the district announced it would end an agreement with a for-profit charter school company that's been running the schools since the summer of 2012. Now the district is looking for a new operator for next school year.
Property values in the city of Muskegon Heights, which supports a millage to repay the debt, have continued to decline. Student enrollment is down dramatically since the state takeover.
Despite these factors, Muskegon Heights schools emergency manager Gregory Weatherspoon is confident the district will be able to pay the state back by 2044.
"We have had a lot of things that have happened and now you get a realistic budget that you know, truly, you dot every "i" and cross every "t." We're at that point now where we know all of the catastrophes. We've gotten them out of the way," Weatherspoon said.
"The expectation is that this will work," Department of Treasury spokesman Terry Stanton said.
"The financials have been kind of a difficult spot. But we're confident that that'll get turned around and that we'll be fine going forward," he said.
Stanton wouldn't say if the department considered what steps it'll take if the financial situation doesn't turn around for Muskegon Heights schools.
"I don't think it's appropriate to speculate at this point," Stanton said, "We're looking for a service provider now and then once we know who that is or what that firm might be then we'll worry about next steps."
The Emergency Loan Board also voted to loan Pontiac schools $10 million. The loan is part of the district's Deficit Elimination Plan submitted to the state in December 2013. The district, which is working under a consent agreement under the state's emergency manager law, has 20 years to pay back that loan.
The loan board today also agreed that another district is in probable financial stress.
"We have done literally everything that we can do to address this deficit," Benton Harbor Area Schools Superintendent Leonard Seawood said.
Seawood listed at least a dozen steps BHAS has taken to turn around the district's finances: closing schools, cutting teacher pay, and privatizing services.
"We have classrooms with 40 or 50 students. We're not busing students. We're not cleaning buildings," he told the board.
Seawood says it's been "very difficult" to retain students when the district is constantly cutting services.
Benton Harbor schools previously borrowed $4 million from the Emergency Loan Board. Seawood says he doesn't expect to ask for another one immediately. However, he admits cash flow problems looming next month will make it impossible to pay some vendors, which could affect services students receive.
The governor will have to appoint a review team to review Benton Harbor schools' financial situation. Seawood says there clearly is a financial emergency and he's trying to partner with the state to speed the process to come to a long-term solution.