School buses not running in Ann Arbor - "sick-out" blamed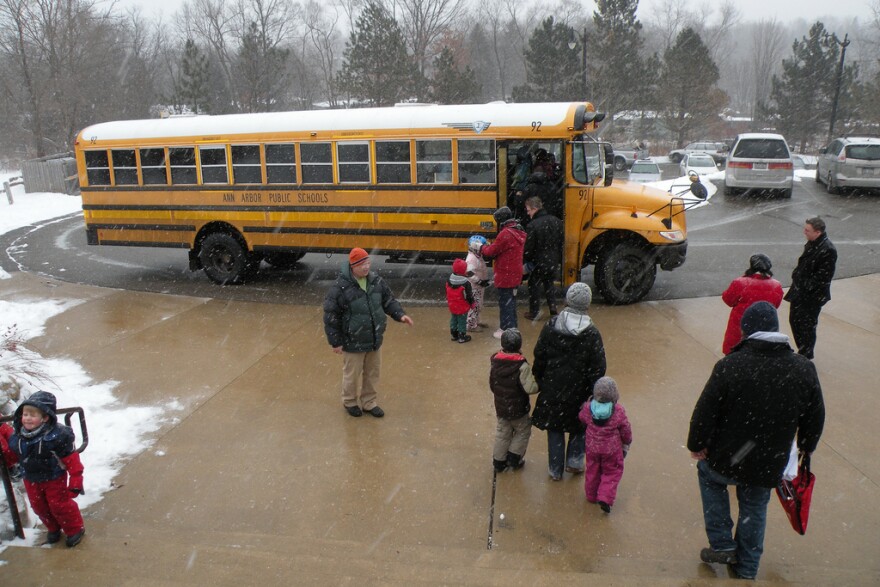 Update 2:48 p.m.
The school buses are running again this afternoon in Ann Arbor. A spokesperson for the Washtenaw Intermediate School District, the agency responsible for operating the district's bus system, has drivers for this afternoon.
Michigan Radio's Virginia Gordon spoke with WISD spokesperson Emma Jackson.
Jackson said 12 bus drivers called in sick this morning and that the district does not see this as an organized work stoppage.
Jackson says the district is working to secure coverage for the bus routes tomorrow.
10:27 a.m.
Parents got a call early this morning from Ann Arbor Public Schools informing them that, except for preschool and special education students, there would be no bus service today.
The Washtenaw Intermediate School District provides bus service to the district. Communications director Liz Margolis sent this e-mail this morning:
We deeply apologize for this late notice. We were just informed by the WISD that they are unable to meet bus service today. School will be open but we are unable to provide bus service except for Special Education and Preschool students ... We apologize and will work with the WISD immediately today to try to remedy this situation for the rest of the week.
No reason was given for the cancelation.
This is the second time this year the lack of bus service has affected the schools. On January 8, 2015, school was canceled after drivers did not show up for work. At the time, the WISD said the drivers did not show for several reasons
From MLive:
More than 24 drivers and monitors for Ann Arbor Public Schools and 12 drivers and monitors for Ypsilanti Community Schools were absent, according to a press release from the Washtenaw ISD. The reasons for absence included illness, planned days off, childcare issues and car trouble, the WISD investigation shows.
But this time around we're hearing reports about a "sick-out" from drivers. WDIV-TV in Detroit reports this:
For the second time this year, bus drivers with the Washtenaw Intermediate School District have called for a sick-out.
And this tweet from WJBK in Detroit:
In January, the Ann Arbor Public School District informed the WISD that it would not renew its $5.3 million contract for bussing.
Lindsay Knake of MLive reports the AAPS superintendent, Janice Swift, has recommended another provider:
The administration on Wednesday, Feb. 11, recommended Illinois-based company Durham School Services to bus approximately 5,000 Ann Arbor students. "We're excited to recommend a company with incredible experience. Getting students safely to school is their business," said Superintendent Jeanice Swift.
We're following up on this story and will have more later.