Benton Harbor schools: no superintendent, no emergency loan, at risk of losing grant money
Despite some state intervention this school year, Benton Harbor schools is still struggling. This spring has been rough for the district.
Benton Harbor schools has more than a $15 million deficit. The district signed a consent agreement with the state last fall to avoid an emergency manger.
At risk of losing millions in grant money
In late March, Michigan's Department of Education warned Benton Harbor schools it's at risk of losing millions of dollars in grant money. The School Improvement Grant is supposed to help turn around low performing schools.
Benton Harbor schools got $5.6 million in grant money this school year for three schools. The district can apply for up to $6 million each school year over the next two school years.
The early warning letters detail dozens of ways the district is not in compliance with the grant. Most involve a lack of reporting.
Losing a grant because of non-compliance is not common, Michigan Department of Education spokesman Bill DiSessa said. He said the schools are working with the department to come into compliance.
Treasury quietly refuses to give district an emergency loan
Benton Harbor asked for a $1.4 million emergency loan in late March. Without it, district leaders said they wouldn't be able to pay the district's bills through the end of the year.
But the state quietly refused.
"It's the sense that not enough progress has been made there at this point to take further consideration of (the loan)," Terry Stanton, a treasury department spokesman said.
Specifically, Stanton says Benton Harbor schools hasn't done enough to share services with other districts, including the county's intermediate school district.
It's not clear if the district will run into problems without the loan. Requests for comment to the school board president were not returned and Superintendent Leonard Seawood is not working right now.
Superintendent on paid leave
On April 30th, the school board put Superintendent Leonard Seawood on paid administrative leave while they conduct an investigation. It's not clear why the board took that step, or how long the investigation will take.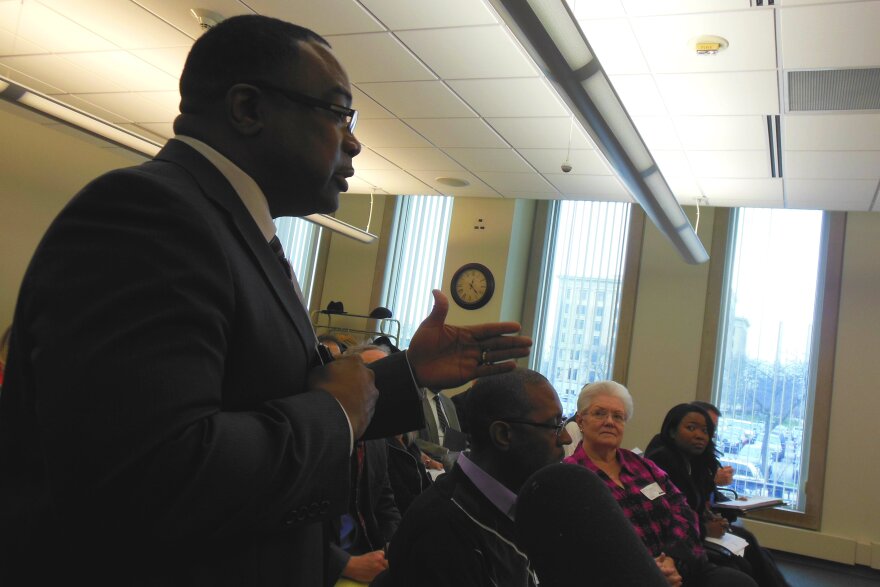 The board also hired an acting superintendent, but Michigan's Department of Treasury sent a letter the next day pointing out a clause in the district's consent agreement that forbids the board from doing that without Treasury approval.
Treasury's Terry Stanton says the department does not have immediate concerns about the situation. He says department officials are in constant communication with the district, even without Seawood.
Intermediate school district offers to help
Benton Harbor's school board is considering a proposal from Berrien County Regional Education Service Agency to run its business operations. Berrien RESA's superintendent Kevin Ivers is leading that effort.
Plante Moran is currently running Benton Harbor schools' business office. Ivers says Berrien RESA can do it for about $125,000 less each year. Ivers pitched the idea to Benton Harbor's school board a week ago.
"It's been very time consuming on our end but we hope that at the end of the day, we can look back a year from now and say 'this really works," Ivers said.
Berrien RESA has been managing Benton Harbor schools' payroll for nearly two years. They began managing the district's human resources department last fall. He hopes to offer to manage the district's technology department sometime soon.
"We want to help to streamline their processes," Ivers said.
Ivers said they hope to take responsibility for this and potentially other "non-instructional responsibilities." That way, the board can focus on "issues that are more relevant" to help students learn, Ivers said.
But he's clear to say Berrien RESA does not want to appear to completely run Benton Harbor Area Schools.
"They have the autonomy to pick and choose vendors. We're just a vendor like any other vendor. And we just want to make sure that we're not taking over the operation of their school district," Ivers said.
"We want to see districts be successful. We want to see kids be successful," he said, "We're here to provide services and help our local districts. And no one wants to see that district dissolve and that's not even part of the consent agreement."
The school board could vote on the proposal in the next couple of weeks.