Crowdsourced U of M affordability guide goes national
In January, the University of Michigan's Central Student Government (CSG) released their anticipated "Campus Affordability Guide." The guide was meant to help lower income students save money.
Some of the advice included canceling cleaning or laundry services, selling your car for some extra cash, and buying fewer snacks.
Backlash against the guide was swift. "Tone deaf and patronising," described UM senior Zoe Proegler in a widely shared Facebook post. CSG was criticized by many for being oblivious to the struggles facing low-income and first-generation students on campus.
"The document was clearly well-intentioned, but portions of it (especially the first 10 pages or so) were just so tone-deaf, people thought it was a joke," says Lauren Schandevel, a junior studying Public Policy at U of M.
So, Schandevel started her own guide: "Being Not-Rich at UM."
"The plan initially was to assemble a handful of people to write our own guide and distribute it," says Schandevel. "When I reached out on Facebook, so many people were interested that I decided to open up the document to everyone and see what happened."
The document went viral within the UM community. Now, Michigan students are encouraging other universities to adopt their method. Students at the University of Texas at Austin started a "Being Not-Rich at UT" guide last week. Schandevel says she's also had students at Michigan State and Harvard express interest.
The UM and UT guides are nearly identical, and the crowdsourced advice is broken down into multiple sections, such as housing, food, social life, and "Being Non-Rich and Non-White."
The first page of the document reads: "This guide is for anyone who has ever felt marginalized on campus — particularly students who are economically disadvantaged, and especially low-income students of color, whose racial background is often compounded by their SES [socioeconomic status]. In it, we lay out the issues with which we grapple most and their solutions, both immediate and long-term."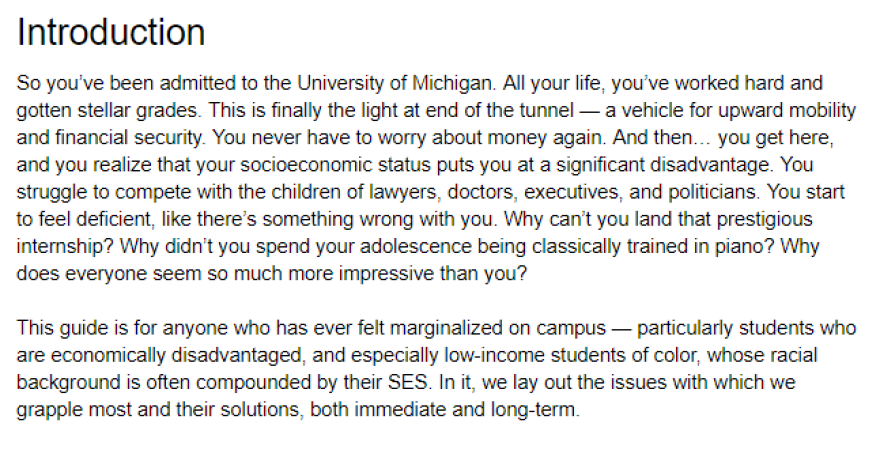 Schandevel says she hopes the guide leads to institutional change at a university that accepts an extremely high number of upper-class students.
"I would like to see the University acknowledge the challenges lower-income students face on this campus. When your school has 66% of its student body in the top 20% of the income distribution, other experiences tend to fall by the wayside."
According to a 2017 New York Times analysis, 66 percent of University of Michigan students and 56 percent of UT-Austin students come from families in the top 20 percent. Among highly selective public universities, Michigan had the highest median family income at $154,000. UT-Austin landed in 8th at $123,900.
The 2018/19 estimated cost of attendance for an in-state UM freshman is $29,526. That rises to $62,176 for out-of-state students. Estimates for UT-Austin are slightly lower: $25,178 for in-state and $50,808 for out-of-state students.
The costs for college students add up rapidly. In addition to growing tuition rates, students have to budget for required textbooks that cost hundreds of dollars each semester, and skyrocketing rent for off-campus housing, especially in Ann Arbor and Austin.
From 2012-2016, Ann Arbor had a median gross rent of $1,114, according to the U.S. Census Bureau. Rent in Austin isn't much better, with a median gross of $1,106.
The University of Michigan is starting to make some changes to encourage low-income students to apply to the school. Last summer, the university announced the "Go Blue Guarantee," which offers four years of free tuition for in-state students with a family income up to $65,000.
Schandevel says other institutional changes such as a permanent on-campus food pantry or a tenants' union to protect renters could demonstrate that the University is committed to helping low-income students in other ways, as well.
"We are here, we are just as valuable as any legacy student, and we are the ones affected most by affordability issues," says Schandevel.