U of M lecturers threaten possible strike over pay, campus funding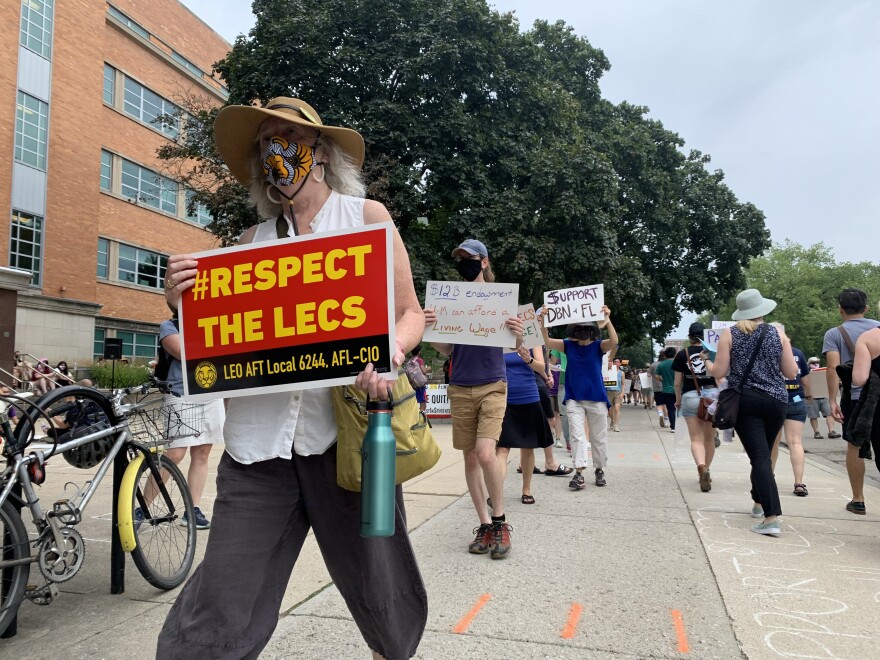 The union representing some 1,600 lecturers at the University of Michigan marched with picket signs at a rally on campus Monday, announcing they had officially quit their contract - a move that means 30 days from now, they would not be in violation of their "no strike" clause should they vote to strike.
As contract negotiations with the University enter their eighth month, union leaders say the biggest remaining issues are pay disparity, overall funding for the Flint and Dearborn campuses, and a title change to "teaching professor."
"In Flint, you teach eight classes for $41,000 starting salary. And in Ann Arbor, you teach about six classes for $51,000 full time," said Craig Regester, an urban studies lecturer and acting director of the Semester in Detroit program. "So you teach 25% less for about 20% more money in Ann Arbor."
Regester says administrators at the Ann Arbor campus tell them to bring that up with the Dearborn and Flint campus chancellors, who in turn say they can't afford it.
"In other words, 'Not our business.' Like, they have to deal with their own budgets, [and] they don't have the money. So they...try to make it as if there's no connection or no ability for this campus to give them more money. They absolutely can do that."
Aurora Harris, a lecturer at the Dearborn campus, said she's taught as many as 13 courses across three different departments "because I'm always working either part time, or I don't have enough classes in one department."
That's why the pay disparity issue is so crucial, Harris said.
"We want fair pay, we want equal pay," she said. "...The contract bargaining situation has stalled on the U of M side. It's not fair to the faculty. It's unfair to the students."
"The university's latest salary proposal includes increases in minimum salaries, annual increases, a longevity increase and increases in the average salaries of lecturers across all three campuses," Michigan spokesperson Rick Fitzgerald said in an email Monday.
Average salaries would increase by nearly 11% over the three-year life of the contract, he said, including a proposed increase in minimum salaries at Dearborn and Flint of $3,000 or 7% by the end of the agreement.
Even before these proposed increases, lecturers' starting salaries on the Ann Arbor campus are the highest of the state's public universities. Starting salaries for lecturers on the Dearborn and Flint campuses are the second highest.
"Neither the Flint nor the Dearborn campus can manage these types of increases [proposed by the union] to lecturers' salaries, particularly after the historically large increases in the 2018 contract, which increased average salaries by more than 20%, and increased minimum salaries by 33%-50%," Fitzgerald said.
The lecturers' union, which represents 1,600 staff acroos the three campuses, about 1,100 of which are members, is also asking for an increase in funding to the Flint and Dearborn campuses: $90 million total over the course of three years. "We need to fight beyond just our own salaries," said Regester. "We need to fight beyond just our own contract. We need to look at how our contract fits into this larger picture."
It's a question of broader equity, he said.
"Who studies at Dearborn? Who studies at Flint? Generally speaking, many more students of color. Many more working class students. Many more students who have to work...We talk about that all the time [in Ann Arbor:] 'We want more students of color. We want more working class students.' These campuses already have these students."
"Overall budgeting for each campus is determined by the Board of Regents and is not a subject of collective bargaining with LEO or any other collective bargaining unit," Fitzgerald said. "Regents did in June approve extension of the Go Blue Guarantee to the Dearborn and Flint campuses. The Ann Arbor campus will provide the funding for that program for the next six years, until Dearborn and Flint are able to sustain the scholarship program."
There is, Fitzgerald said, some consensus forming around a third issue: whether lecturers can have a title change to "teaching professors."
"The university and LEO are close to agreement on that title for long-serving lecturers."
For Bonnie Halloran, a lecturer teaching anthropology at the Dearborn campus, any strike would be the fault of the University.
"Going on a strike is not something I ever want to do, but the university has stalled at negotiations," she said. "They've put things off and the only way to make things happen sometimes is to put that kind of pressure on them. And it's not a path I choose or even the union wants to do. But you get pushed in this direction when the university is resistant to change."

Editor's note: U of M holds Michigan Radio's license. This piece was corrected to clarify that LEO represents 1,600 lecturers across the campus, about 1,100 of which are union members. The original piece stated the union represented 1,100 workers.