U of M Museum of Zoology now has largest snake research collection in the world
Stepping into one of the nine vast, warehouse-like rooms that house the University of Michigan Museum of Zoology's reptile and amphibian collection is a bit like time traveling. There are tens of thousands of jars and tanks neatly arranged on metal shelves, containing animals that represent decades of research, genetic patterns and evolutionary changes over time.
Each jar holds at least one - and sometimes hundreds - of preserved animals. Among some yet-to-be-sorted snake and lizard specimens from Peru is a jar that holds a hand-sized tarantula.
There are turtles the size of quarters, pudgy salamanders with intricate patterns, and massive toads from South America. At first, it feels like you never know what you'll find on the shelves: but at the heart of the collection is an intense system and effort that keeps roughly 500,000 specimens neatly organized.
This level of organization in such a large space is the reason that the museum was recently able to absorb 45,000 reptile and amphibian specimens from Oregon State University, including more than 30,000 snake specimens. With this acquisition, the museum's snake collection has become the largest research collection in the world, with roughly 70,000 specimens. Museum curators scoured data aggregators for snake records worldwide, and contacted collections managers of other large collections, to be sure.
The recent acquisitions are special: the snakes, salamanders, and frozen tissue samples represent over three decades of study by Stevan Arnold and Lynne Houck, two recently-retired Oregon State professors.
Dr. Alison Davis Rabosky is an associate professor and curator at the museum. She said that the new specimens contain loads of population-level data: for example, one population of garter snakes in California was sampled over the course of 35 years, so researchers can use those specimens to examine exactly how that population may have changed over time, and why.
She said that investigating research questions like that would not be possible without Arnold and Houck's donation: "This was really teamwork: this collection is something that Michigan could not have done on its own, but together with Oregon State we formed some sort of super collection."
Davis Rabosky and her doctoral student Hayley Crowell regularly utilize the museum collection. Both researchers study color evolution in animals and how color patterns change over time. Crowell also studies thermal regulation in animals and her research grapples with the effects of climate change. She said the research possibilities with the collection are limitless:
"What don't we use the specimens for? I also use them for a bunch of side quests, like diet studies and X-rays, and all sorts of fun things." In addition to its zoology, anthropology, paleontology, archaeology and herbarium collections, the museum is also equipped with laboratories, classrooms, and a CT scanner.
"As a curator, I get asked all the time, 'What do you do with hundreds of thousands of dead things in jars?'" Davis Rabosky said. "First, we do things that the original collectors never imagined we'd be doing with these specimens - some of these specimens are 200 plus years old…people were collecting for very different reasons then than they do today. Second, we do things that you could never do with just a photograph. Things like CT scanning or X-raying; we could never get the kind of data on what happens inside an organism if all we had was a photograph of its outside," she said.
Researchers from around the world come to the museum to study specimens, and specimens are also sent out on loan to other universities and facilities. As many as 150 researchers, including students, have used the collection at once.
"I like to think of natural history collections as a huge network of people who are all working together in the service of making biodiversity information available for everybody in the world," Davis Rabosky said.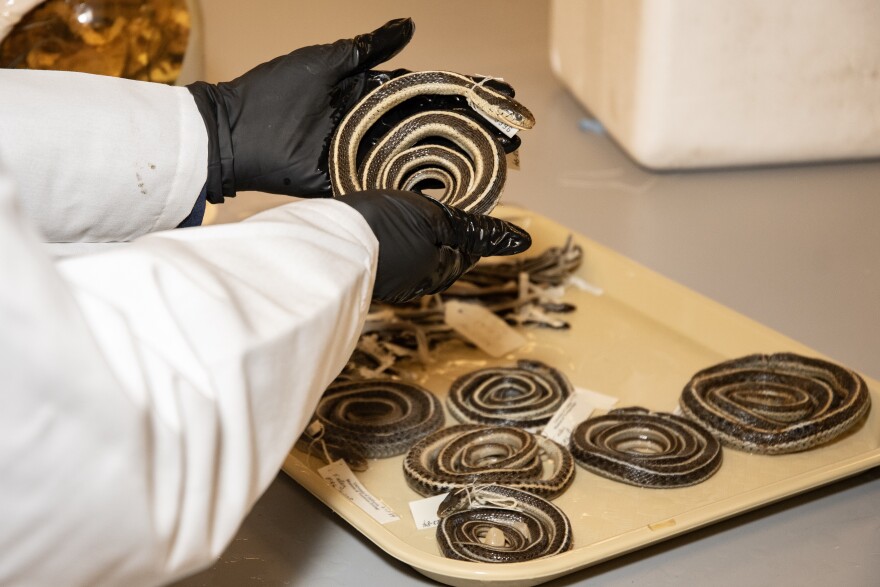 The museum's reptile and amphibian collection records can be accessed online; in this sense, the collection functions like a public library. Museum curators stressed the importance of such access.
"Collections are the catalog of all of life on earth. This is an incredible opportunity and responsibility. We are the caretakers of priceless specimens, and while we're very excited about what kinds of research that can be done with them, we are also aware of how important it is to keep them accessible to as many people as possible," Davis Rabosky said.
Crowell agreed that managing a collection of this scope is important: "With collections, we are constantly building the world's greatest time capsules."