Children focus in on nature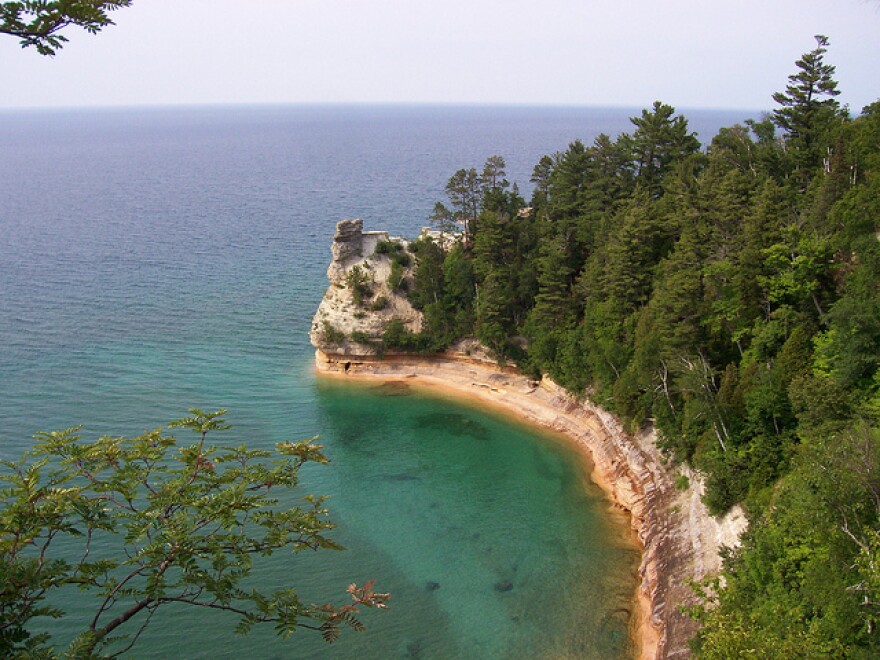 http://stream.publicbroadcasting.net/production/mp3/michigan/local-michigan-963858.mp3
With the spread and advancement of home technology such as televisions, computers, cell phones, and video games, American children are spending less and less time outdoors. A baseball glove has been traded in for a remote control, and parents have gone from fretting over grass-stained jeans to fretting over their child's apparent reclusiveness. Most kids today are more comfortable walking a parent through setting up Facebook account than they are walking through a forest. But the Udall Foundation, based in Arizona, is trying to reacquaint kids with the joys of exploring the natural world with their Parks in Focus program.
Parks in Focus is all about bridging the gap between technology and nature. Children, mostly middle school aged, are put in touch with Parks in Focus through the Boys and Girls Clubs of America and Big Brothers Big Sisters. After providing each child with a digital camera to document their explorations, Parks in Focus program leaders take the children on camping and hiking trips in some of America's most scenic parks. While trips originally went only to the Grand Canyon, Parks in Focus has expanded to several other states, including Michigan.
Bret Muter is the Michigan Program Coordinator for Parks in Focus. He says digital cameras act as security blankets for the kids, allowing them to have a familiar piece of technology in an unfamiliar world of mountains, streams, and creepy crawlies.
"If kids aren't comfortable with nature, they're typically comfortable with technology such as a camera, even if they don't own one. So cameras serve as that safety net for exploring the environment, which may otherwise be unfamiliar or even scary to some kids."
On top of just making the children more comfortable with the initial shock of being out in the middle of the woods, Muter says the cameras allow the kids to interact with their surroundings more than they normally would.
"I think the advantage of photography for an environmental education program is that it encourages kids to kind of slow down and become aware of their surroundings. It lets them notice things they might not otherwise stop to notice, such as an insect crawling on a flower, or fungus on a tree."
While the kids might be uncomfortable or nervous in the natural world at first, by the end of the trips Muter says the kids have a new passion for the outdoors.
"I think probably what sticks out most to me with these participants is that, you know, they get really excited when they're seeing something for the first time, but it's usually the reactions that we get at the end of the day, or at the end of the trip. Kids saying, you know, 'We don't want to leave. We want to stay here. This is more fun than school.'"
Beyond just getting kids out of the house and into the woods, Parks in Focus wants to make sure the next generation is prepared to care and speak for the environment.
"Our goal is to get kids comfortable with spending time outdoors, to get kids active, to promote a healthy lifestyle, but also to encourage and motivate this new generation of citizen-stewards; getting kids to care about the environment and to be that next generation of environmental leaders."
Parks in Focus has been active in Michigan since 2007, with Muter leading the Michigan program since the beginning. While each trip brings in a new group of child explorers, Muter makes sure to keep in touch with alumni, even organizing regular excursions with alumni a few times each year.
"I think one thing that kind of separates Parks in Focus from some of these other one-time programs is that there's follow-up. In Michigan, I've done a lot to make sure that the kids that we recruit into the outdoors we retain. So this year, for example, in sort of celebration of our fifth-year anniversary, we're taking a group of alumni from the program up to Isle Royale National Park for a week-long program."
After the trip, the kids return home with a camera full of memories of their time in the wild. These memories stay with the kids, says Muter, and inspire them to share their stories with friends and family.
"I think what's great about photography, again, is that it fits into this idea of a leave-no-trace ethic. We go out into the woods, we go out into nature, and we're exploring these places for the first time, and it gives the kids an opportunity to take something home with them. So they bring their photos home. They can show their friends. They can show their family. And really that learning experience kind of continues beyond the trip.
Eliot Johnson - Michigan Radio Newsroom