Tornado watch in effect for 31 counties in Michigan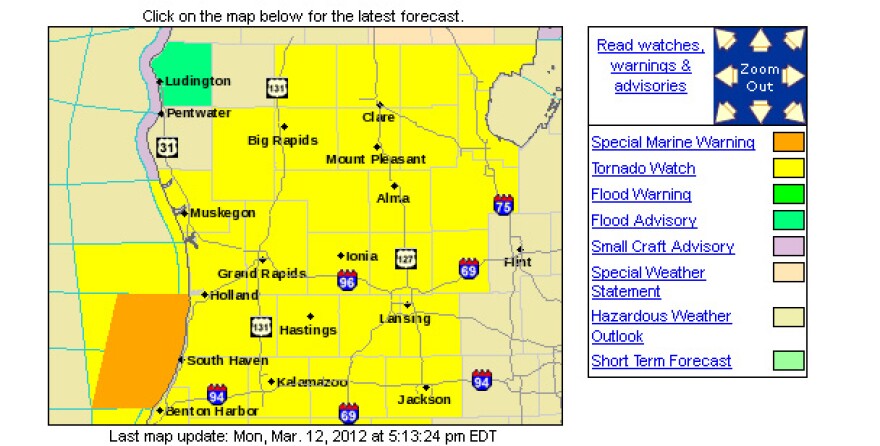 The National Weather Service has issued a tornado watch for 31 counties in Michigan until 11 p.m. tonight.
It includes the cities of Alma, Battle Creek, Big Rapids, Charlotte, Clare, Fremont, Grand Rapids, Greenville, Hastings, Holland, Ionia, Jackson, Jenison, Kalamazoo, Lansing, Mount Pleasant, Muskegon, Reed City, South Haven, and St. Johns.
A "watch" means conditions for the formation of tornados are possible.
The following counties are under the watch:
ALLEGAN
ARENAC
BARRY
BAY
BERRIEN
BRANCH
CALHOUN
CASS
CLARE
CLINTON
EATON
GLADWIN
GRATIOT
HILLSDALE
INGHAM
IONIA
ISABELLA
JACKSON
KALAMAZOO
KENT
MECOSTA
MIDLAND
MONTCALM
MUSKEGON
NEWAYGO
OSCEOLA
OTTAWA
SAGINAW
SHIAWASSEE
ST. JOSEPH
VAN BUREN