Ann Arbor pollution cleanup plan, public meeting tonight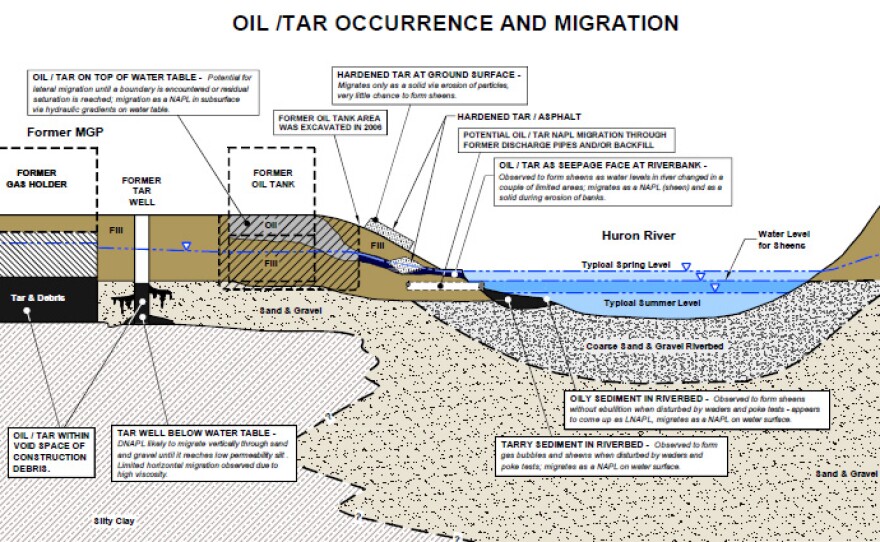 Tar and oily substances can be found in the Huron riverbed in Ann Arbor. It's legacy pollution from a manufactured gas plant.
TRCSolutions / MDEQ
DTE Energy owns the site where an old manufactured gas plant once operated in Ann Arbor. The site is polluted by by-products from producing coal gas.
Mark Brush / Michigan Radio
Tonight at Cobblestone Farm in Ann Arbor, the Michigan Department of Environmental Quality will hold a public meeting to discuss a plan to clean up toxic pollution along the banks of the Huron River.
The soil near the Huron River just downriver of Argo Dam has been contaminated with substances leftover from an old manufactured gas plant that operated from around the 1900s to the 1940s.
Manufactured gas plants converted coal to gas for street lamps, cooking, and heating prior to the widespread use of natural gas.
But back in those days, converting coal to gas left behind some nasty pollution. And the tarry, oily-like pollution can bubble up decades later - as it has in Ann Arbor.
The site in Ann Arbor is owned by the Michigan Consolidated Gas Company (MichCon), a subsidiary of DTE Energy.
You can get an idea of where the pollution is on the site by clicking through the images above.
In a pollution response plan filed on behalf of MichCon, several pollutants were noted.
Benzene, toluene, ethylbenzene, and xylenes (BTEX) (associated with petroleum releases);
Total polynuclear aromatic hydrocarbons (PAHs) (associated with MGP tar and/or petroleum releases);
Metals (arsenic, chromium, copper, lead, mercury, selenium, silver, thallium, and vanadium) (some of these metals (e.g., arsenic) may be from natural background);
Ammonia; and
Available cyanide.
Here's more on tonight's public meeting from the Michigan Department of Environmental Quality:
MichCon property owners are proposing to remove sediment, near shore soil, and some contaminated upland soil from the Huron River and its south bank at the MichCon plant site near Broadway Street. This plan requires a construction permit from DEQ. The public meeting and hearing will be held at Cobblestone Farm, located at 2781 Packard Road in Ann Arbor. Doors will open in the big barn on the second floor at 6 p.m. for informal discussion with DEQ staff, followed by a public meeting at 7 p.m., and a formal hearing to gather public comment around 8 p.m. As part of the permit review process, the DEQ also is accepting written public comment on the plan through April 30, 2012.
DTE Energy is planning several methods to control the pollution on the site, including removing polluted sediment, and capping and collecting other sources of pollution.
AnnArbor.com's Ryan Stanton reports Ann Arbor city officials are anxious to see it cleaned up:
Ann Arbor officials expect the cleanup to take place starting this summer. DTE has vowed to pay for whitewater improvements along the river as part of the project. Matt Naud, the city's environmental coordinator, expects the cleanup project will go before the Ann Arbor Planning Commission for site plan approval because it will disturb natural features, but he doesn't expect that to be a significant issue. "We're just glad this significant level of cleanup is happening," Naud said. "It's a big project. They're going to be moving a lot of soil."