Hedging bets on wine grapes in Northern Michigan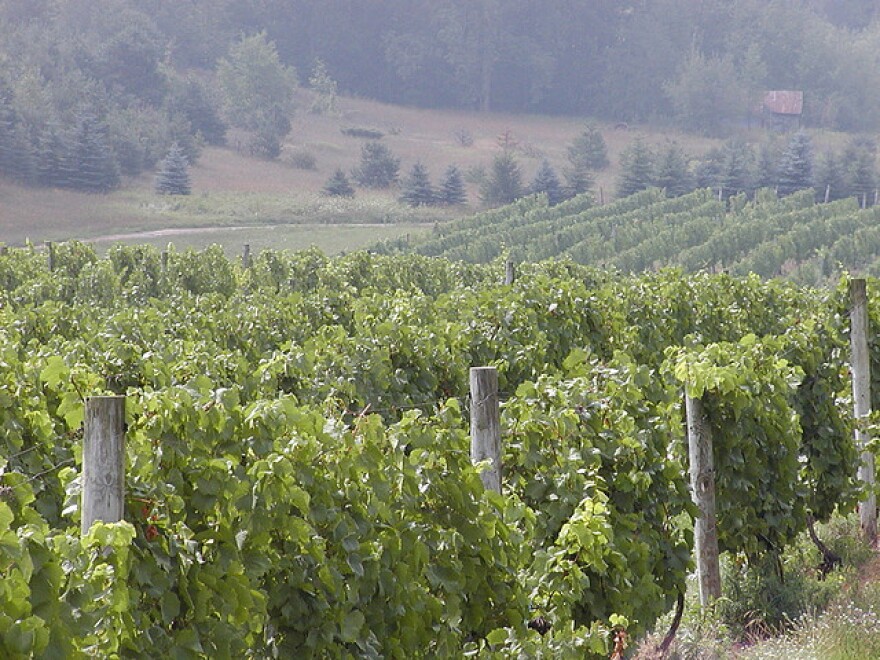 This year was one of the worst harvests for tart cherries in recorded history. That's a hard hit considering Michigan is the nation's largest producer of the fruit.
We visited the Leelanau Peninsula where one family-owned cherry farm has transitioned into a vineyard in order to make more money.
Good Harbor vineyard is a family run farm that originally only grew cherries. The farm started growing grapes in the '80s because it was more profitable. Sam Simpson is the wine maker and operations manager for Good Harbor and the third generation in his family to run the place. He still has cherry trees on his farm, but when it comes to comparing the difference between his grapes and cherries this year. . .
"That's easy because there isn't a cherry crop this year," he said.
Simpson said his family's switch to grapes was a good move for the business, and says cherry farmers are going to have a hard time this year.
"So you feel bad for the people who are solely dependent on cherries this year. In no other industry can you lose 95 percent of your income and people expect you to do it next year," he said.
A slew of 80 degree days in March made the cherry buds begin to swell early this year. But the 19 nights of frost that followed wiped out the cherry crop in the region. Farmers lost 90 percent of their tart cherries this year.
Jeff Andresen is the state's climatologist and professor of geography at Michigan State University. He said over the past 30 to 40 years we have been seeing warmer temperatures in the colder months. And spring weather has been arriving a week or two earlier than it has historically.
"So that's a fairly significant change, some years it has been earlier than that, but of course, 2012, our March heat wave is an exclamation point on that trend. That's the earliest warm up we've had in our climate record that goes back around 120 years," he said.
Andresen said earlier springs bring a greater risk of late frosts, like the one that wiped out the cherries this year.
Sam Simpson at Good Harbor vineyards said grapes are better able to withstand the change in weather patterns Michigan has been getting. They can survive frosts and thrive in mild winters.
"Grapes take a longer time to reach bud burst or bud swell when water starts coming into the buds so we were at less risk of frost. We were looking at probably one of our biggest crops we've seen off of our vineyards this year," he said.
Simpson said farmers have noticed the change in climate and are starting to consider diversifying and growing grapes.
"I get multiple phone calls each season of people interested in converting," he said.
But getting into the wine industry also comes with a price.
Duke Elsner is with MSU Extension. He works with farmers in Grand Traverse County and has noticed the trend to diversify.
"It's not a cheap matter to switch from cherries to grapes," he said. "There is quite a cost to remove orchards in the first place and grape plants are expensive."
He says a startup investment in wine grapes costs around $10-15,000 an acre.
It was a devastating year for cherry farmers, but Elsner said cherries still dominate the region and will continue to do so in the future. He said there is limited land available that is suitable for wine grapes. Wine grapes grow well on southwest facing slopes in sunny areas.
Although Good Harbor vineyard fared well with grapes this year, the weather did affect the business. The vineyard will not be producing their cherry wine this year.
-Emily Fox, Michigan Radio Newsroom