Rotary taking aim at algae blooms in Lake Erie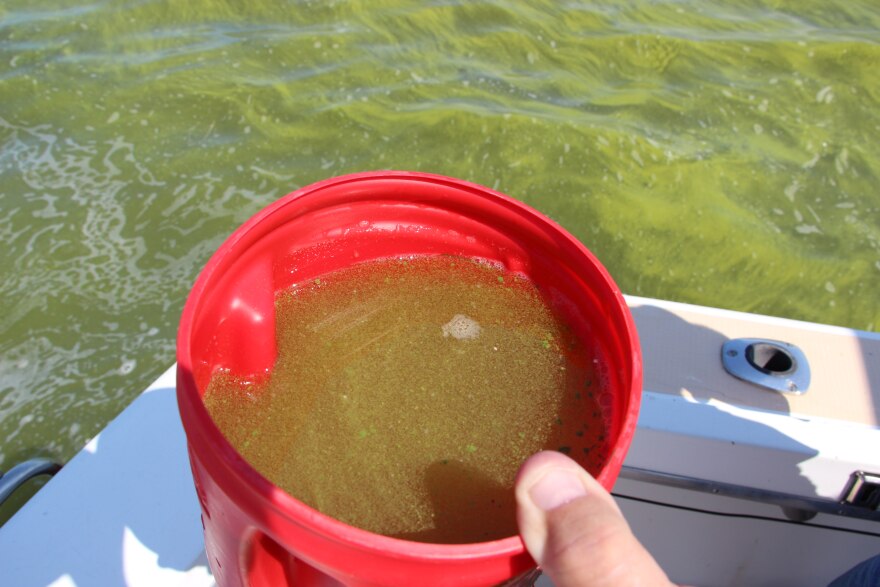 Half a million Toledo residents lost their drinking water in the summer of 2014 thanks to thick carpets of bacteria-laden algae on Lake Erie.
It hammered home a warning that scientists have been trying to sell for years: Lake Erie is in serious trouble.
Andy Stuart, president of the Toledo Rotary Club, wants to make sure no one forgets. The club is hosting a Lake Erie crisis conference this weekend.
Stuart is quoted in the Toledo Blade saying, "The lake is sick with algae. We have to ask ourselves: How can this happen in a civilized society?"
He tells us that he and his fellow club members were aware that the algae was a growing concern, but "had no idea the lake was in this kind of condition" until the mayor decided to effectively cut off the water supply.
"Not just our physical health is threatened, but our entire economic health is threatened, and if we don't do something about it now it could become overwhelming," he says.
Stuart acknowledges that some people may see this as a strange issue for a Rotary Club to tackle, but explains that the 34,000 clubs worldwide have a long history of taking on the world's most daunting problems.
"One of them I think that we're most proud of is in 1979 we started talking about how to eradicate polio from the planet," he says. And by 1987, they had raised $247 million to put toward the cause.
This year, only 34 new cases of polio have been reported around the world, according to Stuart.
"That's just one model for the rest of us to understand we can take on these seemingly daunting tasks and do something about it," he says.
Frustrated by federal, state, and nongovernmental agencies' lack of progress addressing the algae bloom, Stuart says the club hopes to bring a different perspective to the issue.
"The point of the conference is to provide a nonpolitical, nonpartisan environment where we can have an honest discussion," he says.
Stuart tells us that the clubs participating in this endeavor don't fancy themselves scientific authorities with the knowledge and background necessary to provide a solution, "but what we do as Rotarians better than any other organization on the planet is that we collaborate."
The conference will feature keynote addresses and panel discussions about the algae blooms, after which people will be invited to exhibit their ideas for alleviating and eliminating the dangerous algae in the lake, according to Stuart. He adds that exhibitors will not be charged any fees, and that anyone is free to come exhibit their ideas.
He tells us that by testing as many of these ideas as possible all at once, the clubs hope to gather a bunch of in order to more easily determine which solutions to ultimately pursue.
And they're not going to stop chasing those solutions any time soon.
"We're planning on doing this conference for 20 years," Stuart says. "We're going to keep doing this conference until the problem is solved."
The Lake Erie Watershed Crisis Conference is open to the public and will be held Friday and Saturday, Oct. 23 and 24. More information can be found at rotarylakeerieconference.org.
– Ryan Grimes, Stateside