Michigan web developers and archivists join race to back up federal agency data
Volunteers at the Ann Arbor Data Rescue event.
Rebecca Williams
Nancy Moussa is a web developer who's volunteering for the data rescue project. "We pay taxes, and we pay taxes to make data available," she says.
Rebecca Williams
Notes on data archiving.
Rebecca Williams
Ann Arbor is joining a "guerrilla archiving" movement.
Librarians, web developers and other volunteers are working fast to save scientific data from federal agency websites.
It's called Ann Arbor Data Rescue, and it's part of a larger project that's springing up around the U.S. and Canada.
They're doing this in case the Trump Administration changes or removes data.
The Trump Administration has already announced plans to take down climate change pages from the Environmental Protection Agency website, although the administration backed away from that plan late last week. EPA staffers have been under a gag order from the administration and have not been allowed to talk to the media.
Justin Schell directs the Shapiro Design Lab at the University of Michigan Library, and he's one of the organizers of the Ann Arbor Data Rescue event. He says they're starting with environmental data, because it appears to be the most at risk.
"With a number of climate change deniers in the administration, people who are openly hostile to agencies like the EPA, and as we've seen, wanting to vet every piece of scientific research before it would come out," he says.
Last week, a spokesman for the Trump Administration's EPA transition team, Doug Ericksen, told NPR that the administration will likely vet EPA scientists' research before it can be disseminated.
How it works
The Ann Arbor group and others are backing up data from agencies such as the EPA, the National Oceanic and Atmospheric Administration, the Department of Energy and NASA, and they're saving it on secure, non-governmental sites.
The two-day event on Friday and Saturday drew more than 275 people to the Shapiro Design Lab at the University of Michigan Library. The volunteers huddled in groups around their laptops, combing through thousands of links.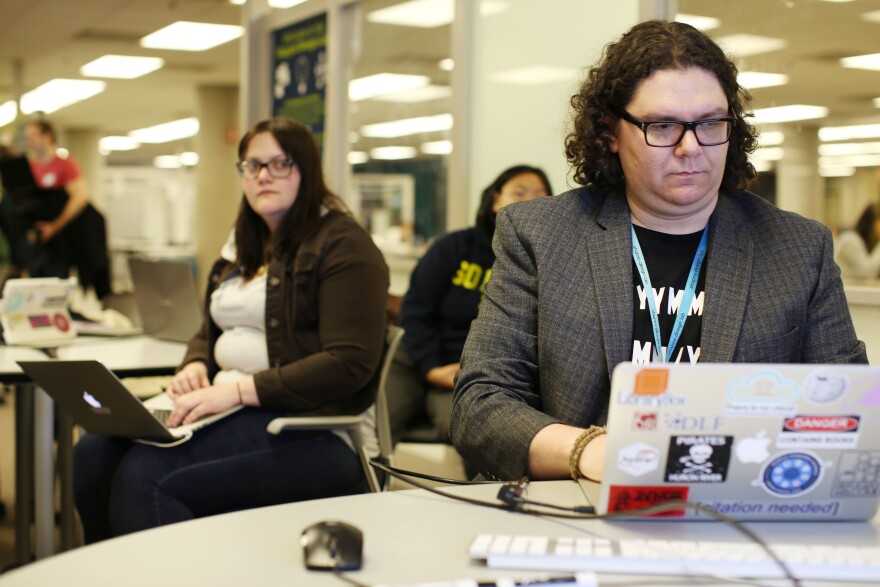 Schell explains they're backing up both individual websites (those are going into the Internet Archive) and scientific data. He says they're "bagging" the data and putting it into digital preservation containers.
"We need to know that people can trust the data that they're looking for."
"It contains certain markers that will allow you to verify that it hasn't been changed at the bit level. So we can confirm from when we downloaded it today, when someone looks at it a week later, it should be exactly the same," he says. "We need to know that people can trust the data that they're looking for."
Once the data gets bagged, it will then go onto a secure server and will be linked to a site called Data Refuge, where it'll be publicly accessible.
Schell says the group backed up information from 19,000 links across NASA, NOAA and DOE websites over the past two days.
Matthew Miller is a web developer who volunteered for the event. He says he's helping out because his wife and several friends are environmental scientists.
"To some extent, this feels like the least I can do, is just spending a couple of days out of my time to help make certain that something that is important to me sticks around," he says.
Paul Edwards is also working on the data rescue project. He's a professor in UM's School of Information, and he teaches about climate change.
"This is a spectacular moment in the history of climate science, where we have an administration that is overtly hostile to the science itself, not just to the results but the whole project," he says, "And may well take down pre-existing data, may end major research programs, and may leave us with much less to go on in understanding climate change in the future than we had at the end of the Obama administration."
The Ann Arbor Data Rescue event is building on the work of previous events in Toronto, Indianapolis, Philadelphia and Los Angeles. It's part of a larger effort by the Environmental Data & Governance Initiative, a group of scientists, lawyers and other professionals that formed after the election with the goal of preserving scientific data. More events are planned for New York City, Boston and San Francisco in February.
Organizer Justin Schell says the data rescue work will continue beyond this weekend. If you're interested in getting involved with the project, you can email A2DataRescue@gmail.com.