Record-breaking rain behind U.P. floods is something we can expect more of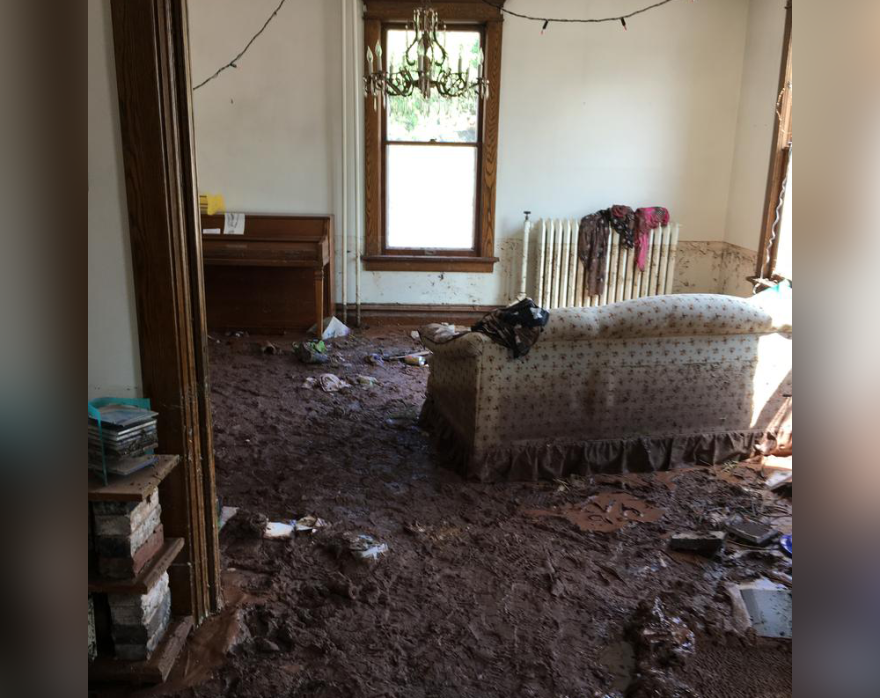 Record rainfall devastated large parts of Houghton County earlier this month. Flash flooding killed a 12-year-old boy when the basement of his house collapsed. It damaged hundreds of homes and caused at least $100 million in damage to infrastructure.
That kind of rainfall only had a one in 1,000 chance of happening in any given year. But scientists say climate change couldmake these events more likely.
Caught completely off guard
Cynthia Drake's home was almost destroyed by the floodwaters. She lives in the tiny town of Ripley, just east of Houghton. Her home is next to Ripley Creek -- and on June 17, the creek broke its banks. At 3 o'clock in the morning, she got the shock of her life.
"I flipped on the light to come downstairs and the stairs were filling up with water. And the water actually came... halfway up the walls."
The flood waters piled up boulders around her house and sloshed three inches of mud inside it. Part of her foundation washed away.
She says she had had some moderate worries about erosion from the local ski hill, and about the integrity of the old culvert-like structure (called a mine launder) next to her house that the creek passes through. But, she never could have imagined the torrential rain that would nearly cost her her home.
"I didn't ever think anything like this would happen, so this caught me completely off guard," she said.
Record-breaking rainfall
Drake doesn't have flood insurance.

She's not alone in her shock. Most people wouldn't have imagined such a thing. The rain that caused this flooding is the heaviest ever recorded in the area.The odds of rain like this were unbelievably small.
A nearby rain gauge (at the Houghton County airport) recorded 5.55 inches of rain in just six hours. That rainfall was a 1,000-year event. That means rainfall that intense only has a one in 1,000 chance of occurring in a given year. Those odds are calculated using data from the rain gauge going back to 1887.
So, what caused this extraordinary rain? Keith White is a meteorologist with the National Weather Service in Marquette. He says warm temperatures in the region essentially packed the atmosphere with water.
"The warmer the atmosphere is, the more moisture it can hold, in layman's terms," said White.
Since there was so much water hanging out in the air, the thunderstorms that developed could produce a lot of rainfall. White said the storms kept re-forming:
"There was a lot of sort of re-invigoration and redevelopment over the same spot during that very short time frame that really allowed those rainfall totals to increase."
More and bigger rainstorms
Climate scientists say storms like the one in Houghton County are becoming more common.
Kenneth Kunkel is a scientist at the Cooperative Institute for Climate and Satellites at the National Oceanic and Atmospheric Administration. He's been studying extreme rainfall for at least 25 years.
"We've seen quite large increases in the number and intensity of extreme rainfall, particularly kind of in the northeast quadrant of the country," he says. "That would include the Midwest and Northeast."
Kunkel says these increases are consistent with warming from human-caused climate change, because warmer air holds more water. He says he expects extreme rain events to keep increasing.
"When you have a situation that can create heavy rainfall, much like what happened in the Upper Peninsula with this event, the amount of water vapor will be greater and that will simply lead to more intense rainfall," he said.
Looking ahead
Cynthia Drake wants the community to plan ahead to prevent disaster if there's another big rain.
Right now, she's focused on saving her home.
"Love up on your friends and neighbors because, when a disaster strikes, this has been overwhelming how many people have been trying to help me out," she says. "I love my place and I hope we can get it back, because it's all I got."