Cornered by invasives, tribal fishermen chase whitefish to 'crowded' Lake Superior
A decline in lake whitefish is pushing some tribal commercial fishermen out of Lakes Michigan and Huron. They're spending more time in Lake Superior, the only place they say they can still make a living. This has fishermen and scientists worried about whether whitefish populations there can withstand the extra pressure.
A fishing family
It's a frigid, snowy day on Lake Superior and Jacques LeBlanc is fishing where his family has for generations.
He's pulling a 300-foot gill net out of a small hole in the ice, removing fish as he goes and throwing them into a bin. LeBlanc says his catch isn't as good as it was the other day, but he can't complain.
"Somehow someway we always get what we need," he says. "I don't know how that works out."
LeBlanc is a citizen of the Bay Mills Indian Community on the east end of Lake Superior. He's been a commercial fisherman for 48 years. His father, "Big Abe" LeBlanc, fought for treaty fishing rights in the Michigan Supreme Court.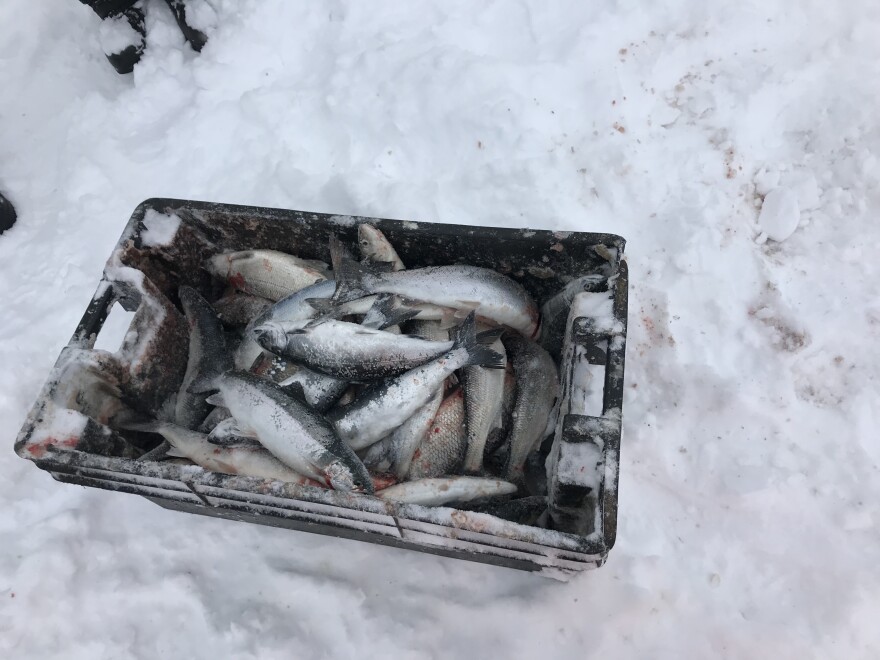 Today, he catches mostly herring with a few whitefish sprinkled in.
"We go in seasons, just the way we live," he says. "Like right now we call it herring season, then in a month and a half we'll go into smelt season. We fish trapnets for whitefish all summer. There's more money in whitefish than anything for us."
Whitefish are the most important commercial fish species in the Great Lakes, but they're getting harder to find.
Invasive species in treaty waters
The 1836 Treaty of Washington reserves fishing rights for the Bay Mills Indian Community in parts of Lakes Michigan, Huron, and Superior.
But invasive mussels have changed the food web so much that whitefish populations are starving in Lakes Michigan and Huron.
That's pushing Bay Mills fishermen to Lake Superior, the one place they still have success. This worries Paul Ripple, head of Biological Services for the Bay Mills tribe.
"In the past ... if the fishing's not good, they go somewhere else, they try something different, they move around," he says. "But, there's really not many places for them to go anymore. They're kinda stuck with what they have, and that makes us uneasy."
Indigenous tribes and the Michigan Department of Natural Resources work together to monitor and manage the fishery. The data suggests that more whitefish than usual were harvested in eastern Lake Superior in the last few years.
A crowd on eastern Lake Superior
A group of fishermen gathered in the Bay Mills Tribal Center all tell similar stories. The lower lakes were good – until they weren't – and then there was an exodus.
Don Tadgerson, who's been fishing on Lake Superior for decades, says he has definitely noticed the extra boats.
"Competition for dock space, that's a big thing," he says. "If you have a large boat, you need a place to lay it, and you have to get your name drawn out of a hat. If you don't you're really stuck and you don't have a place to keep your boat."
Despite the inconvenience, Tadgerson knows his fellow fishermen don't have a choice.
"It is a tribal right, so come on up and join the crowd," he says.
Jacques LeBlanc Jr., a third generation fisherman, chimes in from across the table.
"It is definitely a crowd now, that's for sure."
LeBlanc Jr. says the extra pressure on Lake Superior whitefish keeps him up most nights.
"I think about it a lot," he says. "I talk with our board about it, about different management tactics that we could try to implement throughout our home waters here in Whitefish Bay."
He's one of the youngest fishermen in the tribe and has three sons.
"I come from a fishing family, and it's also something I want to be able to pass down to my children," LeBlanc Jr. says.
Not sure what comes next
Biologist Paul Ripple says commercial fishing affects every family on the reservation in some way, whether it's their primary income, a side job, or a dietary staple.
But it's unclear what the impact of more fishermen in Lake Superior will be.
"If you have, keep having, good year classes of fish, it might not be a big deal," Ripple says. "But if you go through a few years where you have poor year classes, then yeah it could be a real issue."
For now, the tribes and the state are closely watching whitefish populations.
"I'm not panicked yet, you know, we're not in panic mode, but we are certainly in 'concerned' zone," says Ripple.
Bay Mills and other tribes that fish the area set harvest limits for their members. They can adjust those limits to protect fish populations, and Ripple says they'll see if that is necessary.