Humane Society posts gory dead deer photos amid emotional debate over Ann Arbor deer cull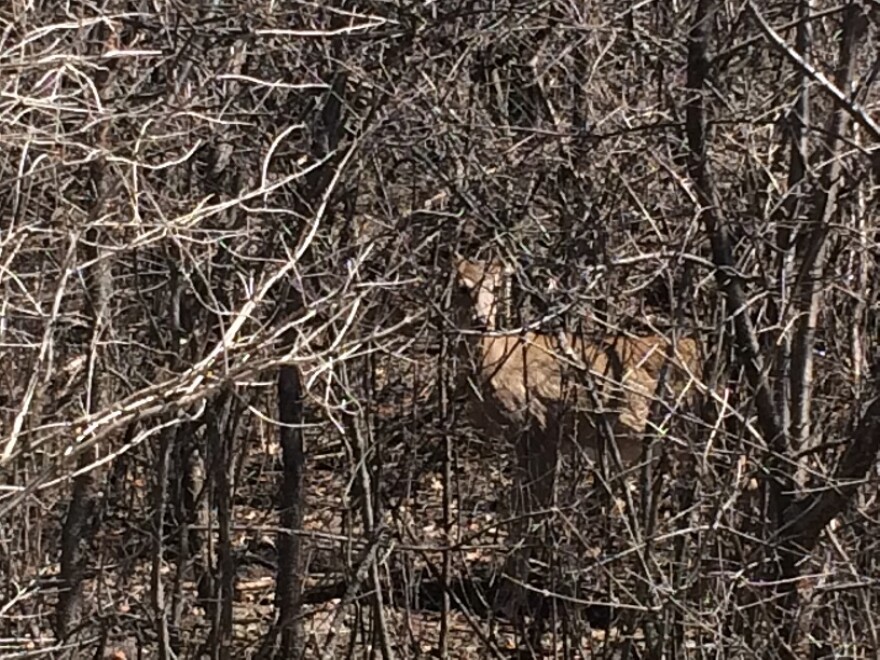 WARNING: Graphic photos of a dead animal are included at the bottom of this article.
The fierce opposition led by the Humane Society of Huron Valley (HSHV) to Ann Arbor's first deer cull continues.
On Monday, HSHV released photos of a partially eaten deer in the Leslie Park Golf Course, along with a photograph of a fetus fully encased in its sac nearby.
The group also pulled the fetus out of the sac, cleaned it up, and snapped a photo of it lying on a piece of carpet.
In a press release accompanying the photos, the group alleges the deer was shot by one of the trained marksman with USDA's Wildlife Services division, which the city is paying to kill up to 100 deer to control their numbers and reduce damage to yards and parks.
However, the release goes on to say that a complete necroscopy was not possible because the carcass was not intact – and argues that even if the deer was not killed by one of the marksman, the city's decision to cull deer is still responsible for the deer's death.
"Even if not injured by the USDA, the Leslie deer can still be connected to the cull. Culls encourage poachers to take advantage of closed parks, baiting and the lifted ban on shooting in the parks; the bait and the blood from the shooting can attract predators; and sudden and extensive baiting with corn is known to make deer sick and therefore vulnerable. Exterminating animals in an attempt to control nature rarely works out well, doubly so in an open urban environment. It's more than a stretch to say in absolute terms that there is no connection to illegal hunting or the cull."
A call to the Humane Society requesting comment was not returned.
A spokeswoman with USDA's Wildlife Services says the deer was definitely not killed by one of its marksmen, who shoot the head or neck of the deer in order to kill it instantly.
The city of Ann Arbor also denies the allegations. City spokeswoman Lisa Wondrash emailed this response:
The deer carcass that was found at Leslie Park Golf Course was not related to any cull activities. Staff believe the carcass was a result of coyote or wild animal activity, which does occasionally happen in parks and nature areas. It's important to note that the deer cull is being performed by highly experienced USDA-APHIS marksmen who are specially trained to conduct a cull in an urban setting with precision, accuracy and safety as top priorities. Marksmen are using the latest technologies available for carrying out a safe and effective cull, such as night-vision and thermal-imaging scopes. They are trained on proper single shot selection to effectively and humanely take deer and are experienced in a wide variety of wildlife damage and disease issues, including deer removal in urban areas.
The Humane Society of Huron Valley is not alone in its unrelenting opposition to a cull, which it calls inhumane and unnecessary.
Two city residents have filed lawsuits to try to stop the cull, one in federal court and one in circuit court. One of the lawsuits alleges that city residents, including children, could be shot and killed by the marksmen. The other lawsuit challenges the validity of the permit itself.
The lawsuits, however, face an uphill battle. Michigan law has permitted urban deer culls to reduce nuisance and damage since at least 1994, and many cities have conducted culls.
The cull has sparked a heated debate among some in the city. Many residents who care about species diversity are distressed to see the deer do extensive damage to yards and nature areas in some parts of the city, and they support a cull as the most effective way to control the deer population.
Others say killing deer is a violation of Ann Arbor's culture of peace and non-violence, and a few believe the cull is tantamount to murder. Many opponents also think the cull is completely unnecessary and that it's being done primarily to protect vegetation in wealthy residents' yards.
A poll of residents conducted before the cull was approved found a majority favored a cull.