These young women want to give Dearborners "permission to be proud" of their city
A lot of Michiganders have hometown pride. It's the reason you see so many locals sporting everything from bumper stickers to tattoos celebrating their home. But in some cities, hometown pride is a bit more complicated.
Cities like Dearborn, Michigan.
Dearborn native Rima Fadlallah says many people from her city see being "too Dearborn" as a negative thing. Being associated with the city's large Arab American community, she says, "in some ways is an unpopular thing to do."
"If you act 'too Dearborn,' it's really a placeholder sometimes for being 'too Arab' or 'too Muslim,'" she explains.
But Fadlallah, Yasmeen Kadouh, and Malak Wazne proudly describe themselves as Dearborn girls.
"We grew up not seeing people who are just so freakin' proud to be from Dearborn," says Fadlallah. "That's not a popular thing to be; it's honestly not."
That's why they launched Dearborn Girl, a new media platform for Dearborners to express pride in their city. The name "Dearborn girl" reclaims a label that Fadlallah says a lot of people associate with being "really obnoxious, really loud, kind of trashy, just unrefined." Instead, the trio wants to give people "permission to be proud" of their identity.
Kadouh says, "We started this podcast because I always looked at this community as something so valuable, something so powerful, as this force to be reckoned with, but I looked around me and I didn't see people that felt the same way."
For the second installment of our series In Focus, we asked Fadlallah, Kadouh, and Wazne to spend an evening showing us Dearborn from their point of view, and describe to us why their city is one to be proud of.
Want to show Michigan Radio your town? Pitch us here.
Arab American National Museum
Dearborn has the largest concentration of Arabs and Muslims in the United States, and as such, it is a major hub for Arab culture. That's why, in 2005, the Arab American National Museum was opened in the heart of downtown Dearborn.
"We're the first and only museum of its kind in the entire country, really focused and dedicated to telling the history, culture, and contributions of Arab Americans," explains David Serio, the museum's educator and public programmer. "That makes us a very unique institution because nobody's doing the work that we're doing."
Upon entering the museum, we visit a large room filled with cases that highlight the history of the Arab world. Serio says in order to understand the Arab American experience, visitors need to know about where Arabs come from.
That background includes mathematic and scientific achievements, such as algebra, music, inventions in medicine and hospitals, religion ("A very hotly discussed topic," adds Serio), and architecture from all of the Arab world.
The museum celebrates what it means to be Arab in America. A vast collection of items are displayed to tell the Arab American story, and features thousands of objects, many donated by Dearborn families. The exhibits use those items to tell stories that demonstrate the variety of ways Arabs came to this country, the hardships they faced historically, and how all Americans can learn from that experience.
The museum also creates exhibits that tour the country, such as one currently on display at Ellis Island.
As we walk through the museum, Fadlallah, Kadouh, and Wazne point out some of their favorite displays, including an interactive map that teaches visitors about different Arab countries and a story about a Lebanese Dearborner who survived the Titanic.
Kadouh says even people who live in Dearborn have things to learn from the museum. She adds that she didn't truly appreciate what the museum does for the community until recently.
"Not until I took an Arab-American studies class in undergrad was I like, 'Oh, this is really special!' Because when you grow up in Dearborn and you're constantly surrounded by these amazing Arab-American things, Muslim things, you kind of take it for granted that you're like, in this community."
The museum also serves as a center for the community, and offers a wide variety of events and opportunities. Malak Wazne is an active participant in the museum.
"They've taken students to Palestine," she describes. "They've done stuff with the Smithsonian Institute. Just incredible opportunities that [people] in our community don't always take advantage of. There's so much. So much. I love this museum."
Want to support more reporting like this? Consider giving today.
Islamic Center of America
Next, Yasmeen Kadouh and Malak Wazne took us to the heart of Dearborn's Muslim community.
Just off Ford Road, which draws a line straight east from Detroit through Dearborn, is the aptly named Altar Road. The street is lined with a variety of churches, but towering over them all is the Islamic Center of America.
Inside, Kadouh and Wazne take us into the main prayer hall, a massive, empty room inside the high dome. Natural light pours in from the top of the dome; gold Arabic calligraphy covers the walls.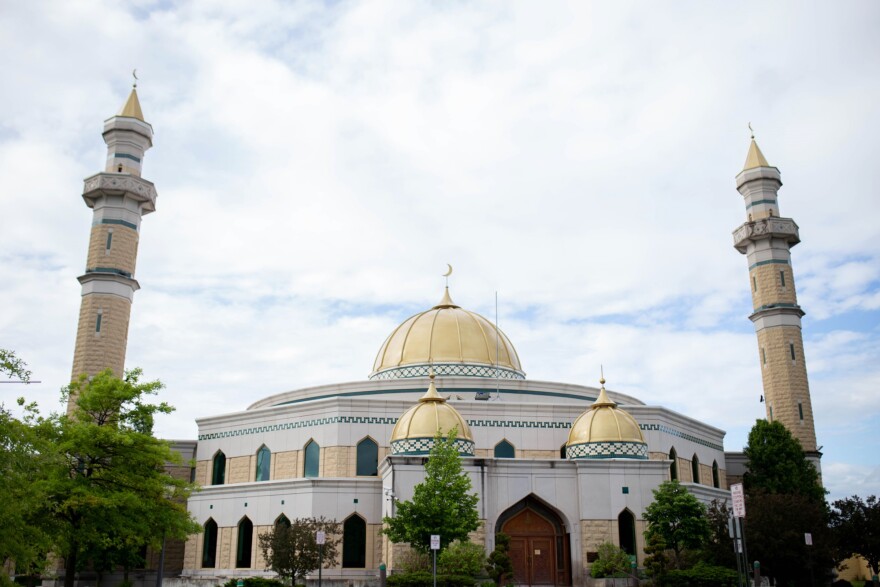 It's mid-afternoon, so the mosque is fairly empty. A man prays in the middle of the room, while a few women sit quietly to the side reading the Quran in preparation for a discussion group.
Wazne pauses to talk to one of the women before catching back up to us.
"When you walk into the mosque, you bump into everyone you know," she explains.
Outside the prayer hall, a small room is covered wall-to-wall in old photos, newspaper clippings, and magazine covers. The room highlights community and global trailblazers alike. Kadouh points out a photo of a hijabi woman speaking into a mic.
"This is Najah Bazzy. She is unreal. She has a nonprofit in Dearborn called Zaman, and essentially she does all of these amazing community initiatives and is empowering women, and she's like a big figure."
The next room over is similar, with cases displaying Muslim contributions to America and Michigan.
Wazne says, "The community is very good at putting their money into cultural and religious institutions and organizations. That's why our community just comes together in an amazing way."
Kadouh and Wazne say the mosque is very important to Dearborn's large Muslim community — it's where everyone gathers in happy and sad times, like after the terrorist attack at a mosque in Christchurch, New Zealand.
It's a safe place, says Wazne, for community members to "sit together, pray together, learn together, grow together."
Shatila Bakery
We were in Dearborn during Ramadan, the most important month of the Muslim year. It's a time for Muslims to pray and reflect. Throughout Ramadan, many Dearborners fast from sunup to sundown. But once the sun is down, the feasting begins.
That makes our next destination, Dearborn staple Shatila Bakery, a very busy place.
Walking into Shatila, the first thing you notice is the warm smell of honey. Rows of lit cases display hundreds of Mediterranean pastries, including many varieties of baklawa, filled cookies called mamoul, and sweet cheese-filled katayef.
Owner Batoul Shatila says Ramadan is a special time for the bakery.
"People come in just for our sweets, and they kind of have a bond and a common ground," she says. "We're very grateful for our community and all of our customers who are always coming in and out."
Malak Wazne excitedly points out some of her favorite treats.
"Oh! These, right here. I like these, and I also like these." She shows us a flaky filled pastry. "This is pretty much filo dough, tons and tons of butter, and cheese."
Although this is the bakery's 40th year of business, this larger location has only been open for about 14 years. Batoul's father, Riad Shatila, designed the bakery to have a feeling of home. A large crescent moon and sparkling string lights hang behind the large counter, and palm trees are scattered throughout the dining room.
Wazne and Yasmeen Kadouh explain that for many non-Arabs visiting Dearborn for the first time, food is often their entry point into the culture.
"[Food] is one of the biggest reasons Dearborn is a gem," says Kadouh. "People can come into the city and just go to a Yemini restaurant or a Lebanese restaurant or a bakery and feel very welcomed, and not need to know much about the culture. And that can be a first step to understanding."
We visited Shatila a few hours before iftar, the nightly meal to break the fast, and there was a steady stream of customers picking up pastries for their celebrations. But Kadouh says this is slow for the bakery and that after iftar, everyone flocks to Shatila.
"I was here the other night at midnight and it was insane," she says. "You couldn't sit anywhere, you couldn't sit outside."
Batoul Shatila says it's an honor for her father's bakery to be so beloved by the community, especially during Ramadan.
"It's very alive. Everybody fits together, and they all have one thing in common. They all come together with their families. So it's a beautiful experience to see that. It kind of gives you a feeling of home."
Iftar
Our final location of the evening wasn't a business or public space, but rather the Kadouh home, where Yasmeen's family was celebrating iftar.
We settle in the living room to wait until the exact time to break fast — different Arab countries and branches of Islam have different rules for what time to break.
"There's like five different times," says Malak Wazne. "I know some people that break at like 9:30, and that's… that's too late for me."
As soon as it's the proper time, Yasmeen's mother Danya Kadouh starts taking food out of the oven. A massive platter of rice is soon hidden by roast chicken, while stuffed grape leaves and platters of savory pastries are taken into the dining room. Yasmeen's younger sister Maya sets bowls of lentil soup at each place, and their father Hassan gets glasses of mango juice.
Before we begin, Hassan passes around a basket of dates.
"You usually break your fast with a date," he explains, "because it gives you a lot of nutrients, a lot of sugar."
The meal then continues, with everyone eating an impressive amount of delicious food and discussing their lives in Dearborn. Maya Kadouh and Malak Wazne explain the rivalry between Fordson High School and Dearborn High. Danya Kadouh points out that the city has changed a lot since she was in high school, and that it's "a lot more Arab." Hassan insists that everyone continue to fill their plates.
Like many families in Dearborn, the Kadouhs are Lebanese. Hassan came to America to escape the Lebanese Civil War. Danya's family has been in Dearborn for a few generations now.
"My great-grandmother was born in 1911 in Pennsylvania and then moved to Dearborn," explains Yasmeen. "[She] had a store on the south end of Dearborn and literally would watch Henry Ford ride his car around and it was just wild."
Rima Fadlallah is Lebanese as well, and neither she nor Kadouh are hijabi. But Arab Dearborners come from all countries and religious backgrounds, so they were conscious not to try and speak for every Dearborner in their podcast, Dearborn Girl.
"We really don't represent anyone other than ourselves," explains Kadouh. "Because in all honesty, we say that Dearborn girls are so complex… and there's no possible way to represent every single type of Dearborn girl."
Dearborn Girl grew out of a series of coffee chats that Fadlallah and Kadouh held for young women to come to openly discuss their identities, what they felt Dearborn struggles with, and to celebrate themselves.
Fadlallah says it was clear there needed to be a space to address issues in the community, such as racism, colorism, and sexism.
"If I'm going to try to hold my community accountable, it needs to be done in a way that's through love and creating more common spaces that make us feel proud of who we are first, before we then can grow and be better people for other communities."
"Dearborn girls are so complex."
When Malak Wazne, who is a young filmmaker and photographer, met Fadlallah and Kadouh, she knew that Dearborn Girl was the perfect project for her. Now, she films each podcast recording, and is creating a Dearborn Girl docuseries.
Wazne says, "I feel like by sharing stories, we tear down barriers that we've built up in silence. And that by tearing down those barriers, it allows people to empathize with each other, which I think is the main reason we have all these issues."
Despite the challenges they feel the city faces, all three young women are passionate in their love for Dearborn. Kadouh explains that although it's a big city, it operates like a small town.
"It's the definition of home in every sense of the word."
Want to show Michigan Radio your town? Pitch us here.
Special thanks to Katie Raymond for contributing to this story.