Tree-trimming training program helps Michigan inmates secure jobs after prison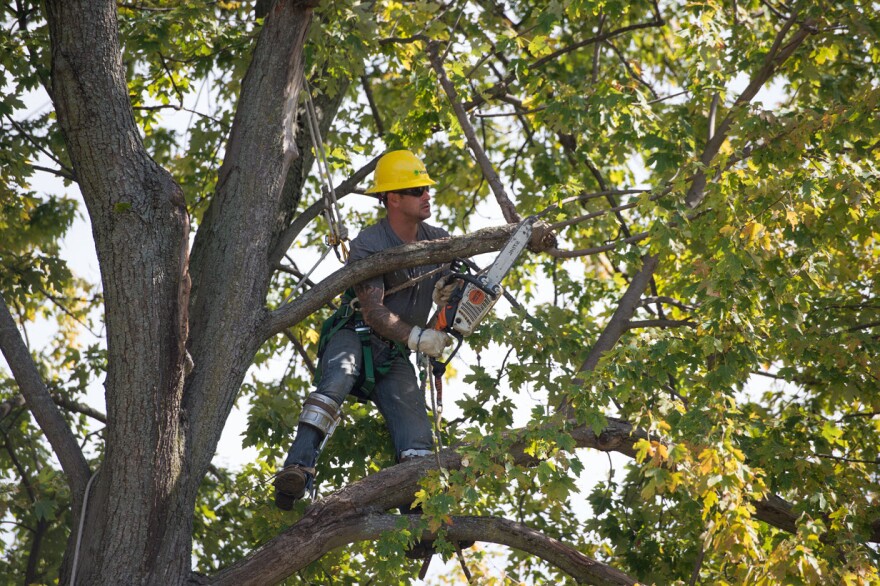 The Michigan Department of Corrections has partnered with DTE Energy and IBEW Local 17 to train inmates in trimming trees.
MDOC worked very closely with DTE and IBEW Local 17 to develop the curriculum for the program, located at Parnall Correctional Facility in Jackson. It allows inmates to get hands-on experience.
Outdoors, there's a climbing structure that's about 30 feet high, and its primary function is to give students experience using a harness and ropes and the gear they wear. There's also an indoor classroom space, in which an actual cut tree will be placed. This allows inmates to understand how limbs work and different limbs are affected by weight and weight distribution.
The inaugural class of 24 inmates eligible for parole will spend 6 to 9 months in this program. Once inmates are released, the IBEW Local 17 Union will help place them in apprenticeships with contractors who trim trees for DTE.
Graduates of the program will begin by making $17 an hour through the 5-step apprenticeship program, with opportunities to have their pay raised and earning credits toward healthcare benefits and retirement.
Dean Bradley is the business manager for IBEW Local 17. He says the program will benefit both returning citizens and the IBEW.
"Obviously we'd love to have more talented trimmers join the ranks, but it's about doing the right thing and helping returning citizens become a part of the middle class, allowing them to provide for themselves and their families."
He says there's a shortage of tree trimmers in Michigan and in the nation as a whole, but the demand for trimmers is increasing. DTE expects to have 300 to 400 open positions for tree trimmers over the next three to four years.
Chris Gautz is the public information officer for MDOC. He says MDOC has other job training programs through its Vocational Village centers, this is the first program of its kind in Michigan.
"This is really the first time we've directly worked with a company to create a pipeline of talent just for them. So we're really excited about that opportunity and we definitely encourage other companies to reach out to us and follow DTE's lead, recognizing that returning citizens are some of the best workers that they've had."
Gautz says the program rivals other tree-trimming training programs in Michigan.
"We have a lot of prisoners that have a lot of talent, some that they didn't even know that they had, and we turn them into apprentices and trades-people with really great skills," says Gautz.