Flint residents protest city's water quality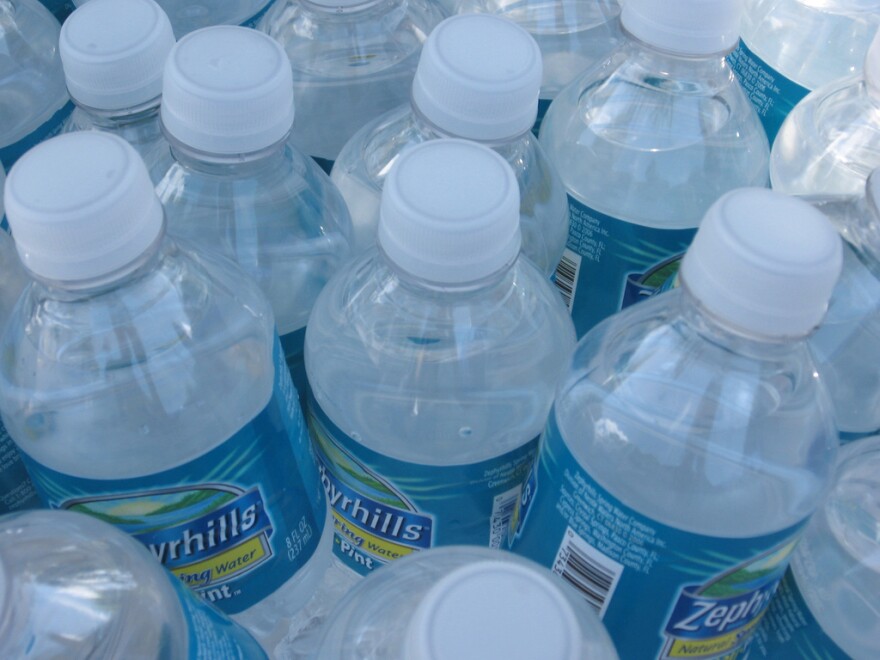 A small crowd of Flint residents came out to Monday night's city council meeting to protest what they say is discolored, odorous, unsafe water coming out of their taps.
"It smells horribly," says Cindy Marshall. "I took a shower the other night and my eyes were blood red and burning. I broke out in a rash and was scratching like crazy just from taking a shower."
Marshall says she and her five-year-old son have been bathing and doing laundry at her mother's house, where they have access to well water, since the water coming out of Marshall's tap is milky looking, and tastes foul.
"I spent $150 a month just on bottled water, bags of ice and gallons of water. And on top of that, we're hardly using the water and it's a $130 bill this month."
In December, the Department of Environmental Quality found Flint's water to be in violation of the Safe Drinking Water Act, due to elevated levels of disinfectant byproduct.
That byproduct is called TTHM, or trihalomethanes. It can build up when lots of chlorine is used to kill fecal bacterial in water systems, as was the case with Flint's water this past summer.
In a public notice, Flint officials said this violation was not an emergency, and didn't require residents to boil their water.
People who drink water with excess levels of TTHM over decades "may experience problems with their liver, kidneys, or central nervous system, and may have an increased risk of getting cancer," according to the city.
"There is nothing you need to do unless you have a severely compromised immune system, have an infant, or are elderly," the statement reads.
Flint's water issues have been making headlines since the city switched from Detroit's system last April and began temporarily using the Flint River as its source.
The city is trying to reduce costs (and residents' high water bills) by signing on with the Karegnondi Water Authority, which will pipe water from Lake Huron, but until that system comes online, the city is treating water from the Flint River.
According to the Department of Public Works, officials knew using the river would mean the city's water would be more difficult to treat, since it "would be subject to temperature variations, rain events, and ... higher organic carbon," according to a public statement released by the city.
What that has meant for residents is concerns about high fecal bacterial levels in the water, and then as high levels of chlorine were used to kill that bacteria, potentially unsafe amounts of disinfectant byproducts in the water.
In other words: all that chlorine has left a byproduct that regulators say could increase health risks for a very small population of people, if they drank it every day for their entire lives.
According to an evaluation, the city will have taken actions to reduce the levels of disinfectant byproduct in time for the next quarterly sampling, which happens the week of February 16.