0000017b-35e5-df5e-a97b-35edaf770000Over 70,000 people in Michigan served in the U.S. armed services during Operation Iraqi Freedom and Operation Enduring Freedom in Afghanistan.Michigan Radio's Beyond the Battlefield series takes a look at how post-9/11 veterans are faring. Beyond the Battlefield features, interviews and online video profiles, exploring issues like employment, entrepreneurship, and reintegration into civilian life. The series also looks at how Michiganders think state and federal governments are doing at addressing veterans' care, as well as the particular struggles female veterans encounter when returning home.
Ann Arbor VA Hospital employees and vets protest staffing shortage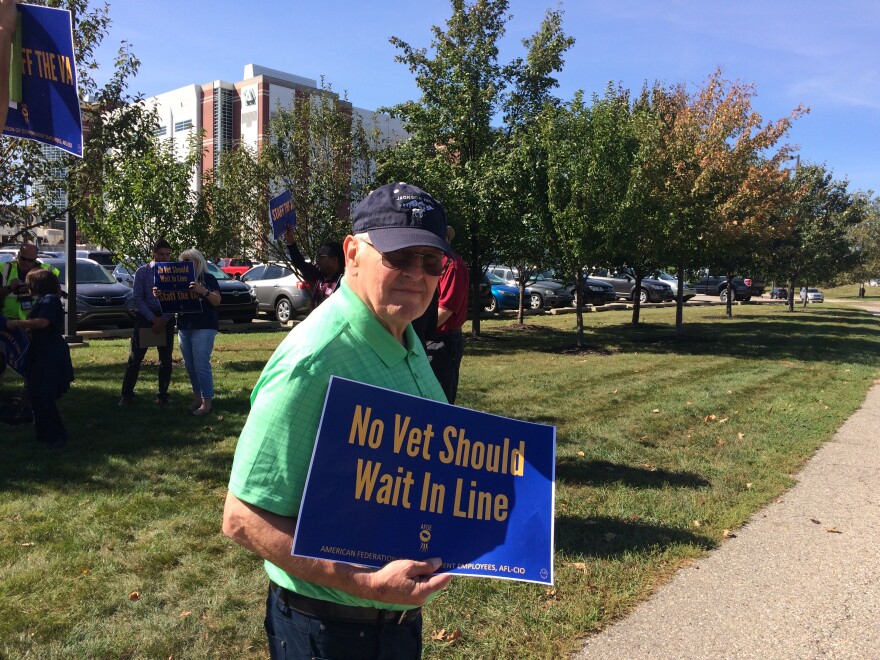 Updated 10/4/17 to reflect comments from Ann Arbor VA
Ann Arbor VA Hospital employees rallied Tuesday to ask Congress for enough money to eliminate what they claim is 49,000 job vacancies at VA hospitals nationwide. Similar rallies have been held at other VA hospitals nationally in recent weeks.
Ozzie James, Jr. is president of American Federation of Government Employees Local 2092. He says veterans need the expertise of VA doctors, nurses and other staff, because outside health care professionals don't fully understand veterans' needs.
"The promise to take care of the veterans who go fight the war, you're not keeping that promise," says James. "Because you fail to have the staffing that's needed to take care of the veteran when he or she comes home. It's a disgrace to us."
James says the shortage is particularly acute for VA nurses; many cannot take the vacations to which they're entitled because there is no one to fill in for them.
He says the staffing problem predates the Trump administration but has gotten worse under it.
Darcy Guyton-Hanna is a dental hygienist at the Ann Arbor VA. She says the staffing shortage means some veterans have to wait a year for a comprehensive dental exam.
"We are short two dental assistants and one administrative assistant, so they have a lot of the dentists doing paperwork and administrative jobs instead of seeing patients," says Guyton-Hanna.
She says administrators told her there is a hiring freeze so nothing can be done about the situation.
But Ann Arbor VA spokesman Brian Hayes says the number of job vacancies is more like 31,000 to 35,000, which is about 9% of the overall VA job pool. He says that compares favorably to what the VA claims is a much larger 20% vacancy rate in the private health care sector.
The problem is "there aren't enough doctors and nurses overall," he says.
Hayes also says veterans who have an acute or emergency situation are getting seen right away, and any long delays are clinically appropriate.