Experts say contact tracing is key to reopening. But Michigan counties need help.
Michigan health officials say they have 3,500 volunteers trained to do COVID-19 contact tracing, one of the things considered essential to reopening the economy safely. And although those state officials can't say how many paid staffers Michigan counties have doing this work, Michigan Radio's analysis of three of the hardest-hit counties indicates the pool of volunteers is likely enough to meet epidemiologists' recommendations.
On Saturday, the state announced it had hired two contractorsto help coordinate the work: Rock Connections, LLC for volunteer management, and Deloitte for technology integration. But the controversy over a firm the state had originally hired for that purpose, and the time it took to get the new contracts in place, means that for several weeks, counties have been scrambling to finish investigations quickly.
Here's why people are needed for contact tracing
Contact tracing is the process of identifying all the people who have interacted with a person who has any infectious disease. The work involves reaching out to those people to alert them to the exposure, explaining the symptoms they should be aware of, and advising them to quarantine and get tested. The investigators then periodically follow up to see how these people who may have been exposed to the disease are doing, and whether they're exhibiting symptoms.
The idea is to spot and contain potential new outbreaks. Local health departments, typically counties, do this work. Contact tracing helped curb recent outbreaks of Hepatitis A and measles in Michigan. But nothing has approached the scale or urgency of COVID-19.
"Even on my days off, I'm still working, and I think that's the case for everyone," said Christina Zilke, a public health nurse in Washtenaw County. "Yesterday was my day off, and I worked as much as I did the day before when I was actually working."
Counties hard-hit by the virus have reassigned and trained up staff from other areas in an effort to tackle the unprecedented volume of contact tracing work. Oakland County, for example, shifted 45 employees into contact tracing work. Kent County has recruited administrators and staff from other departments to assist its health department, and is working with universities to get assistance on the contact tracing front.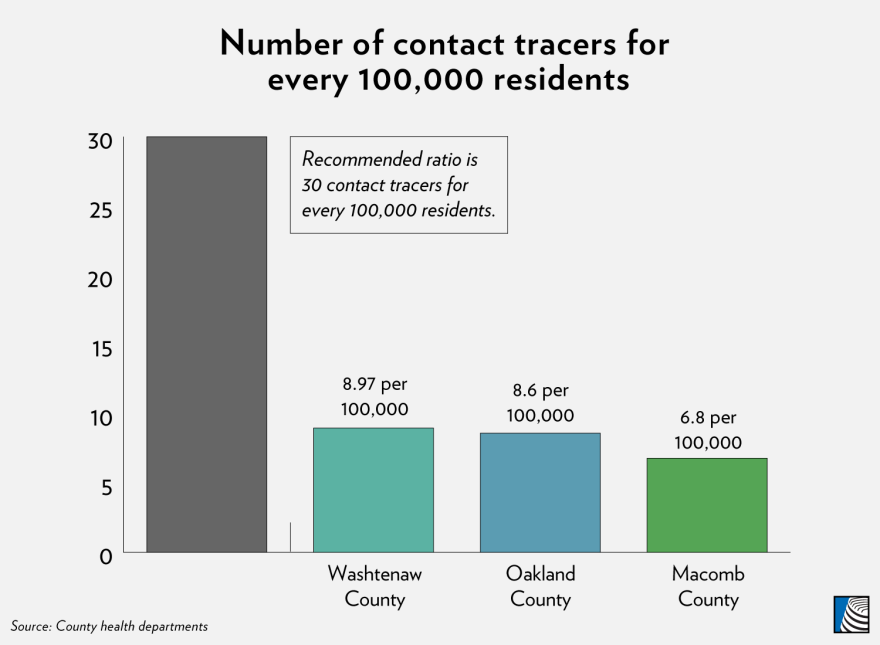 Guidance from the National Association of County and City Health officials recommends 30 professionals for every 100,000 people -- twice as many for COVID-19 cases compared with "non-emergency" times. We surveyed three counties to find out how many people they have working on COVID-19 contact tracing, and found:
Oakland County has 109 people doing contact tracing work. That's 8.6 people per 100,000 residents.
Macomb County has 60, or 6.8 per 100,000 residents.
Washtenaw County has 33, or 8.97 per 100,000 residents.
With 3,500 volunteers, Michigan would have more than enough people to augment county health departments' efforts and reach the recommended ratio. A spokesperson for the Michigan Department of Health and Human Services says counties will be able to get assistance from its volunteer pool by requesting it. But for now, and for the past several weeks, counties have been on their own.
Linda Williams is a retired nurse (and a relative of a Michigan Radio editor) who responded to the state's call for volunteers
"I have a sort of natural dislike for online training, but it was well done," Williams said. "It seemed like it was put together quickly due to the urgency of the matter, but the content was deep. There were links to documents, I think about 70 pages total of material to read through, and the sections had intermittent quizzes of about three or four questions each."
Williams completed the training, and expected to start the work on April 27. "The next thing I got was an email message that said something like, 'Things are in the works, we're working on some things, please stand by," she said.
Michigan Department of Health and Human Services spokesperson Lynn Sutfin says she expects a new contract with a firm to coordinate that work will be in place "any day now."
Adequate contact tracing alone won't be enough

"Volunteers are wonderful, and it's great that we have that short term surge," said Angela Beck, a professor with the University of Michigan School of Public Health.
In the long term, Beck says what the state and local health departments really need to tackle COVID-19 and other threats to public health is better funding.
"The public health system has been underfunded and under-resourced for a long, long time now, and that's helped contribute to the challenges in addressing this emergency now," she said.
Beck says Michigan absolutely needs contact tracing to contain the virus. But it has to be combined with social distancing, and adequate testing.
"It's hard to know how ready we are (to ease social distancing), because we have limited testing capacity," said Beck. State officials have yet to reach their goal of testing 15,000 people a day. But it's getting closer. More than 10,000 Michiganders a day got tested most of last week.
Beck praises the state for taking a "public health-informed approach" to flatten the curve of new infections and slowly reopen the economy.
"If we remove those restrictions too soon or too broadly, we can expect a likely increase in case count. And we may not have the testing to identify all of these infections, and then contact tracing abilities become compromised," Beck said.
Update 5/9/2020 at 4:11 p.m.: This story was updated to reflect the fact that the state has hired Deloitte and Rock Ventures as contractors to facilitate contact tracing.