How Michigan Tech brought COVID testing to the Upper Peninsula
Plants, like humans, have a remarkable ability to adapt. When their surroundings change, they do too.
"It happens in response to the environment," said James Rauschendorfer, a Ph.D student at Michigan Technological University, in Houghton.
"So it's no good if you, you know, just say I'm going to be this way forever."
Rauschendorfer studies how northern pin oaks and northern red oaks, which can be found in the Upper Peninsula, regulate their genes to survive in increasingly hot and dry conditions.
In March, Rauschendorfer had recently returned from a research trip in Puerto Rico. Governor Gretchen Whitmer had issued her lockdown order. And the western U.P., where Houghton is located, had few, if any, COVID-19 cases.
Keeping it that way would require frequent, reliable testing, which the region didn't have. The few people who were getting tested in the U.P. were waiting as long as two weeks for results.
So lawmakers from the area -- Senator Ed McBroom (R-Waucedah Township) and Representative Greg Markkanen (R-Hancock) -- looked to Michigan Tech. Maybe the professors, students, and administrators there could set up a testing lab.
"When I was first asked, I had no idea if this was going to be possible," said Caryn Heldt, a chemical engineering professor at the university.
Heldt was tapped to lead the effort because, in her research, she works with viruses that require the same level of precaution as the novel coronavirus -- they have to be studied in what's known as a biosafety level 2 facility.
But Heldt immediately recognized that running COVID tests takes a lot more than experience with viruses. It involves a range of scientific expertise. It calls for people who can work with hospitals, and others who can navigate federal certification processes.
It requires testing supplies, like reagents, and specialized hardware, like PCR machines. (PCR stands for polymerase chain reaction, the process by which the COVID test developed by the Centers for Disease Control and Prevention detects the virus.)
Heldt soon learned that Michigan Tech's campus contained all those ingredients. They just needed to be collected.
"It all had to be coordinated. And that was mostly Caryn Heldt's work," said CarstenKülheim, who studies forest genetics at Michigan Tech. "She did an unbelievably fantastic job there."
Külheim, along with another professor, had a PCR machine to offer, because he and his students (one of whom is Rauschendorfer, the Ph.D candidate) use it for their research on trees.
Again, PCR stands for polymerase chain reaction, a process that detects genetic material in a sample of cells. In this case, it searches through a patient sample for RNA from the novel coronavirus.
A lab worker inserts the sample into the PCR machine. If present, the viral RNA gets replicated millions of times (hence the chain reaction), amplifying it to the point when the machine can detect it.
But before all that, the sample needs "cleaning." A lab worker must separate out the RNA from other molecules that might appear in the cells.
"In a human cell and in a plant cell you would have things like sugars in the cell as well," said Külheim. "And these can often interfere with how your PCR works. So you want to have it as clean as possible, your RNA."
Külheim managed that step, known as RNA extraction.
Stephen Techtmann, an environmental microbiologist who studies aquatic bacteria, oversaw the step that uses the PCR machine (his research lab loaned out a machine as well).
Claire Danielson, a medical laboratory technologist who worked for years in hospitals, determined how the lab would work with health care providers to receive samples and report results.
Graduate students were trained in the four main steps of the process -- sample intake, RNA extraction, PCR testing, and result reporting -- and by mid-April, the lab was up and running.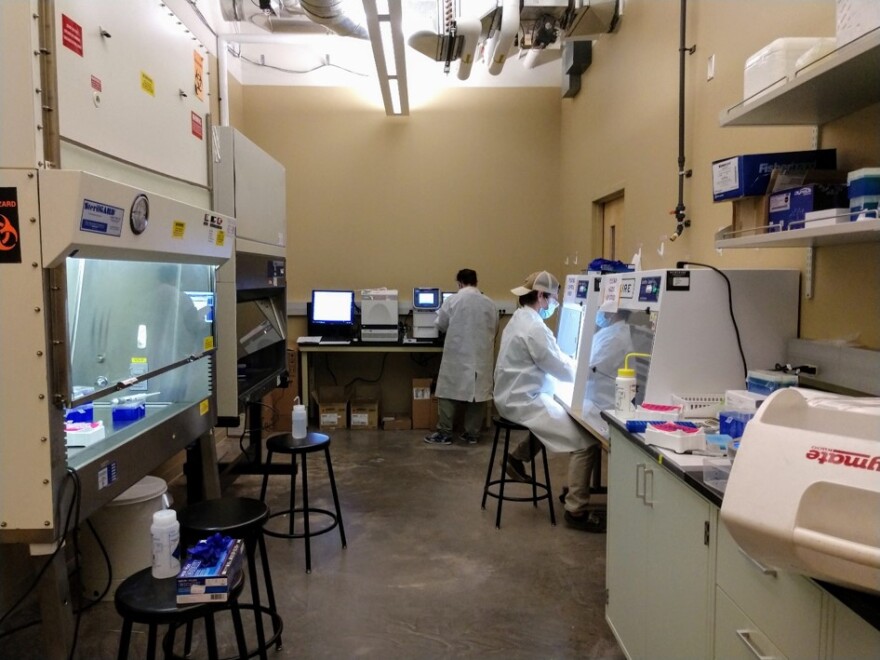 Rauschendorfer, the student who researches oak trees, was one of the PCR workers. He had never before worked in a lab that diagnoses illness.
"I'm not used to being deemed so necessary," he said. "It was very strange."
Though Rauschendorfer and the other students specialized in different fields, they all knew a lot about genetics.
And the skillset for studying genetics in the lab is broadly applicable. Whether you're looking at the genes behind wolf anatomy, or a northern pin oak's drought tolerance, a PCR test is basically the same.
In June, the lab could process 50 samples a day. Now the capacity is 150, and 98% of results come back within 36 hours.
Some nursing homes, like Bayside Village, now rely on Michigan Tech's quick turnaround for weekly testing of staff. Because the U.P. is now designated a medium- to high-risk zone, the state health department requires that testing.
At Baraga County Memorial Hospital, some tests were initially getting sent to Lansing. Others were going as far as the Mayo Clinic in Rochester, Minnesota.
But a courier can get to Houghton in 30 minutes.
"Michigan Tech's been a godsend," said Sue Copley, the lab manager at Baraga County Memorial Hospital.
Most of the tests she sends to the lab come back with results the same day.
But this week, she'll be sending the tests to a hospital in Marquette, U.P. Health System, which is Baraga Memorial's reference lab for all other diagnostic tests.
It's freshman orientation at Michigan Tech, and the lab there is dedicating all its capacity to those students. After that, it will resume accepting tests from local health care providers.
Heldt, the lab's manager, is now training her replacement.
"I was hired to be a professor, which is to teach and do research. And while this has been an amazing experience, I am ready to go back to being a professor," she said.
The other professors and students will be returning to their specialties too. They've been hiring more workers, and have been so far successful. They've found that Houghton is home to a lot of people qualified to work in the lab setting.
But if there are any hang-ups, and the lab needs their help, they'll be ready to jump back in.
Editor's note: Michigan Tech is one of Michigan Radio's corporate sponsors.
Want to support reporting like this? Consider making a gift to Michigan Radio today.