Defiant to depressed: 10% of Flint households owed more than $1,000 in water bills this spring
Judith Pruitt's water bill is $7,545.29.
That's after the Flint retiree withdrew nearly $900 out of her savings account a few weeks ago to pay the city, or else her water would've been shut off, she said.
New data analyzed by Michigan Radio show Pruitt is not alone.
She's one of 2,777 residential water customers who owed $1,000 or more to Flint this spring. That's almost 10% of all water accounts.
Between January 12 and May 2, the city sent more than 18,000 past due notices to more than 9,000 water account holders. Nearly a third of all Flint water customers received one of these notices.
That's according to data the city provided Michigan Radio under the Freedom of Information Act. We don't know how many of the notices sent were shut off notices or how many of the previously past due accounts have been paid off.
For Pruitt's shockingly high water bill, the culprit was a water pipe that busted inside her house last winter.
She was staying with family out of state after a medical procedure. For at least a month, the broken pipe flooded the first floor of her home, destroying her walls, all the flooring, furniture and more. Insurance did not cover the losses, she said.
"It was like a waterfall inside my house," Judith Pruitt recalls her daughter saying. She was still recovering with family in Louisiana when her daughter drove up from Cleveland to check on her house.
"I'm just devastated is all I can say," Pruitt said.
When she called the city, she says they told her a crew checked on the house. "They told me, 'Well, there was a car in the driveway and curtains in the windows, so they figured someone was living there," Pruitt said. She's disappointed the city didn't shut the water off then and there.
In the beginning of January, her bill was less than $200. By the very beginning of March, a bill arrived for more than $8,000. The city offered take off part of the bill, but said she would first have to track down the person who did the repairs for the burst pipe and get a receipt.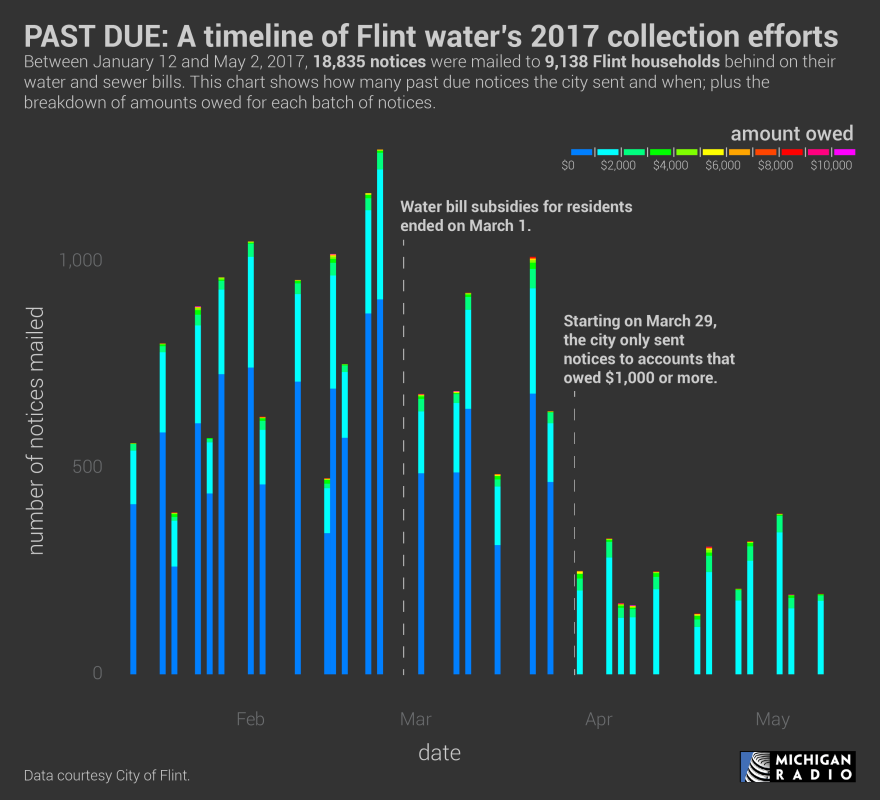 Tomorrow, a panel appointed by Governor Rick Snyder will decide if Flint should be able to put liens on thousands of homes because of overdue water bills.
Earlier this month, Flint's post-emergency manager Receivership Transition Advisory Board heard some arguments about the year-long moratorium on liens that Flint City Council overwhelmingly adopted in May. But some on the RTAB panel said they didn't feel the city gave them enough information about the potential impact the moratorium would have on residents or the city's finances.
Flint's Interim Chief Financial Officer David Sabuda opposes the moratorium, saying the financially struggling city needs the money to be able to keep paying for Detroit water.
But many locally elected officials say some city residents struggle to afford Flint's high water rates, or that it's unfair to ask people to pay for water that could not be used without a filter.
"I refuse to pay them that water bill. I'm not doing it," Ladetrice Vincent said when contacted about her $6,668.49 water bill.
Vincent says she had a toilet that was broken, running non-stop in the spring of 2015. She says she fixed the leak for less than $50, but not before the bill got up to more than $7,000. She paid $230 and went down to city hall, where she says they offered to make a one-time adjustment, taking more than $2,800 off her bill.
But that summer the news broke of Flint's lead-in-water contamination. Four of her five kids tested positive for lead, and she decided not to pay the bill. Since she missed a payment, the city reinstated the original bill. She hasn't made a payment since then.
"How do I pay you for you poisoning my kids? No, I'm not paying them until I know the water is safe. Now, once the water is all the way safe and it's clean water then yeah, but I'm not paying them that $6,000," Vincent said.
Vincent has a full-time job and says she could've gotten the $1,000 the city demanded together and kept her water on. But she refused, and a city crew shut it off.
"The city of Flint claims that they're broke. Whatever. That's their thing. They want money. They don't care what they have done or what you have gone through or nothing. They just want money. So now I'm at the point to where, I'm just going to get a lawyer," she said.
"How do I pay you for you poisoning my kids? No, I'm not paying them until I know the water is safe," Vincent said.
Vincent takes her kids to bathe at her sister's house and uses bottled water to drink and for cooking.
Judith Pruitt says she only uses bottled water too, which is free until the end of this summer.
"Because I'm disabled I'm not always able to come down and get the water and if they cut if off, stop the free water in September, I don't know what I'll do," she said.
"I guess the city really needs that $8,000. So I, I guess I'm going to have to pay it, or I won't have any water," Pruitt said.
"I feel depressed" about the whole situation, Pruitt said.
"I'll make way some how. That's all I can say. That's all I can do. There's nothing else that I can do. I'm not going to move out of my house. I've been here since 1972. I don't know. I just really don't know."
The state has spent more than $40 million subsidizing Flint's water bills. But those credits ended March 1 because water quality is improving.