Features from Michigan Radio's award-winning investigative unit.
For the first time, multiple women speak out about former U-M provost's alleged sexual misconduct
Emily Renda's ex-boyfriend was stalking her. It was 2012, and as a 28-year-old with a master's degree in public health, she'd recently started a job she loved: working as a global health and student life coordinator at her alma mater, the School of Public Health at the University of Michigan.
But now her ex was showing up at work and her house, where she lived alone, she says. The police told her to tell her coworkers, in case he turned up at the office again. That's how Martin Philbert started offering her rides home. Philbert would go on to be named the University of Michigan's provost and executive vice president for academic affairs in 2017, but at the time in 2012, he was still dean of the School of Public Health.
"He let me know that he had heard what was going on, and that he was concerned for me," Renda says. "He would pop in and say, 'Hey, I know you're on my way home, can I just give you a ride home? That would make me feel better, knowing that you're safe.'"
What Renda didn't know at the time was that Philbert, a rock star in the field of toxicology, with a crisp BBC accent and degrees from the College of Arts and Technology in Cambridge and the London University Royal Postgraduate Medical School, who served on prestigious national advisory boards and has more than 150 publications to his name, had already been reported for sexual misconduct at least twice in his career at the University of Michigan.
But both times, in 2005 and 2010, the complaint went nowhere, according to the women who filed them. (All three women, including Renda, are sharing their accounts for the first time with Michigan Radio. They are also considering potential litigation against the university, and are being represented by an attorney.)
Meanwhile, Philbert continued his meteoric rise at Michigan. After starting as a research assistant professor in 1995, he was steadily and repeatedly promoted, rising up the ranks to an associate professor in 2000, then a professor 2004, to dean of the School Public Health in 2011, and finally, in 2017, being named the provost of the University of Michigan – the second most powerful person in the institution. (Philbert's attorney did not respond to requests for comment.)
"Dr. Philbert's success in leading our world-class School of Public Health for the last six years and his track record of high-impact scientific research, academic leadership and public service makes him an outstanding choice to be our next provost," U of M President Mark Schlissel said in a statement announcing Philbert's appointment.
But his swift ascent came to a sudden halt in January of this year. That's when the university revealed it was placing Philbert on leave four days after receiving "multiple allegations of sexual misconduct." In February, the Detroit Free Press reported that at least 20 women had filed complaints against Philbert, though the details were unknown, and that school administrators had previously known about three of those complaints.
A spokesperson for the university says the school can't comment on specific allegations, but that officials "acted immediately" upon receiving the complaints in January. The school has also hired an outside firm, WilmerHale, to investigate. The results of that investigation will be made public.
In an emailed statement, the spokesperson says, "[W]e condemn all forms of sexual misconduct as reprehensible. Whether it takes place now or took place in the past, it is unacceptable. All members of our community deserve to feel safe and supported. The university has taken extensive measures to combat sexual misconduct."
Philbert was fired as provost in March, and sent a letter in June submitting his "voluntary and irrevocable retirement" to University President Mark Schlissel.
Renda watched Philbert's fall from grace from her home in California, where she now works in operations for a tech start-up. Her experiences with Philbert, she says, ultimately drove her out of both the university and the public health field she loved.
"I guess the anger for me isn't really there, because I'm just not surprised," Renda says of the recent allegations. "I've never expected the university to do the right thing. And I have been proven right every step of the way here in this process."
Instead, what she feels is grief. "I think there will be kind of a thud, too, when [my] story drops. And I'm not so concerned about what my former colleagues will think, or even my family. I'm most worried about what the students will think, my former students. And just how I feel like they're going to be kind of heartbroken."
A powerful, charismatic leader with "the maturity of an 8-year-old boy"
Even before he was provost, Philbert inspired a fiercely devoted following among students and staff, all drawn to his idealism, brilliance and warmth.
"I call them his fan club," says one senior School of Public Health staff member who worked closely with Philbert. (They asked not to be named to protect their job.) "Even now [they're saying] 'What kind of crazy bitches are out to get him?'"
One on one, Philbert was charismatic and charming, giving out his personal cell phone number and opening up about his abusive childhood, several current and former employees say.
"Martin Philbert acted like he was on the same level as anyone he came into contact with," the senior staffer said. "He acted in the same manner with everyone. Which might sound nice, except when you're inappropriate."
Philbert boasted about his juvenile sense of humor. "He'd say, 'I'm at the maturity level of an 8-year-old boy,' and we'd all laugh," the senior staffer said. "And at first you're like, 'Wow, this is kind of fun, laidback, lots of joking."
But that humor also extended to sexual comments about subordinates. In private, he'd describe high-level female administrators as having "jungle fever," the senior staff member said.
Then, there were the whispers about "Martin's girls." A carousel of mostly young women – some of them students, others employees – would be invited into Philbert's office for long conversations after hours.
"When he was present in the school, it wasn't unusual for that to happen two to three times a week," the senior staffer said.
"I used to call them his 'it girls,'" says Shelagh Saenz, the director of the careers center at the School of Public Health. "He kind of zeroed in on a particular woman."
There were rumors. Philbert kept a couch in his office, and a liquor stash in his cabinet, a current employee says But Philbert always insisted these relationships were purely professional, and that he was serving as a mentor.
"But if I search for a time when he was mentoring young men..." the senior staffer trailed off. That never seemed to happen.
"Let's have sex on the desk:" The 2005 complaint
Becoming one of Philbert's "favorites" could open doors. "He has a lot of power. All of these corporate recruiters are in his pocket, literally. He's the darling. And he can make or break you," the senior staffer said.
But Philbert also demanded total loyalty, current and former employees say. That was made clear to staffers who worked in his lab, two former employees said. In 2004, when Philbert was a professor, one of the researchers in his lab sued him for wrongful termination. Thomas Komorowski, the ousted senior research associate, claimed he was pushed out after accusing Philbert and a colleague of misusing federal grant money.
A woman who worked in Philbert's lab as a research assistant (she asked not to be named to protect her privacy, and because she is considering litigation against the University) remembers Philbert coaching the staff about what to say if the university's attorneys approached them about the lawsuit.
"He has a lot of power. All of these corporate recruiters are in his pocket, literally. He's the darling. And he can make or break you."
"He made it clear [that he would retaliate]," the former research assistant recalled. "There were many rumors and stories in the lab about him retaliating against people. Plus we could see him smearing Tom to everybody in the lab to bolster his lawsuit case." (The university ultimately settled with Komorowski. Reached at his home, Komorowski said the terms of that settlement prevent him from speaking about Philbert.)
Philbert initially struck her as warm and friendly when she first met him when she was a graduate student. He seemed to take a real interest in her career, she said. Anytime he saw her, he'd go in for a hug.
"And then he started asking me for hugs anytime I saw him," she said. "He was trying to get me to come work for him. 'Come work for the dark side,' he said." But working part-time in Philbert's lab led to harassment, the former employee said.
"He made comments about the way I looked," the former research assistant said. "During embraces, he would act like he's gonna kiss me and then quickly divert to kissing my cheeks and my neck. One time he did that, he had me in a hug, and it surprised me. He leaned over and kissed my neck while we were hugging. It was a shock to me. That particular time, his phone rang right at that moment and it saved me. I left his office."
Eventually, Philbert started asking her for sex, she said. "One time he said, like, 'Let's have sex on the desk.' And he also asked me to run away with him and have his 'caramel colored babies.'"
Afraid of losing her job like Komorowski, the research assistant confided in a faculty member in the department. Reached by phone, the faculty member asked not to be named, because she still works for the university. But she confirmed that in 2005, the research assistant in Philbert's lab "reported sexually inappropriate behavior from Martin Philbert. I actually discussed it with [her] and I took action."
The faculty member says they brought the complaint to Anthony Walesby, who was then U of M's senior director of the Office of Institutional Equity, which handled sexual misconduct allegations.
In a meeting in late 2005, Walesby pressed her for details about the harassment, the former research assistant says. In order for the university to investigate, Walesby said he would need to talk to Philbert.
"He said he'd get into specific details with dates, and then go to Philbert and say, 'Did you do this on this date?' And I knew [Philbert] would know it was me. Everything was such an outrageous thing that he said, and they were very specific things. So I was scared to give [Walesby] any information,"she says.
Walesby told her in that case, he couldn't move forward with the report. "He said he believed me regardless of whether I gave him the details. And at very least they'd talked to Philbert about proper behavior."
The current faculty member who brought the research assistant's complaint to Walesby in 2005 isn't sure whether that actually happened, but remembers being told not to "investigate."
"I remember meeting with [Walesby] several times, and with a lawyer once...I was given very specific parameters, and after reporting, I was told to stop," the current faculty member says. "I was told that my responsibility was to report it but not to investigate. So I did not go around the department asking lots of questions."
Eventually, the research assistant left her job at the university in 2007.
"I didn't get [another] job right away," she recalls. "I was really burned out by that whole situation... I did get pretty depressed after that. It took some time for it to set in."
Then, in 2012, she says she returned to Michigan, this time to explore getting a master's degree in public health.
That's how she learned that Philbert, her former boss, had not been derailed by her complaint or any concerns it may have raised. Rather, he had recently been named dean of the School of Public Health in 2011. Now he was no longer just running the lab, but courting donors, leading campus events, sitting on the powerful grant review panel at National Institutes of Health, and representing SPH globally.
The former research assistant would see Philbert from afar, in lecture halls or semester kick-off events. "I started to just have severe anxiety," she says.
She asked the school if she could withdraw from her course and get a tuition refund, citing mental health issues. At first, administrators denied her request, so she reached out to Walesby, asking him to write a letter confirming she'd reported sexual harassment back in 2005.
Walesby responded on March 22, 2013 in an email provided by the former graduate student:
Thank you for contacting me. I haven't written such a letter in the past and I'm not sure I see my role in this matter at this point. There may be a misunderstanding, and if that's so, I apologize. I understood from our last meeting that you continue to not wish to share any specific allegations regarding the person you reported having interaction with in 2005... At this point, other than efforts we made in 2005, we are unable to move forward with an investigation based on the lack of specific allegations. Again, as we discussed, we do take these matters very seriously and would like to review any concerns that you may have, we just need information to move forward. As always, the determination regarding sharing information is always up to you..."
But the former research assistant says she didn't want to reopen the complaint against Philbert, she just wanted a refund for her tuition. In frustration, she forwarded Walesby's email to Heather Colohan, who worked at the school's Sexual Assault Prevention and Awareness Center (SAPAC) and was helping her with the refund petition.
"Like I said, you are not the first person who has stressed similar concerns to me about this individual and I see his behavior as problematic," Colohan responded in an email dated March 25, 2013. The former research assistant says this was a reference to Philbert. (An email and messages sent to Colohan were not returned.)
Eventually, the university agreed to refund her tuition for her class, informing her in an April 26, 2013 email that this was a "one-time exception to policy:"
"The University Registrar is expressing no opinion with respect to the merits of the claims contained in your refund request, but is granting the request as he sometimes does when students file an appeal (not because he has made a factual determination as to the issues you raised). We encourage you to follow up with the Office of Institutional Equity if you wish to pursue those issues."
Multiple attempts to contact Walesby, who worked for the University of Michigan from 2003 until 2016, have not been successful.
In 2010, a note in a personnel file
The year before Philbert was named dean of the School of Public Health, another woman reported him for sexual harassment.
Speaking anonymously, the woman described an office culture where Philbert frequently made sexual comments to her and touched her inappropriately.
Shelagh Saenz, who worked with this woman at the time in Philbert's office and is still with the School of Public Health, says "we all saw him make jokes of a sexual nature."
But the unspoken policy shared by the female employees was to laugh it off, both women say.
"He was so charismatic, and we blew it off as it wasn't a big deal," Saenz says. "And that was a professional way to succeed, too. Not to rock the boat, just go along with it, not say anything. It was definitely a strange environment at the time."
"We blew it off as it wasn't a big deal. ... That was a professional way to succeed, too. Not to rock the boat, just go along with it, not say anything."
Saenz also recalls her coworker at the time, the woman who spoke with Michigan Radio, telling her about some of Philbert's specific comments to her.
The woman says she also told her supervisor at the time, Kim Elliott, who insisted they make a note of the comments in her personnel file. (Elliott declined to comment for this story, and referred Michigan Radio to the university's press office.) The woman says she told Elliott she was worried it would get back to Philbert, and isn't sure whether Elliott took the complaint further.
Ultimately, the woman who says Philbert harrassed her left the university in 2012. "As I watched [Philbert] kind of ascend to the provost thing, I'm shaking my head, and being like, I have this piece of info. And I wonder if there've been others…. [But] it just felt like it never made sense to say anything more about it, because there was no way one tiny voice [would change things.] And I kept thinking, is this man's time ever going to come?"
"He said I made him feel things he hadn't felt in years"
In 2012, Emily Renda knew none of this. She was just grateful for Martin Philbert's rides home from work, she says. The car rides turned into happy hour drinks, which Philbert suggested so they could talk about her "career goals."
But he also steered the conversation to areas outside of work. He wanted to know about "more personal matters about my relationship history, my sexuality, things along those lines," Renda says.
And Philbert seemed to be confiding in her, too, about abuse he'd experienced in his past, and about his decades-long marriage, which he described as dutiful but loveless.
Meanwhile, Renda's career was taking off. In 2013, she was nominated for a staff excellence award, with colleagues submitting glowing letters of recommendation. "I ... cannot think of a more worthy colleague," one wrote. She was promoted to director of Student Life, which meant even more time working closely with Philbert. "I felt like we were a really good team," she says.
Then, in April of 2013, some six months after Philbert had first offered her the rides home, he sat down next to her on the couch in his office and confessed he had fallen in love with her.
"[He said] I made him feel things that he hadn't felt in years, if ever in his life," Renda says. "He made me feel very seen, very safe. And this was someone that I completely admired. I mean, everybody loved this man ... and I was absolutely head over heels."
She says they kissed there in his office, which would become the site of many more "physical encounters" over the course of a six-month affair. Philbert insisted they communicate over email because his wife was tracking his text messages.
"Suspicion is high – too many texts. She is tracking them," Philbert wrote on Monday, June 17, 2013, in an email provided by Renda. "I am so sorry."
But by the fall, Renda says she was becoming disillusioned. "I was ready to move on with my life and have a normal relationship," Renda says. "I hated being a mistress."
So she says she felt relieved when Philbert ended the relationship in November of 2014. "[He said] we should just depart as friends and we'll always have love for each other," Renda recalls. Her career was still on the rise: in April 2015, she won one of the school's most prestigious staff awards, with 16 professors and graduate students signing nomination letters.
It was around then that Philbert tried to restart their affair, Renda says.
An abrupt departure
"He came into my office and hugged me for a very long time, and then started to put his hands down my pants," Renda says. "And I was like, 'Whoa, whoa, what are you doing? I thought you said that this was over. We're not doing this anymore.'"
But Philbert persisted. Several times, he'd call her into his office or come to hers, insisting that he loved her, Renda says. Each time, she says she told Philbert she was in a new relationship with someone else.
"He said something along the lines of like, 'Oh, I just disgust you. Now you're disgusted by me. You don't want anything to do with me ... I thought you were always going to love me.'"
Meanwhile, the dynamics at work were shifting.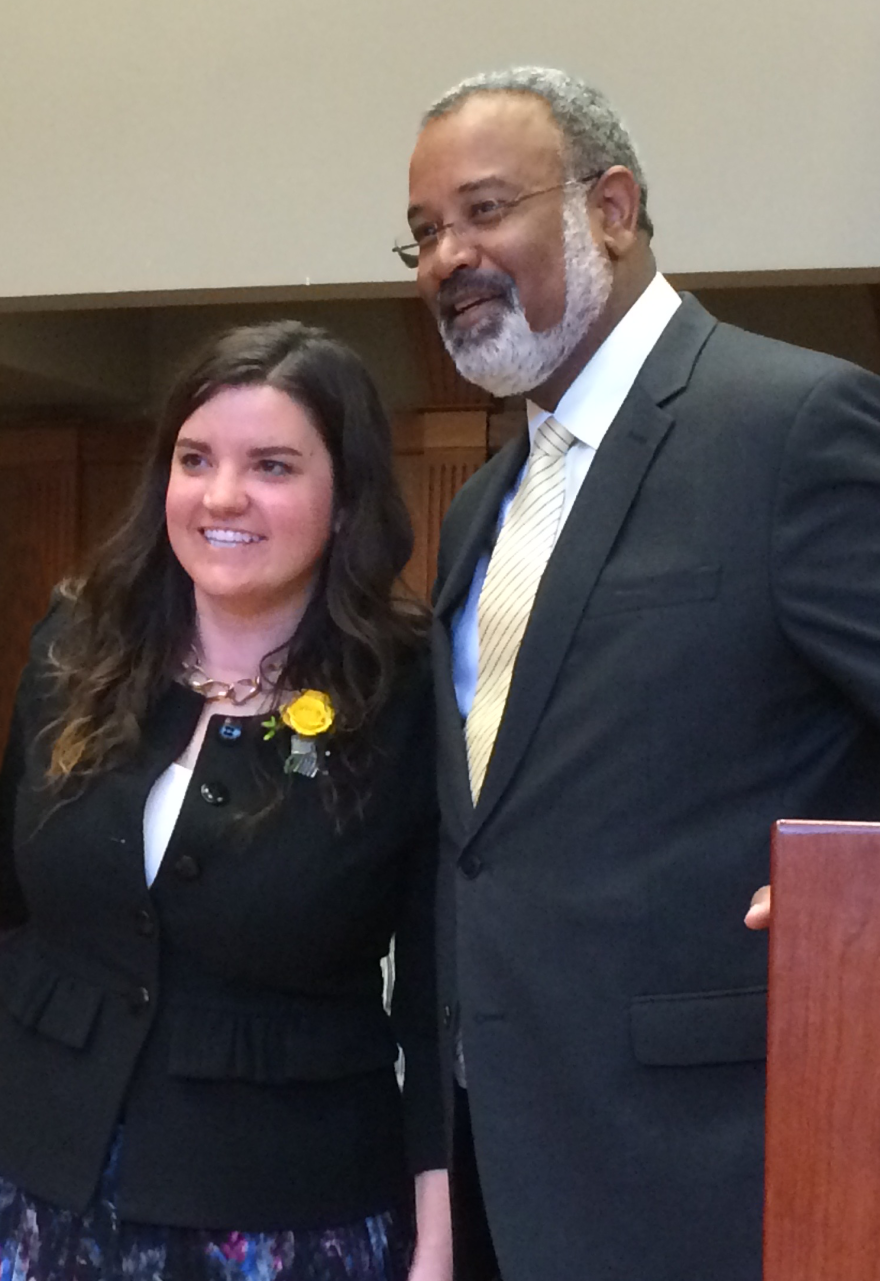 Renda says Philbert initially told her she could take the lead on a major project she felt passionate about: creating the school's long-term diversity plan. But without warning, she says, Philbert publicly announced another staffer would be taking that lead. It felt like other coworkers were starting to question her judgment too, she says.
Renda says for the first time in her life, she started having panic attacks. "I would just call my mom sobbing, and it would sometimes take me hours to pull myself together and go to work. And it was so confusing for her because she was like, 'You love this job! I don't understand why you're just having such a hard time!' And I didn't really understand that either, why every time I would go into that building, I would just feel physically ill."
"Her personality really changed," says Shelagh Saenz, Renda's supervisor at the time. "She was very, I don't know, it felt almost jaded. We used to have a very close relationship. It felt like she was becoming a bit more secretive, jaded, frustrated in the job. That wasn't her, that wasn't her character."
Renda decided to leave the School of Public Health in the spring of 2016. She felt demoralized, she says, and disillusioned with higher education.
"I left in complete shame," she says. "I felt like a complete professional and moral failure. I felt like I had engaged in an affair with a married man, who was also my boss, and that I ruined my career and that that was my fault for making such a poor choice."
She moved to California, bouncing around jobs, including being a mortgage loan officer. Over the years, she's thought about getting back into public health, she says.
"But I just can't. When I find a job that I think I'd be good at, that I would enjoy, I go to apply for it and I just freeze. I just can't even type words on the page to even begin to get back into that field….
"I'm worried that whatever [Philbert] has said about me is going to follow me to public health. I can just imagine taking a job in public health and somebody saying, 'Oh, you at Michigan? Do you know Martin Philbert? Wow. He's fantastic. What an amazing person he is.' And having to just sit there and listen to that. So I pretty much gave up on working in public health."
With Renda gone, Philbert explained her abrupt departure to a senior staff member as ultimately a good thing: Renda had come on to him, the senior staffer recalls him saying, but that nothing happened.
"And Philbert said, 'She has severe mental problems,'" the senior staff member recalls. "[He continued,] 'I'm going to tell you something and I know you're going to treat it with confidence. But she was suicidal, and I was mentoring her through a tough time."
In 2017, one year after Renda left, Philbert was named provost. "I am honored to have the opportunity to partner with President Schlissel, university leaders, the faculty, students and staff in keeping Michigan at the forefront of higher education," Philbert said in a statement at the time.
Philbert and Renda would have just one more conversation in person, Renda says, after he became provost. She was visiting family in Ann Arbor, and asked Philbert to lunch, she says. She'd been thinking about their relationship, Renda says, and told Philbert that she felt he'd taken advantage of his position. Philbert insisted she was "the one that got away," Renda says. She asked if he'd ever been afraid she'd come forward while he was up for the provost job. No, he told her, because "he said he trusted me 'implicitly.'"
She's not sure what, exactly, will come out in the ongoing investigation the University commissioned the law firm WilmerHale to conduct. A spokesperson for the school says the results will be made public. But the more Renda learns about the complaints made against Philbert years before she ever met him, the less she's surprised.
"Not only did they allow this person to continue to work at the university, but they promoted him," Renda says. "And continued to give him more power."
Note: this post has been updated to clarify Philbert's alma mater.
Want to support reporting like this? Consider making a gift to Michigan Radio today.