Features from Michigan Radio's award-winning investigative unit.
Robert Anderson's survivors are seeking justice from the university that ignored them for decades
Let's begin with the people whose names we don't know.
The hockey player on scholarship who picked the University of Michigan over other Division I programs because it was his favorite and first choice.
The wrestler who grew up in a large family in a blue-collar neighborhood, where a university coach sat on the couch of his parents' home and promised the team would take care of their son.
The track and field athletes. The golfer. The volleyball player. Tennis. Football. There's the equipment manager who calls that part of his life a "golden time."
What all these men have in common: medical exams with a respected physician that took a dark turn.
That doctor was Robert E. Anderson. Since February, when the Detroit News broke the story of the first man to speak out about how Dr. Anderson abused him, hundreds have come forward. Their stories span more than three decades, beginning in the 1960s. Some women, too, are among his accusers, including a member of the first women's varsity tennis team. Anderson's reputation was so well known, he had a nickname: "Dr. Drop-Your-Drawers." Coaches and other university officials knew, some said, and not only did they not intervene—they joked about it.
It's not just students, either. Community members are among the John and Jane Does in legal filings. There are pilots who were directed to Anderson's door by the Federal Aviation Administration for mandated check-ups. Others saw him for life insurance physicals. And still others sought out Anderson in the Vietnam era because he was known for delivering evaluations that kept men out of a bloody war.
Anderson died 12 years ago. He was a bespectacled 80-year-old man with a square face, a receding thatch of white hair, and a shining reputation. At his funeral in Ann Arbor, football coach Lloyd Carr called him "a tremendous asset in this community."
The doctor is not here to answer for his actions. Most—but not all—of the people accused of enabling him are gone too.
What, then, does justice look like?
At other universities where students were vulnerable to sexual predators under the guise of medical treatment—Michigan State, Ohio State, and the University of Southern of California, just for starters—that abuse was magnified when leaders failed to acknowledge, investigate, and correct the failures of the institution.
The University of Michigan appears eager to write a different story. It doesn't dispute that Anderson was an abuser. Indeed, the chair of the board of regents said that he too was harmed by the doctor, back when he wrestled for the university. The university has apologized.
Michigan also trumpeted a hotline for survivors to receive free, confidential counseling. And it hired a D.C. law firm to do an investigation that it describes as independent, promising to make the report available to the public the same day the university receives it.
But many survivors and advocates say this isn't enough. The University of Michigan gave Anderson both opportunity and credibility, even after administrators and coaches became aware of his actions. Scores have filed lawsuits, though many held out space for less adversarial ways to find truth and reconciliation.
"For the university to do what they have done, which is basically just to say, 'gee, I'm sorry,' that is not enough," said Robert Julian Stone, the first to publicly share his story.
When it comes to abuse, time collapses. It doesn't matter if someone's so-called exam was decades ago; the horror and helplessness last. It affects your intimate relationships, your sense of self, even your health. In Stone's case, it was the beginning of an enduring aversion to doctors. Another survivor, Chuck Christian, who played football for Coach Bo Schembachler, also avoided medical care after Anderson's abuse, especially prostate checks. His terminal prostate cancer was diagnosed late.
In searching for the fairest resolution of complex harms, restorative justice experts say much depends on the questions we ask. The legal system asks: "What is the rule? Who broke it? How hard should we punish them?" said Rick Shafer, who oversees a conflict resolution program at Michigan State University.
Conversely, a restorative justice model asks: "What happened? Who was affected, and how? How do we make things right?"
Those questions are especially pertinent when the perpetrator of decades of violence is no longer around. Sarah Klein, who was one of the first accusers of Larry Nassar and is now a lawyer representing Anderson survivors, said the conversation is no longer just about whether the accused is guilty or innocent, or how long a prison term should be. It's about how systematic sexual abuse, spanning more than a generation, happens in the first place.
"The answer," said Klein, "is never 'he did it in a vacuum and nobody ever knew about it.'"
"You go to Dr. Anderson."
Forget the cultural ferment of Ann Arbor in the late '60s. In those years, the scarcely controlled chaos at the University Health Service came down to bland old problems: not enough space, not enough money.
In early fall of 1968, UHS chose Dr. Robert E. Anderson to turn it around. Anderson was a physician for the football team who had also worked at the student clinic for a couple years. A native of L'Anse, Michigan, a village in the western Upper Peninsula, Anderson had been both valedictorian and president of his high school class. He got his medical degree at the University of Michigan, and did his residency at a Flint hospital. While in private practice, he developed a program to provide free exams to high school athletes.
As UHS director, Anderson did not immediately solve the space and money woes. But he made some changes. Evening clinics started seeing more patients. Admin offices were repurposed as exam rooms, and closets repurposed as offices. A space in the basement was remodeled as a small immunization clinic. A day room was set up for in-patients, where they could play cards, read, or watch a color television.
In Anderson's account of his first year on the job, he made note of another change.
"Since the Director doubles as a physician and administrator," Anderson wrote in 1969, "a former conference room was remodeled to form the administration suite connecting with the physician's office and examining room."
Two years later, a student named Robert Stone walked into that room.
A dark-haired, dark-eyed young man with a neatly trimmed goatee, Stone loved being in Ann Arbor, especially in a time of profound social change. He studied English, theatre, and speech, and at every turn, he met smart and engaged people.
Coming to college had been a big change. He was the only child of two Detroit factory workers who raised him late in life. As a brainy kid with no interest in sports, he felt like a Martian at home. "By the time I had finished tenth grade," Stone said, "I had gone further in the educational system than either of my parents."
To get through school, he spent his summers at the Uniroyal factory, inspecting 640 tires a day, eight hours a day, five days a week, four months a year. At school, he washed dishes in the cafeteria of the Mosher-Jordan dormitory. When one of his dorm friends decided to pledge a fraternity, Stone decided to pledge too.
His junior year, Stone dated two people, a woman and a man, and he enjoyed being with them both—but that was confusing. "It was not really possible to be bisexual in our society," Stone said.
Right around the time Stone ended his relationships, one of his sexual partners told him he might have been exposed to an infection. Stone didn't have symptoms, but, concerned, he called a gay friend for advice.
"What do I do?" Stone asked.
"Oh, no problem," the friend said, as Stone remembered. "You go to Dr. Anderson."
The friend gave him the direct number to Anderson's office, saying that the physician "takes care of all the gay guys in Ann Arbor and he doesn't make any of those nasty referrals to the public health department."
This was important. The American Psychological Association considered homosexuality a mental illness, and, according to the law of the state of Michigan, it was a crime.
"Tell him I sent you," the friend added.
Stone took the number and called the office. He got an appointment two days later.
When he arrived, Anderson called him into his consultation room—a nice space facing west, with light pouring through Venetian blinds. A photo of Anderson with his wife and children beamed up at him. After Stone explained why he was there, Anderson steered him to the adjacent exam room.
Here, as Stone remembered it, Anderson asked him: "Well, first, let me, let me ask you, if you know how to identify the signs of the sexual infection."
Stone was a little taken aback. He wasn't inexperienced. He knew he didn't have symptoms. And yet, the doctor began lecturing him about whether he knew how to pull back the foreskin on his penis to see if there is discharge.
"Well, wait, I'm circumcised," Stone interrupted. "So really, that's not an issue for me."
"Well, let me show you," Anderson said, as Stone recalled. Despite Stone's objections that this wasn't at all necessary, Anderson unfastened his belt. "Let me show you on my penis."
With his pants hanging loosely below his hips, the doctor sat on the examination table and pulled back his foreskin. He asked Stone to come over for a closer look.
Hesitatingly, Stone got up from his chair and stepped closer. Then Anderson laid down on the exam table, took Stone's hand, and moved it over his penis.
Okay, Stone told himself, his mind racing. I know what this is, and I know what it isn't, and it certainly is not a medical examination. ...You need to get yourself out of this situation as quickly as you can.
At the same time, he didn't want the doctor to get away with staging a weird faux medical demonstration without somehow acknowledging what was really going on.
"And so I asked my one question," Stone said. "'Do you want to have an orgasm?' And he said yes."
After it was over, Anderson wiped himself with a paper towel, handed Stone a paper towel, pulled his pants up, buckled his belt, and went to the sink to wash his hands. Stone ran out of the room.
"I was so angry," he said. "I was white hot angry that anyone could do that to another human being, especially someone who took an oath ... to first do no harm."
As soon as he got to a phone, Stone dialed up the guy who referred him. "'Listen, look, this is what just happened to me.' And I laid it all out." The questions poured out of him: Did this happen to you? Does this happen to every gay guy who goes to see Dr. Anderson? Is this what everyone should expect? Were you aware of this?
"He didn't say a word," Stone said. "And that's when I knew. Yeah. This is what happens to everyone. And he absolutely knew."
In retrospect, Stone thinks this friend was trying to do him a favor in an era when gay people didn't have the same choices, or presumptions of safety, that straight people had. "We had to put up with some things that other people didn't have to put up with," he said.
In fact, Stone actually went back to Dr. Anderson for three or four more appointments. (There were no more assaults.) That's because he didn't have any other place to go. His family physician back in Detroit had found out Stone was gay and not only refused to treat him, but tried to send him to a place that specialized in the discredited practice of so-called "conversion therapy." In years to come, after more terrible experiences with doctors, Stone spent half a decade as a practicing Christian Scientist. He refused to see physicians at all.
In this climate, reporting Dr. Anderson seemed pointless.
"No gay person could ever go to anyone at the university and say this [happened] and have an effective outcome, because we would have simply been disregarded," Stone said. "And I knew that. I knew that at the time it happened. And so that's why I didn't say anything to anyone."
"Dr. Drop-Your-Drawers"
As a physician who saw young patients at an agency he directed, Anderson had both access and power. Both grew as he further embedded himself in the university. In the early '70s, around the time of Stone's assault, he taught medical terminology and clinical medicine in the School of Public Health. He continued working for the athletic department. The campus newspaper consulted him as an expert on student health. He and his wife donated to the Friends of the University Hospital Gift Fund.
In the meantime, more and more people endured Anderson's abuse. One was a wrestler on a full-ride scholarship named Tad DeLuca.
In a 10-page letter written to the university provost more than 40 years later, DeLuca said that Anderson "felt my penis, and testicles, and inserted his finger into my rectum too many times for it to have been considered diagnostic...or therapeutic...for the conditions and injuries I had." This purported medical treatment included Anderson putting on a latex glove and giving him a prostate exam. "I was 17 years old, and I didn't know what to make of it," DeLuca wrote. Prostate screenings are only recommended in men over fifty, or 45 if they are at high risk of developing cancer.
It happened again at age 19, when DeLuca visited the doctor as a junior with a dislocated elbow. Anderson checked the elbow but also "continued with his penis, hernia and prostate checks."
At the time, DeLuca didn't register how unusual this was. Many people Anderson abused were scarcely old enough to have graduated from their childhood pediatrician. These were among their first medical appointments without their parents present. They may have felt disturbed and uncomfortable, but they didn't necessarily understand how to distinguish it from ordinary grown-up medical care.
DeLuca began hearing from other athletes about how "Dr. Drop-Your-Drawers" had a habit of this kind of touching. It shocked him. Even though his elbow still hurt—it sometimes came out of place while he was sleeping—he avoided Anderson. This prompted DeLuca, who wrestled on one of the Top 20 teams in the country, to compete with heightened caution, trying to avoid the use of his left arm. This in turn led to his teammates and coaches thinking he was slacking off.
Over the summer, Coach Bill Johannesen came down hard in a letter that accused him of wasting the year—and he sent a copy to DeLuca's beloved high school wrestling coach, too. "I was very, very ashamed and embarrassed," DeLuca later wrote.
He was 20 then, and filled with emotions he couldn't process, DeLuca shot back with an angry letter to his coach that, he said, described Anderson's abuse. "Something is wrong with Dr. Anderson," he wrote at the time. "Regardless of what you go in there for, he always makes you drop your drawers."
As he later put it, "I left out very little."
The coach kicked DeLuca off the team. "You generalize by describing the entirety of Michigan athletes as drunks, pot smokers, drug users, and rapists," wrote Coach Johannesen in yet another letter. "I wonder, Mr. DeLuca, how such a moral, upstanding young man such as yourself could have allowed yourself to remain in a totally immoral situation."
"You will not be known as an athlete," the coach added.
Parker Stinar, DeLuca's lawyer, said this reveals the stakes for young athletes.
"Some of them are the first in their family to go to college," Stinar said. "Some of them are on scholarship and couldn't financially afford otherwise to go to college. … When you're competing against three other teammates for the same spot or the same scholarship, do you want to be the one that rocks the boat? And sadly, these abusers know that and they take advantage of it."
Coach Johannesen saw DeLuca as such a negative influence, he allegedly tried to get the lease broken for the apartment that DeLuca shared with two fellow wrestlers. He also bad-mouthed him at practices, mockingly reading portions of his fateful letter.
Athletic Director Don Canham sent another tough letter to DeLuca, dated July 24, 1975: "...based upon your letter to Bill Johannesen and your decision to no longer want to be an athlete, your financial aid from the University of Michigan will not be in effect for the 1975-1976 school year." Canham cc'd the Big Ten Conference, a university law professor, and a financial aid official.
Johannesen, who coached at Michigan until 1978, has said that it wasn't like this at all. "This never, ever happened," he told the Detroit News.
He did remember the jokes about Anderson—about how whatever you went there for, be it a sore elbow or a sore throat, he would tell you to take your pants off. But he said he only heard it once, and that when he himself visited Anderson's exam room as a Michigan wrestler, nothing untoward happened.
To an AP reporter, Johannesen added that if someone had reported Anderson's abuse to him, "I would've responded to that immediately because I'm their father. When I'm the coach for them, I'm their father away from home. If they would have come to me and said that, I would have pursued it."
After hiring a lawyer and appealing to the Board of Intercollegiate Athletics, DeLuca was reinstated on the team. The board, he noted, also had a copy of the letter that made allegations against Anderson.
But nothing was done about the doctor. And DeLuca, feeling humiliated and shamed, decided not to wrestle his senior season after all. He was allowed to keep his scholarship. After graduation, he left Ann Arbor and became a middle school teacher in Northern Michigan.
It wasn't until decades later, after hearing a public radio story about the gymnasts at Michigan State University speaking out about abuse from sports doctor Larry Nassar, that DeLuca decided to come forward all over again.
"I'm here," DeLuca said at a press conference in February, "to let the University of Michigan know that I will not be ignored again. Everybody who was abused by this doctor—the doctor everyone knew was doing this, was abusing athletes and students—should speak up and let everyone know that they will not be ignored. It just, it has to stop. Period."
Not quite gone for good
In the annual report to the board of regents, a top student services official made note of Anderson's "resignation" as UHS director, citing his intention to "return to the staff as a senior physician and to pursue private practice."
"He is also continuing as Director Athletic Medicine at the Health Service and as physician to the U of M athletic teams," the official wrote. "We are extremely grateful for the high quality administrative and medical leadership Dr. Anderson has provided during his 12 years in Health Service and we are pleased that he plans to remain on staff."
These glowing words came despite Anderson's history of mistreating patients—not only those who suffered quietly, but also those who reported abuse.
Back in the late 1960s, right around the time Anderson was promoted to lead UHS, a man named Gary Bailey said he filed a written complaint. Now in his 70s, the retired librarian told a Detroit News reporter he was an English student at Michigan when he flagged Dr. Anderson's "inappropriate" conduct. But no one from UHS or any other university department followed up.
There was also a scholarship track athlete who said he was groped and digitally penetrated by Anderson during at least 25 appointments. In 1976, the runner told both his coach and assistant coach about the groping, according to the anonymous lawsuit filed by the athlete, but he was too embarrassed to speak of penetration. The coaches laughed at him for describing the doctor's conduct as "odd" or "weird," the runner said, and refused to send him to a different doctor to see about an injury.
Another time, after a graduate student experienced an invasive exam in 1979, he said he complained loudly to a UHS desk clerk and an administrator. He was escorted out by security.
And yet, Anderson not only continued seeing patients, but he was presented as an expert on sexual health. Some of his initiatives, however, are discomfiting in light of what we know now.
He led a "Sex and Marriage" discussion at a chapel, for example. The same year that DeLuca visited Anderson, UHS began paying men $15 to donate sperm for fertility treatments. Students who had a low count would, according to the campus newspaper, "undergo further tests."
"We, quite simply, are looking for good quality sperm," Anderson matter-of-factly told a student reporter.
So why was Anderson leaving the job now? The matter is in some dispute, and, when it comes to the University of Michigan's need to account for its own failures, a lot is riding on it.
Thomas Easthope is the man who fired Anderson—or let him resign; decades later, he wasn't certain. He was in his late 80s when a campus police detective asked him about it as part of the investigation started by the university in 2018, after Tad DeLuca sent the letter about what happened to him. Easthope said he was nervous to confront Anderson because the doctor was something of a "big shot."
Anderson didn't deny the allegations, Easthope said, and afterward, he thought he was "gone, gone for good." When told that in fact the doctor had continued to work at the university until 2003, and saw another generation of patients over the next 23 years, Easthope was, according to the detective's report, "visually shaken."
The doctor was not fired. A letter dated August 13, 1979, shows that Anderson was to be demoted to clinical instructor and his salary reduced. He also moved to full-time work with the athletic department. A longtime university trainer, who called Anderson an "unbelievable team doctor," told the campus police detective that this athletic department gig was arranged by Don Canham, the formidable athletic director.
And in a lawsuit filed this summer, an honors student who volunteered for LGBT programs said he told Easthope that Anderson assaulted him. Easthope listened, investigated, and reported back that Anderson had apologized. He later told the student that while his first thought was to fire Anderson, "he has a family and kids … if Anderson was fired, then both he and his family would suffer financially."
According to the lawsuit, Easthope proposed removing Anderson from his medical duties and installing him in an administrative position where he'd no longer interact with students. With mixed feelings, the student agreed. While the abuse was "loathsome and repulsive," he said, he felt empathy for Anderson, seeing him as "possibly gay himself, but so damaged that he could violate his oath as a physician."
Easthope and the student shook on it.
Michigan's code of silence
In 1988, full of nerves and excitement, Jon Vaughn moved into 3117 Hunt House in South Quad. He was stepping into a whole new caliber of school and sports. "It was big time, blue blood college football, playing for one of the most known and legendary coaches in college football history," Vaughn said.
He was at Michigan after being recruited by big schools like Notre Dame, Oklahoma, and UCLA.
"I chose to go to Michigan when I met Michigan Men, and I met Bo Schembechler and I loved Les Miles" [then an assistant coach].
It wasn't just about football.
"I grew up in a very abusive home," Vaughn said. "My father was very abusive and oppressive, and these were the first men that had come into my life that were—at least I thought at the time, you're a little naive at 18, right—that they cared about you. More than just what you could do athletically."
Coaches like Schembachler and Miles were father figures when he needed it most.
Those early days were intense. Freshman training camp had him going from breakfast to practice to meetings to lunch to second practice to dinner to more meetings. It also required an exam with Dr. Anderson.
Vaughn remembers the doctor sitting on a swinging stool. Beyond the usual checkup, he said that Anderson abused him in ways that have, at this point, become all too familiar.
"At the time, you didn't know," Vaughn said. He grew up in Missouri as the son of a teacher and janitor, visiting doctors only as much as necessary to play sports. "It was like, 'Okay, he's just doing a thorough exam. This is college football. This is the next level of physicals so that you could play."
Vaughn endured Anderson's abuse again and again and again in the years he played for Michigan's back-to-back Big 10 championship football teams. That included when he just needed treatment for strep throat or food poisoning. "I would say that I don't ever remember him putting on gloves, and the genital, penis, rectal exams began to be longer and longer," he said.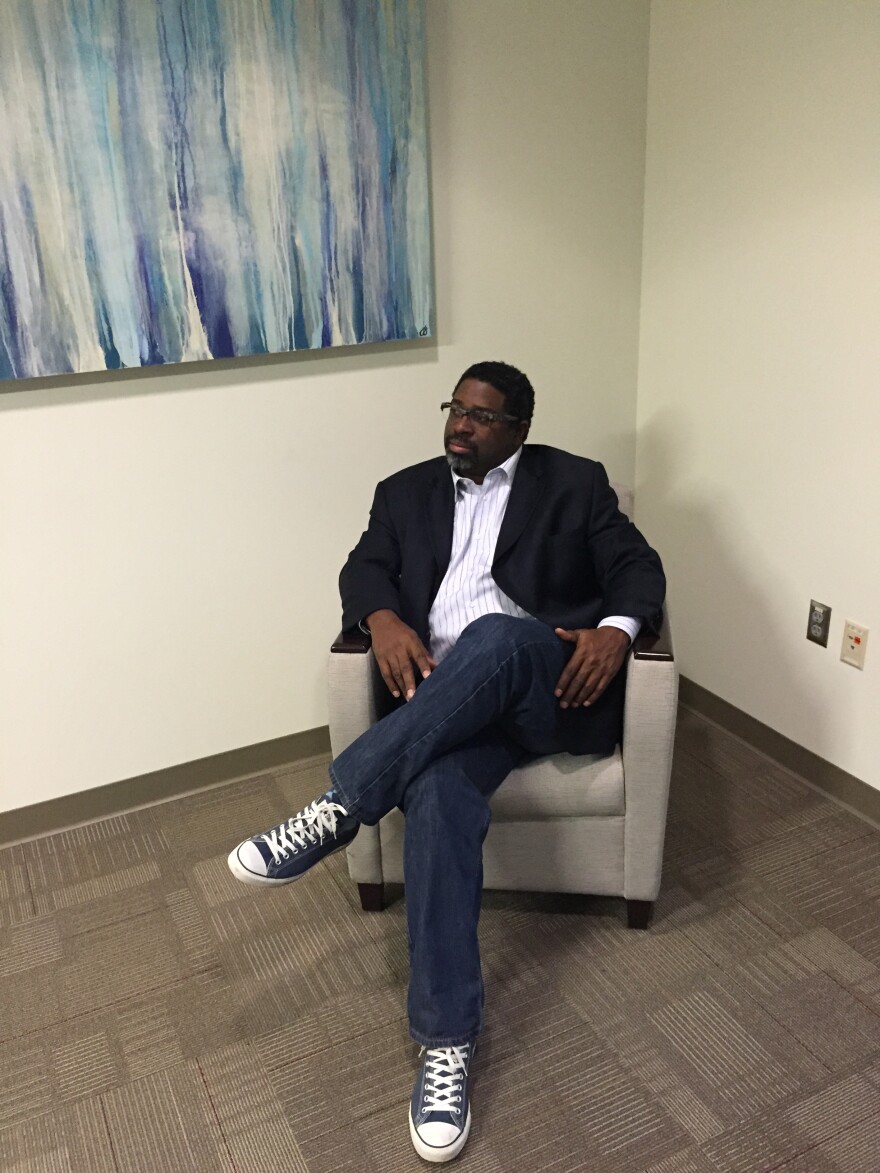 It was only in the spring of this year that Vaughn, now 50 years old, realized what really happened. It ignited nightmares that amount to flashbacks. He can smell the exam room. He can hear Anderson's hot breath. But it's not only the 10 or 12 abusive exams he experienced. He's also devastated to understand that he was required to repeatedly see a doctor who had been flagged years before he arrived on campus.
Beginning in 1980, in his new role at the athletic department, Anderson abused young people in much the same way he had at the University Health Service. But it was newly systematic. On Anderson's recommendation, mandatory physicals for athletes became standard policy. He quashed a proposal to allow athletes more freedom in choosing their doctors, and he led the early wave of drug testing protocols for athletes.
Compared to the general campus population, Anderson now had before him a group of students who were especially vulnerable. Many were on scholarship and navigating team mandates, like Tad DeLuca. They were also disproportionately Black and first-generation students.
Even as the new millennium approached and Anderson aged into his 70s, the stories of his assaults went on and on.
"In college, I was a 6'4" 250 pound Black man," said Airron Richardson at a press conference in August. He co-captained Michigan's wrestling team in the 1990s and is now a physician himself. "And outwardly, no one would suspect I was a victim."
Emboldened by the prestige of Michigan sports and the big block 'M,' the doctor was also protected by a particular code of silence.
"Showing pain was weakness at Michigan," said Vaughn. "You didn't scream in the weight room. You learn to internalize and get the most out of yourself."
"Culturally," he added, "in the African American community, rape, molestation by men is not discussed. It's very taboo."
Even those who did report Anderson's behavior were brushed off. A broadcaster for Michigan football in the early 1980s said he repeatedly alerted athletic director Don Canham—"the God, the almighty of the athletics department"—about abuse he experienced.
"Now of course, when I went to Canham at the time, I had no idea that [DeLuca] had come forward so long before I did … and he had just been sitting on it all these years. And of course Canham sat on it after I went to him three different times."
Two other star football players, both anonymous in court filings, said Paul W. Schmidt, the university's current assistant athletic director, and a trainer known as Murph were among those who knew about the abuse, but didn't take it seriously. "I definitely remember Schmidty laughin' and cacklin' about it," one said in an account collected by his legal team.
Read more: Anderson victim says he told Bo Schembechler of abuse in the 80s
From Michigan State to Penn State to USA Gymnastics and beyond, Amos Guiora made a study of the culture of complicity in his forthcoming book Armies of Enablers. According to the University of Utah law professor, it's difficult for society to pay as much attention to enablers as perpetrators.
"It makes us uncomfortable as hell," he said, "partly because we are forced to ask ourselves, 'What would I do?"
As Guiora describes it, "the clear decision by the enabler, making a rational decision, from their perspective, to abandon … the survivor in order to protect the institution" is what makes long-term perpetrators possible.
The nature of institutions
Anderson finally retired from the university in 1998, almost 20 years after he moved from UHS to the athletic department. But even then, he wasn't really gone. Anderson continued to write prescriptions and give consultations out of his home, according to The Michigan Daily, often at no charge, until at least 2004.
Anderson died at home on Thanksgiving Day in 2008. He left behind three adult children, two grandchildren, many nieces and nephews, and his wife of 56 years.
At his funeral, which was front-page news in the Daily, Anderson was described as a throwback to an old-time family doctor. Generous, dedicated, part of a dying breed. The kind who wouldn't hustle you out the door. Football coach Lloyd Carr remembered jokes about how "Doc A" was the poorest physician in town—he worked for lower pay at the University of Michigan's athletic department than what he could make elsewhere.
Years later, the university is accounting for Anderson's legacy in a wholly different way. It has signalled that it would take a survivor-centered approach in its response to the years of systemic abuse housed at its institution. But while it has borrowed some of the approach and language of restorative justice, the university has made many choices that, survivors and advocates say, look terribly familiar.
Take, for example, the way Anderson's abuse became public. DeLuca sent his letter to the athletic director in the summer of 2018, and the AD first passed it on to the university's lawyer, rather than the Title IX office, as required by law. Campus police then investigated the allegations, and passed the file onto the prosecutor's office. There, the case was closed, given Anderson's death and expired statutes of limitations on acts by other individuals who might be culpable.
All this happened quietly. When Robert Stone reached out to the university last year, hoping to get more information about his case, the university wasn't forthcoming, he said. So Stone drew from his years as a journalist. He called the managing editor of the Detroit News. The paper sent a top reporter to Palm Springs, California, to interview Stone in his home, and on February 19 of this year, the News broke the story.
Only then, about 18 months after receiving DeLuca's letter and more than a year after campus police investigated it, did the university publicly acknowledge the case. Within days, President Mark Schlissel apologized to survivors. The university issued a press release encouraging people to come forward with allegations, and arranged the hotline for survivors.
It also launched yet another investigation into Anderson. But this is another point of contention for survivors and advocates. When the university reached out to alumni—first through 7,000 letters to former athletes; then 300,000 letters to just about everyone who walked through campus—the university encouraged people to share allegations with WilmerHale, the D.C-based law firm it hired to write an in-depth report about what happened. The report is expected to be released in October.
(It's worth noting that at the same time it's dealing with the Anderson allegations, the university is also reckoning with high-profile misconduct claims against an opera professor and a former provost.)
The university could have done this differently. It could have turned the investigation over to Michigan Attorney General Dana Nessel. The university could have suspended attorney/client privilege for a transparent investigation led by a public body rather than a law firm paid by the university.
"Self-investigations, we learned in Michigan State and in some of these other institutions, is … exactly the wrong thing to do, period," said Sarah Klein, the Nassar survivor who now represents Anderson survivors. "You waive privilege and you turn it over to the attorney general's office, and you do that knowing that it may be ugly, and that there will be folks whose reputations will suffer and who did the wrong thing and who will be held accountable. But you value the truth more than you value the brand."
The university says it believes that WilmerHale is, as spokesperson Rick Fitzgerald put it, "in the best position to conduct a timely and thorough investigation in ways that are designed to preserve the confidentiality of witnesses.
"The Board of Regents has been clear that WilmerHale has full access to any university documents it needs to conduct its investigation," he added. "The board also has committed to a full public report at the conclusion of the investigation."
As the case against the university heads toward court mediation, a federal judge has ordered the university to alert alumni that they could be plaintiffs.
Advocates for the survivors have criticized other elements of the university's response, too. Cloaked behind the language of restorative justice, they say, it amounts to a strategy of reputation polishing.
The survivor hotline, for example, is hosted by a service called Praesidium, run by a company that was favored by the Catholic Church as waves of sexual abuse accusations came forth, said attorney John Manly. Its purpose, he believes, is to steer survivors away from legal representation and keep them as quiet as possible.
To that, university spokesperson Rick Fitzgerald, said that "Praesidium connects people with counseling resources in their local communities. That is the company's role in this matter."
Also, the law firm initially hired by the university previously represented financier Jeffrey Epstein and director Roman Polanski. Both are widely acknowledged to have been sexual abusers. After a backlash, the university shifted to another firm.
For Jon Vaughn, the response seems antagonistic. "I can tell you what it feels like is, your love of Michigan should be greater than your love for yourself," he said.
"I think it's in the nature of institutions," said Robert Stone, "whether they are political administrations or university administrations, to circle the wagons and protect the people inside the organization."
That's especially painful because, as many survivors emphasize, they love the University of Michigan. They are proud of it: Leaders and best. It feels like family. They love the traditions and songs, and its historic presence in virtually every field of culture, art, and science. They chose this school, and, especially for the scholarship athletes, it felt like this school chose them back. "I bleed blue," Vaughn said. For his entire adult life, he's carried a Michigan lanyard keychain.
Attorney John Manly points out that the university is only liable for Anderson's actions if it knew or should have known that he was assaulting patients. "It was very simple for them to avoid this, which is basically to say, 'You're done," he said. "But instead of doing that, we have to generate a generational coverup."
"That's not the way you treat your family," he added. "That's the way you treat someone who's a cog in the wheel."
As more stories become public, as more lawsuits are filed, as the case winds its way to a mediation that is expected this fall, perhaps the most important conversations are happening outside the spotlight.
"Me too." Vaughn is getting those messages from others all the time now. It breaks his heart, because he knows it's all some people can get out right now. "It will take the rest of my days to heal from this, you know, and it will take the rest of my days to be there for my teammates and the rest of the survivors to heal from this," he said.
John EB17 Doe, the football broadcaster, said he told Don Canham three times about the abuse, but he never told his wife of over 30 years until six months ago, even though she's a survivor herself. "I didn't want to burden her or hurt her," he said.
Robert Stone is also hearing from folks who had never told their stories to anyone before. Not one single soul.
"And I can tell you," he said "from listening to those who reached out to me that lives were ruined, that there are people who have never been able to have a lasting and rewarding sexual and emotional relationship with another human being, and their inability to do that is directly attributable to what happened to them in Dr. Anderson's exam rooms."
To the restorative justice question of 'how do we make this right?,' survivors and advocates have lots of ideas.
Tad DeLuca's attorney, Parker Stinar, said safeguards need to be put in place "that prevent this from happening over and over and over and over."
"The thing that I most commonly hear is I don't want my son or grandchild to experience this, or their daughter," Stinar said.
One idea is to create a new institute at the university dedicated to investigating and interrupting systemic sexual violence, supported by real money. They also want policies to have a chaperone in exam rooms at all times, and to have students treated by same-gender physicians—which, despite Anderson's focus on men, is considered a measure to reduce risk. Therapy and other support services should be provided to survivors through the skilled practitioners at the university. Student orientations should have programs that speak directly to what is and isn't appropriate medical treatment.
And, yes, they would like cash settlements, too. "In my opinion," said Stinar, "this should be a billion-dollar-plus resolution."
To put that in context, the Michigan State settlement for 332 victims of Larry Nassar was $500 million. While the exact number of people who have come forward with allegations against Anderson is unclear, WilmerHale is investigating 394 unique complaints as of July 23, according to the university.
There's another idea, too, one John Manly heard from a client. It's stuck with him. He and others noticed that at Michigan State, at USC, at every campus that has faced a crisis like this, institutions don't encourage survivors to speak out publicly, let alone honor them for doing so, even though their coming forward is what protects so many others in the community from terrible harm. They put themselves on the line to save others.
"You know," Manly said, "I'd like to see a day where at halftime, where the stadium is completely full and the team is about to come out and beat Notre Dame, all these men stand on the field. And the whole stadium applauds them and gives them the recognition they deserve."
"Can you imagine if that happened? And when that team ran out of the tunnel, the relief these men would feel that they're part of the family?"
Editor's note: The University of Michigan holds Michigan Radio's license.
If you or someone you know has experienced sexual assault or abuse, here are some resources that can help:
Want to support reporting like this? Consider making a gift to Michigan Radio today.