Stateside: Lobbying in Michigan, the 'Wild, Wild West'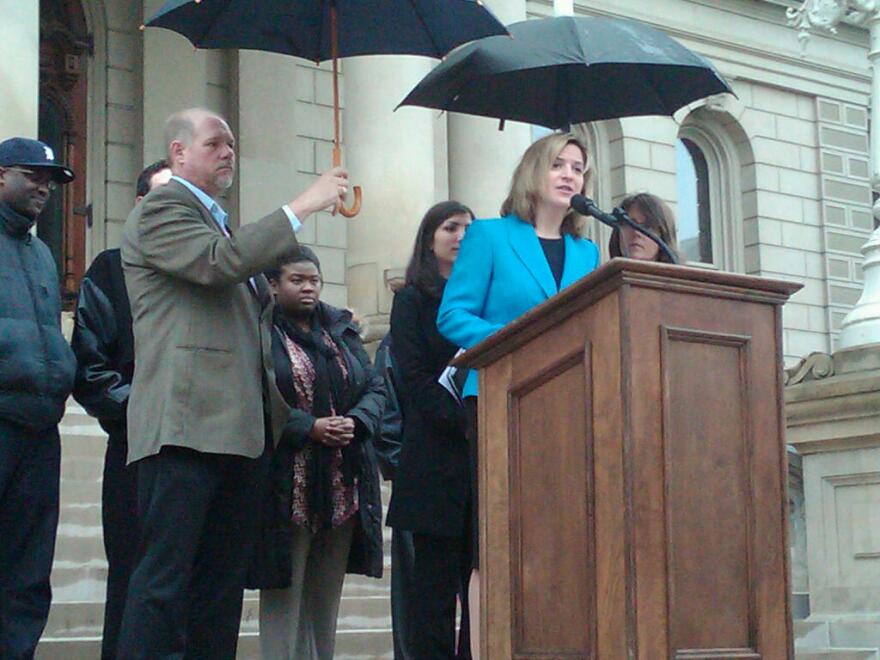 It seems nearly every leader who takes office, including President Barack Obama and Governor Rick Snyder, promises to make transparent the dealings between lobbyists, special interest groups and our elected officials.
The results of these promises, however, are often underwhelming.
The Center for Public Integrity recently gave Michigan an "F" on its Corruption Risk Report Card.
With this dismal grade comes the question: Why is Michigan lacking in the areas of ethics and transparency?
Jocelyn Benson, founder and director of the Michigan Center for Election Law & Administration, spoke with Cyndy Canty to further investigate this question.
"Our state is known nationally as the 'Wild, Wild West' when it comes to lobbying requirements," said Benson. "We are one of only three states in the country that do not require our elected officials to disclose their personal finances."
Neglecting to do so inhibits citizens from seeing whether or not these officials will be influenced by their own personal wealth. Benson said access to this information drives proper regulation and eliminates our "wild" reputation.
There is a strong relationship between lawmakers and lobbyists, one which is rooted in an exchange of information.
"A lawmaker may say, 'If I meet with a lobbyist, it allows me to gather all the information I need to make the right decision," said Canty.
"These meetings you are talking about, often occur behind closed doors. As citizens, we cannot hold our officials accountable if we do not know who they are meeting with. We want to know our lawmakers are being informed, not bribed," responded Benson.
As a citizen, said Benson, these closed-door exchanges are deeply discouraging as they further remove people from the conversations in which they should be engaged.
Benson highlighted a three-step plan for more disclosure.
"I think we need three things: Every time a lobbyist meets with a legislator involving money, I think that needs to be disclosed. We have to recognize that campaigns also lead to a lot of money being spent- we need to have disclosure of that. Finally, we need to have personal financial disclosure for legislators," said Benson.
A revolving door of influence surrounds Lansing. Retired lawmakers often become lobbyists.
In 2009, at least 150 former members of Congress actively lobbied their former colleagues. Benson said these lobbyists are no longer just influencing legislation, they're helping to write it.
"It's certainly disconcerting to think that our legislators quite frequently propose legislation that they have not written," said Benson.
Legislators' lack of attention is often a result of their short terms. Because many legislators must raise money to run for reelection every two years they lack the necessary time to spend familiarizing themselves with proposals.
Benson said lobbying is convoluted and vague, but it's part of our greater democratic system.
She said until citizens are let into the conversation, clarity will not develop.
"What is absent is the views of our citizens. We need to ensure that the people have the same amount of time to influence our legislators. And we don't have that right now. What we need in a democracy is balance," said Benson.
What can an average citizen to do to correct this?
"Correspondence with your local official to find out what they're doing to promote ethical reform is important. Get involved with the Michigan Transparency Coalition," said Benson.
-Cameron Stewart
There are two ways you can podcast "Stateside with Cynthia Canty"