Michigan's new auto insurance law is forcing long-term care providers to shut down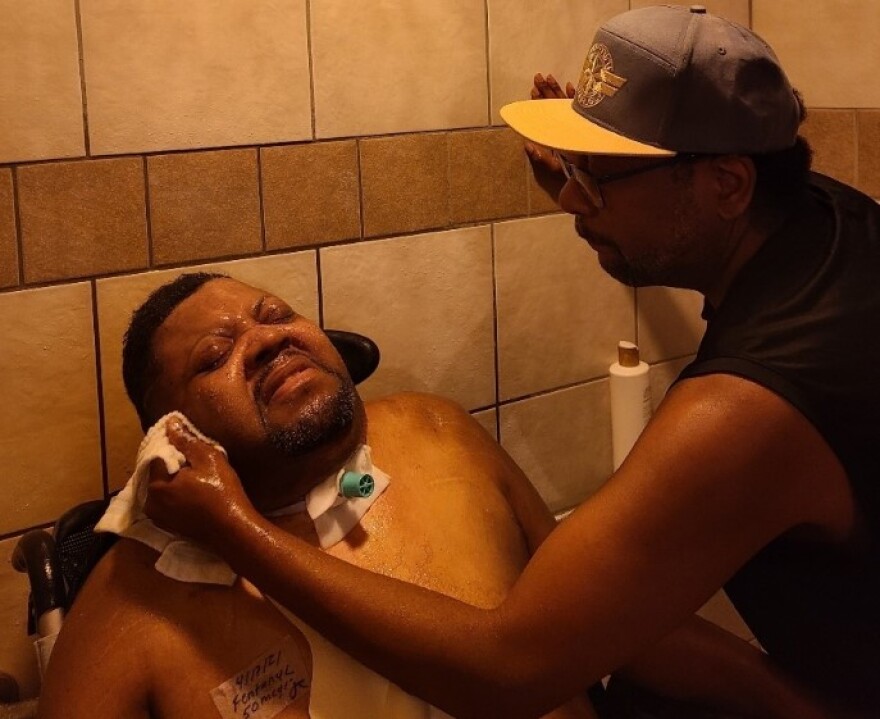 Michigan's new auto insurance law has begun to impose tragic consequences on many survivors and their families.
Long term care providers for thousands of severely injured auto accident survivors are beginning to shut down across Michigan.
It's due to 45% cuts in insurance payments that took effect at midnight Wednesday, as part of Michigan's new auto insurance law. The new law also slashes the number of hours that family members can be paid to take care of injured loved ones.
Like Chalisse Wilson and her siblings, who gave up their careers to care for their brother. He suffered a cervical spinal cord injury, the most serious kind, and was left a quadriplegic in a 2008 car crash.
Wilson said her brother needs 24/7 care, 168 hours a week. But the new law says the insurance company need only pay for 56 hours of family member care a week, total.
"I have to live too," said Wilson. "How do I pay my mortgage and everything else if I'm not being paid?"
Wilson said if she has to go back to work at a different job, she doesn't know where her family will find other caregivers for her brother; many companies that provide direct care workers are understaffed, or do not have workers with the training required to take care of ventilator-dependent patients.
And the only other alternative is terrifying, she said. What if they have to put him in a nursing home?
"By the time somebody even realizes that he's in trouble, it may be too late." Chalisse Willson, talking about what could happen to her ventilator-dependent brother in a nursing home.
"If he's in trouble, he can't push the light for a nurse to come. If his trach fills up with phlegm, he can't speak. So he can't call anybody. So by the time somebody even realizes that he's in trouble, it may be too late."
Wilson said she and her family have received no information from her brother's insurance company about payment for their services in July. They're planning to work without income, in the hope the company agrees to a new caregiver contract that allows her brother to remain at home, where he is not exposed to the contagious diseases that typically befall spinal cord injury patients in nursing home settings.
Other survivors of accidents appear to be leaving their current placements for inappropriate and even dangerous settings.
Tim Mucha is an executive with the Eisenhower Center in Ann Arbor, which specializes in caring for brain injured auto accident survivors with the most difficult behaviors. Many of the clients had already been discharged from other programs because they are so difficult to treat.
He said being punched and bitten was sometimes just part of the job for the Center's direct care workers and specialists. But Mucha said they had an excellent track record of helping clients reach their full potential. Now, the Center's 125 crash survivors must move out, ASAP. Twenty have already left.
"We're discharging people we know are going to fail back into the community." Tim Mucha, Eisenhower Center
"We're discharging people we know are going to fail back into the community," Mucha said grimly, on the last full day of operation for the company.
The Center's COO Devin Hutchings says it's often not safe to move many of the clients back home. And group homes for disabled adults are declining to accept them, because they're too disruptive.
"I see an increase in incarcerations," Hutchings said of his former clients. "I see a major issue for hospitals and ERs and then just homelessness. This is a disaster that's about to happen."
The Insurance Alliance of Michigan says it's working with families so survivors aren't left without care. But it's just hollow words for survivors who've already been kicked out of programs and homes.
Republicans have allowed Democratic-sponsored bills that would address the crisis to die in committee. Instead, they propose a $25 million relief fund. Company providers, but not families, could apply for grants — if they can prove they're going belly up.
Tom Judd, President of the Michigan Brain Injury Providers Council said that's not even a viable short-term solution.
He said $25 million is the flimsiest bandaid, when the new law shorts providers about $350 million a year. And even if the fund is eventually approved, the process for getting relief is so onerous it could take six months to get any money.
Judd said it's no surprise that already, 20 programs for crash survivors have closed — with 1,600 job losses.
"Over the next few months, we're going see more and more companies who just can't hold on any longer, and more and more patients are going be displaced." Tom Judd, Michigan Brain Injury Providers Council
The Insurance Alliance of Michigan is blaming care providers, claiming they've been overcharging for decades. But providers said that's nonsensical, since insurance companies have always had the authority to deny excessive charges.
Meanwhile, there's also the issue of the Michigan Catastrophic Claims fund. That's the pot of money auto insurance customers have paid into since the 1970s to take care of accident survivors before the law was changed.
As of last year, that fund topped $22 billion. Devin Hutchings of the Eisenhower Center wonders why some of that money cannot be used to take care of these patients — like they were promised.
"When I started in this fight, about seven years ago, they (insurance companies) were crying about it being $13 billion in the fund, and saying it was unsustainable," said Hutchings. "We're up to $23 billion dollars now, and they're still crying about it being unsustainable. Why are they not using that money right now, to help treat those that are injured right now, while they try to figure something out and stop trying to piece something together?"
People who've lost their current care, or who are about to lose it, say what's happening is both cruel and completely avoidable. But insurance companies and Republican leaders — in particular the politically powerful Senate Majority Leader Mike Shirkey — won't acknowledge that it is a crisis.
It appears they intend to hold fast, as more and more long term care providers close their doors, and thousands of people's lives are shattered.