Nassar's former boss at MSU arrested in Ingham County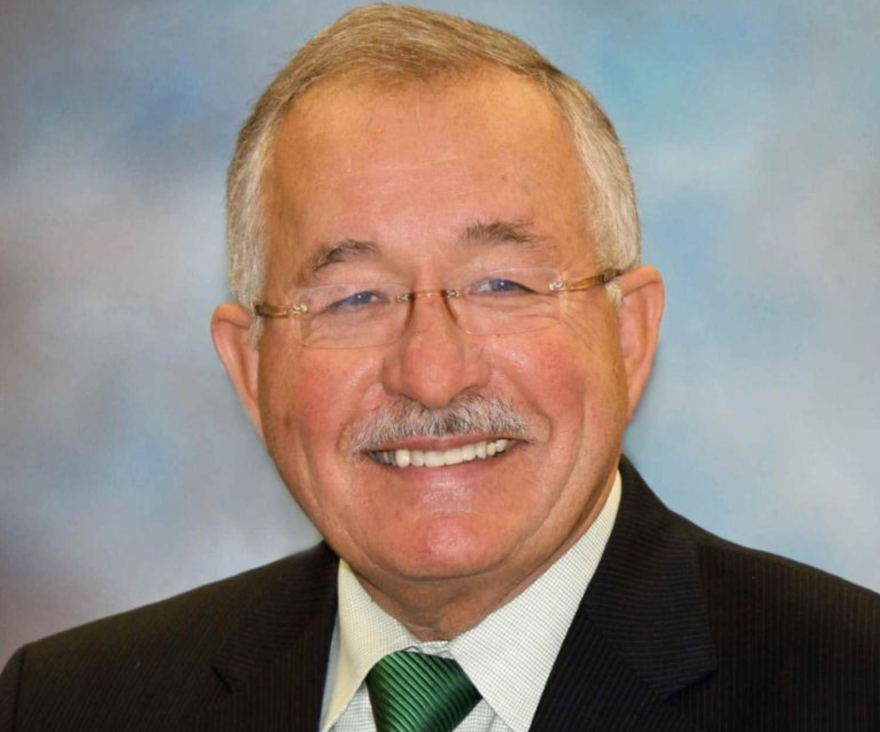 Dr. William Strampel, Larry Nassar's boss and former Michigan State University medical school dean, was arrested and booked into the Ingham County Jail Monday night.
He is charged with one count Misconduct of a Public Official (a five year felony), and three misdemeanors, including one count Criminal Sexual Conduct in the 4th degree and two counts Wilful Neglect of Duty.
Update, Tuesday, March 27 at 4:00 p.m.:
Strampel was officially arraigned Tuesday afternoon, and got a $25,000 personal recognizance bond, which means it does not have to be paid in order for Strampel to be released.
Several conditions were also set, such as no contact with any victim or witness and no contact with any current or former MSU medical student except via counsel.
Strampel's preliminary hearing has been set for May 3, with a probable cause conference held before then.
Update, Tuesday March 27 at 3:40 p.m.:
MSU Interim President John Engler released the following statement:
"One of the first actions I took upon my appointment as interim president of Michigan State University in early February was to pursue revocation of tenure and removal of former Dean William Strampel. As explained then, it was plainly evident he had not acted with the level of professionalism expected of an MSU employee, particularly one holding an office that involves student and patient safety. MSU will continue to cooperate with all official investigations related to sexual assault or other misconduct. But we have and will do more. With our action to revoke tenure, we are sending an unmistakable message that employees who do not treat students, faculty, or anyone else appropriately are subject to administrative discipline up to and including firing. Allegations about Strampel's own behavior as well as lack of attention to the conduct of Larry Nassar now have resulted in criminal charges against him from the Michigan Attorney General. Some of the allegations about his personal conduct, especially conduct toward students, are disturbing. Today's charges confirm our belief that he has fallen short of what is expected and required from academic leadership. They are not in alignment with this university's values and they never have been. His failings are unacceptable and that is why our work to change procedures, strengthen accountability and prevent sexual misconduct is so important. While the crimes of one doctor and the misconduct of his dean do not represent our university, they do demand the scrutiny of everyone in order to assure individuals like these can never be in a position again to harm others."
Attorney John Manly represents over 150 women and girls who are suing Nassar and MSU, and also released a statement:

"Our clients are encouraged by the Attorney General' Schuette's action today. It demonstrates that he is serious about investigating the systemic misconduct at MSU that led to the largest child sex abuse scandal in history and holding the responsible parties accountable. In December of last year, MSU attorney Patrick Fitzgerald wrote to the Attorney General and said "…to malign University officials by asserting that they must have known about Nassar's misconduct and assume that they were acting like criminals in a cover-up is just wrong. Yet plaintiffs' attorneys have used baseless allegations of a cover-up to force MSU to divulge information publicly so that they can try their case in the press. We now have clear and convincing evidence of gross sexual misconduct at the highest levels of the University. This also explains why MSU President John Engler was so angry when Attorney General Schuette launched his aggressive independent investigation that he withdrew his endorsement of Mr. Schuette for Governor. President Engler, The Board of Trustees who appointed him and anyone else who enabled Nassar and Strampel or attempted to prevent public disclosure of their crimes must be replaced before MSU can rebuild its shattered reputation."
Update, Tuesday, March 27 at 1:20 p.m.:
Jamie White, an attorney for 34 Nassar survivors, released a statement saying, "Although the allegations against Dr. Strampel are extremely troubling, I cannot say they are surprising given the atrocities that the women I represent have endured at the hands of Larry Nassar.
The University has been grossly negligent in its investigation of these matters... We will never know how much evidence has been lost, tampered with, and destroyed over the course of the last several years. But, based on the complaint issued against Dr. Strampel, it appears that attempts to conceal and or delete evidence continued up until very recently."
Update, Tuesday, March 27 at 12:10 p.m.:
In a press conference Tuesday afternoon, Special Prosecutor Bill Forsyth confirmed the charges against Strampel, and declined to take questions.
Update, Tuesday, March 27 at 11:10 a.m.:
The sexual assault charge is unrelated to the Nassar case.
According to police allegations, Strampel told a 26 yr old med student in 2017 that "she would not perform well enough to continue in medical school," and that young women can "'put-out' for 20 minutes with an old man, after which he would fall asleep and in return the women could get the benefit for a free vacation." Strampel also "commented without prompting on the difficulty of sending nude photos."
The second victim is also a medical student, and alleges that in 2011 she fell asleep in class, was "summoned by Strampel to meet with him." She goes on to say that "he instructed her to turn around in a circle twice so that he could observe her body. Strampel then went on a rant...telling her she needed to dress like a woman...that she was never going to make it in the profession if she did not dress sexier." This went on for an hour, she claims.
Victim #2 was summoned again to Strampel's office the next year, but declined to meet with him alone, "opting instead to attend a group counseling session hosted by Strampel."
"I hold your entire future in my hand and I can do whatever I want with it," he allegedly told the group.
The complaint goes on to list two other med students who say Strampel sexually harassed them.
Update, Tuesday, March 27 at 11:00 a.m.:
The police affidavit reveals that on February 18, 2018, special investigators seized Strampel's work computer and found "approximately 50 photos of bare vaginas, nude, and semi-nude women" that appeared to be selfies of MSU students, "as evidenced by MSU clothing and piercings." Someone had tried to delete this folder.
"Also uncovered on Strampel's work computer were pornographic videos and a video of Dr. Larry Nassar performing 'treatment' on a young female patient."
From the limited information in this complaint, it's unclear whether Strampel kept that Nassar video as pornography. Nassar did send Strampel several videos during the 2014 investigation that he claimed validated his treatments, so could be there for legitimate reasons.
According to the complaint, in 2014, Strampel allowed Nassar to see patients at MSU a full month before the Title IX investigation was completed.
By failing to enforce safety protocols for Nassar, "as a result, Nassar was able to commit a host of sexual assaults against new victims" until he was fired 2 years later.
Update, Tuesday, March 27 at 10:10 a.m.:
According to police reports, the willful neglect of duty charge is for allowing Nassar "to continue to see patients" after receiving a sexual misconduct complaint, before "the Title IX complaint was completed."
Count #4 for willful neglect of duty is for allegedly "failing to enforce protocols upon Larry Nassar" such as "the use of surgical gloves" during sensitive exams, "acquiring informed consent" from patients, and having a chaperone for such exams.
In 2017, Strampel told MSU Police he didn't see the need to follow up with Nassar on those protocols because they were "healthcare 101" and Nassar had been "exonerated" by Title IX investigation.
Original post, Tuesday, March 27 at 9:30 a.m.:
The Michigan Attorney General's office is holding a press conference Tuesday morning, a spokeswoman said Monday. Attorney General Bill Schuette recently appointed a special prosecutor to investigate Michigan State University's handling of the Larry Nassar case, and whether any additional crimes were committed when the school failed to stop Nassar's pattern of sexually abusing patients under the guise of treatment for nearly 20 years.
"Special Prosecutor Bill Forsyth will provide an update on his investigation into Michigan State University," said AG spokeswoman Andrea Bitely. "He will be joined by 1st/Lt. Ryan Pennell from the Michigan State Police, Chief Deputy Attorney General Laura Moody, and Assistant Attorneys General Christina Grossi and Bill Rollstin."
According to felony complaint, Strampel is being charged with 1 count Misconduct of a Public Official (5 yr felony), 1 count Criminal Sexual Conduct 4th degree (2 yr high ct misdemeanor), 2 counts Public Officer-Wilful Neglect of Duty (1 yr mis.). Currently reading police reports

— Cheyna Roth (@Cheyna_R) March 27, 2018
MSU interim president John Engler is also trying to strip Strampel of tenure for failing to enforce rules that might have stopped Nassar's serial sexual abuse of athletes under his care.
A Michigan State University spokesperson released the following statement after Strampel's arrest:
"Michigan State University has been and will continue to cooperate with any on-going investigations. One of the first actions Interim President John Engler did when taking office was to initiate internal processes to remove William Strampel from his position at the university and strip his tenure. In a previous statement, Engler has said that Strampel did not act with the level of professionalism we expect from individuals who hold senior leadership positions, particularly in a position that involves student and patient safety. Allegations have arisen that question whether his personal conduct over a long period of time met MSU's standards. We are sending an unmistakable message that we will remove employees who do not treat students, faculty, staff or anyone else in our community in an appropriate manner."
Strampel was the Dean of MSU's College of Osteopathic Medicine until he stepped down in December of 2017, citing medical reasons. He remains on faculty and continues to receive his full salary, according to the college.
As Dean, Strampel was informed in 2014 that a graduate student, Amanda Thomashow, was accusing Nassar of sexually assaulting her during a medical treatment. Strampel placed Nassar on leave pending the investigation, which ultimately cleared Nassar of sexual abuse.
In her report, then-Assistant Director for Institutional Equity Kristine Moore concluded that while "we cannot find the conduct was of a sexual nature," the complaint did bring "to light some significant problems that the practice will want to address."
"We find that whether medically sound or not, the failure to adequately explain procedures such as these invasive, sensitive procedures, is opening the practice up to a liability and is exposing patient to unnecessary trauma based on the possibility of perceived inappropriate sexual misconduct," Moore wrote in her conclusion, which she sent to both Strampel and Nassar - but not the complainant, Thomashow. "In addition, we find that the failure to obtain consent from patients prior to the procedure is likewise exposing the practice to liability."
On July 30, 2014, Strampel emailed Nassar that he was "happy to have you back in full practice" and "glad we have agreed to the following" safety protocols:
1) "We will have another person (resident, nurse, etc) in the room whenever we are approaching a patient to perform procedures of anything close to a sensitive area. 2) "The procedure which caused the patient emotional distress because of her interpretation will be modified in the future to be sure that there is little to no skin contact when in these regions. Should be this be absolutely necessary, the procedure will be explained in detail with another person in the room for both the explanation and procedure. 3) "New people in our practice will be oriented to be sure they understand these requirements."
But Strampel later told police he never enforced those policies or followed up with Nassar, because those guidelines were "health care 101" and he had to be "conscious of sharing with other employees in Sports Medicine...because they did not know about the investigation that had taken place," according to a 2017 police report.
Attorney general's spokesperson declining comment on strampel's arrest. County jail website has no additional info on charges or bail. Press conference at AG's office tomorrow at 11:30 am pic.twitter.com/MEGdLYl6Xd

— Kate Wells (@KateLouiseWells) March 27, 2018
John Manly is an attorney for several of Nassar's victims, many of whom are suing Michigan State University. "Our clients are encouraged by the Attorney General's action today," he said in a written statement Monday night. "It demonstrates that he is serious about investigating the systemic misconduct at MSU that led to the largest child sex abuse scandal in history and holding the responsible parties accountable.
"This arrest, if it turns out to be Nassar related, is both gratifying and horrifying to Nassar's survivors. It raises the ugly specter that Strampel protected Nassar to protect his own misdeeds," Manly said. "It also calls into question MSU's constant claims that [there] was no criminality beyond Nassar. That claim seems to have been yet an another false claim about this case by MSU."