In recent months, the State of Michigan has found several places where drinking water and fish are contaminated by a class of chemicals called PFAS, or poly and perfluoroalkyl substances.PFAS is a family of chemicals that can be found in all sorts of products. But what are the lingering effects of PFAS on our health and the environment?
Air Force to use less than half of congressional appropriation for clean up in Oscoda
The Air Force met with Oscoda residents on Wednesday to discuss plans for how they'll use millions of dollars earmarked for cleanup of the former Wurtsmith Air Force base.
The former airbase has been a known source of PFAs pollution for nearly 10 years, leading to "do not eat" advisories for local wildlife and warnings posted around the local lake.
PFAs are a family of chemicals linked to cancer and other health problems found at sites across the state, including at Wurtsmith.
Residents and members of Congress have called on the Air Force to put the majority of the $13.5 million toward cleaning up pollution at the base.
U.S. Representative Dan Kildee (D-MI 5) has said that the federal funds, which he helped appropriate, were specifically earmarked for cleanup efforts.
But at the meeting, the Air Force announced it would put less than half of the appropriation towards addressing contamination. $5.5 million will be spent on mitigation efforts at Clark's Marsh and Van Etten Lake. The majority – $7.7 million – of the funds will be spent on an ongoing investigation into pollution at the base.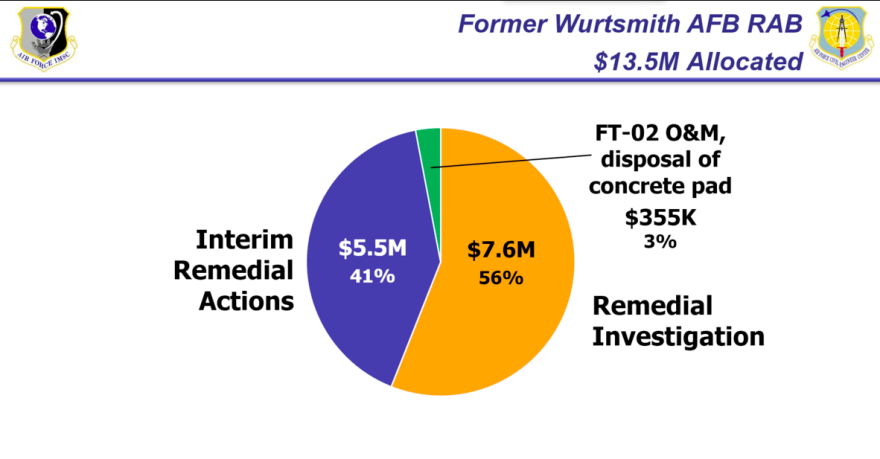 At the meeting with residents, Kildee said that wasn't good enough.
"The facts show there is an imminent and substantial danger," he said. "I'm asking the Air Force to act. This is the intent of Congress. The people of Oscoda deserve that."
"The people of Oscoda: keep it up," he added. "You're on the right side."
Tony Spaniola has property in Oscoda. He said the Air Force action isn't enough.
"This has gone on far too long and the comments made tonight do not seem to signal a new direction," he said. "That is not acceptable."
Dave Gibson is an Air Force representative. At the community meeting, he read a statement from the Secretary of the Air Force.
"These funds, the 13.5 million, will allow the Air Force to expedite the investigation by one year," the statement read. "That is the next step in the CERCLA process."
At a meeting earlier this week, community members noted they were "absolutely" considering a lawsuit against the Air Force.