Detroit changes course, aims for permanent moratorium on water shutoffs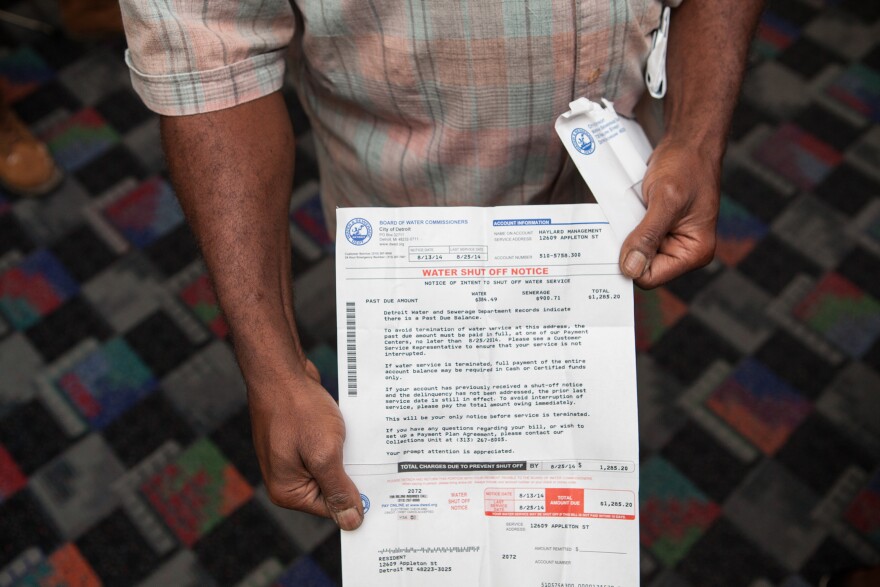 This week, Detroit Mayor Mike Duggan made a startling announcement: the city will continue its moratorium on water service shutoffs for the next two years.
The current moratorium went into effect in March as a result of the COVID-19 pandemic. The rationale was that leaving people without running water would exacerbate the public health crisis. But the state health order prohibiting shutoffs was set to expire December 31.
Now, Duggan says the city has cobbled together enough public and private dollars to continue the moratorium through 2022. And he said it's the city's intention to find a way to end water shutoffs permanently going forward.
For people who have followed the saga of Detroit's water shutoffs for years, this was a welcome but somewhat surprising turn of events. Since Detroit began its shutoff policy in 2014, in the midst of its municipal bankruptcy, Duggan and Detroit Water and Sewerage Department Director Gary Brown have been adamant that the policy was necessary to get people to pay their bills and fund utility services. They pointed to various payment plans and water assistance programs offered to low-income Detroit residents, programs that Brown has repeatedly called the most generous in the nation.
But the scale of Detroit's shutoffs—there have been more than 100,000 since 2014—drew widespread criticism, including from the United Nations. And as time went on, it became increasingly clear that a small but significant percentage of Detroiters truly could not afford their water bills—either because they had accumulated significant debt over the years that they struggled to get out of, or because their home plumbing was in such bad repair that it led to sky-high bills.
A number of Detroit activists have been serving those people on the ground, and pushing for a shutoff moratorium for years. Now that it's finally happened, some are gratified, but also wary.
"I'm grateful to see that it took a global pandemic to finally move him [Duggan] in our direction, but we must usher in water affordability," said Monica Lewis-Patrick, a longtime water access activist and head of We the People of Detroit.
Lewis-Patrick said decades of disinvestment in water infrastructure has driven up water rates in a way that crushes low-income households. She said the moratorium is a good start, but lasting change must include a true water affordability plan and "an amnesty component" for people who are still accruing debt during this period.
"All of that debt, all of that water usage, and all of that burden will come due at one time," Lewis-Patrick said. "We just see this as a band-aid on a gushing wound."
Abdul El-Sayed, who served as Detroit's health department director before his unsuccessful run for governor, also calls the shutoffs a "bleeding wound." Despite his past criticisms of Duggan's handling of the issue, El-Sayed joined him for the announcement on Tuesday, saying this is an opportunity to get it right.
"This is the start we need," El-Sayed said, noting that the city will need to tackle infrastructure and plumbing issues as it potentially moves toward a permanent moratorium.
"For too many people, it's been a struggle for too long. And particularly in this moment of COVID-19, I really am grateful to all the folks who put an end to that happening in the city."