60+ eligible for vaccine? Depends on where you live
As of March 1, here's the official state list of who's eligible for the COVID-19 vaccine:
People over 65
Healthcare workers
Long term care residents and workers
Mortuary service workers
Frontline workers, including child care and pre-K through high school staff, and workers at congregate care facilities
Food processing and agricultural workers
But the reality on the ground is more complicated than that, as a fragmented public vaccine rollout of unprecedented size and scale continues to expand and pick up speed.
And tensions are being heightened by a supply shortage, leaving state and local health officials scrambling to get as many shots in arms as possible, while also trying to reach the communities that have been hit hardest by the pandemic.
Some healthcare officials: yes, 60+ can get vaccinated
On February 15, the Michigan Department of Health and Human Services announced a "new program starting March 1 to help enhance [the] state's vaccine equity strategy."
"...Currently persons 65 and older are eligible to be vaccinated across the state," the release said. But providers "with specific plans to remove barriers to access across the state will also be allowed to request vaccine for people age 60 and up."
The next week, another release said, "applications [are] due March 1" for "a new program to help enhance the state's vaccine equity strategy."
"Michigan providers...are encouraged to apply...if they can help remove barriers for those ages 60 and up who are most vulnerable to the effects of the virus. Applicants accepted into the community outreach pilot project can request up to 2,500 doses [per week]."
Those vulnerabilities would be determined by "high Social Vulnerability Index (SVI) and high COVID-19 mortality rates," the health department release said, encouraging providers to show how they'd handle language, transportation, disabilities, "vaccine hesitancy" and other potential barriers.
Last week, Dr. Christine Nefcy, Munson Healthcare's Chief Medical Officer, told viewers of a virtual vaccine Q&A last week that the expansion would begin Monday, March 1.
"Yup, the plan is on March 1, to expand the tiers a bit," Dr. Nefcy said, referring to the state's tier-based vaccination prioritization. "So not only would the age be lowered to 60 if you have risk factors...as far as your [social] vulnerability, but also to agricultural workers [of all ages]."
Meanwhile, Hurley Medical Center in Flint announced it would be offering vaccinations to its employees family members 60 and older.
"We are following state prioritization guidelines for vaccination," said Peggy Agar, a Hurley spokesperson, via text. "We are vaccinating family members that are greater than 60 years of age. We are not a public mass vaccination clinic, we are targeting strategically to meet our vaccine allocations."
Also last week, Detroit officials announced any city resident over 60 was now eligible for vaccination, as well as any Michigan resident over 55 who travels with them as part of a "Good Neighbor" initiative.
For "anyone between 60-64, chronic health conditions are no longer a requirement to get a vaccine," said John Roach, the mayor's spokesperson, in an email Friday. "So any Detroiter age 60 or older can be vaccinated."
State: no, 60+ not actually eligible yet
But the state has not yet officially expanded vaccine eligibility for those 60 and over, says MDHHS spokesperson Lynn Sutfin.
"The 60+ does not go into effect on March 1," Sutfin said in an email Friday.
Rather, she said, that's just the deadline to apply for that pilot program. If the state accepts their application, those providers can then request up to 2,500 vaccines per week and vaccinate those 60 and older.
But even then, they likely "won't receive vaccine until March 9 or 10," Sutfin said, and it "likely won't be open to all people 60+ in that community."
Meanwhile, a spokesperson for Munson said Monday that while Dr. Nefcy is currently off work, it's the health system's understanding "that 60 year olds are not eligible at this time. The state's program was to pilot for populations of 60+ with an SVI factor, and that program's deadline was today, with the idea that those folks would be immunized this month."
In Detroit, a push to get as many shots in arms as possible
But Detroit's expansion to those 60 and over isn't part of the MDHHS pilot program, Sutfin said. And that's ok by the state. "We also know that our local health departments are well suited to reach minority and vulnerable populations, by going into neighborhoods and partnering with community based organizations on vaccination efforts..."
"MDHHS has provided prioritization guidance to all vaccine providers and has encouraged providers to prioritize individuals age 65 and older as this age group accounts for 80% of COVID deaths. Local health departments have the option to prioritize the groups within the guidance they feel are most at risk and at highest need of vaccination. No shot in the arm is ever wasted as getting this vaccine is our way out of the pandemic and returning to some sense of normalcy."
In fact, the city's health department has expanded vaccine eligibility to several high risk groups that MDHHS hasn't yet, including active clergy members, grocery store and restaurant workers, security guards and janitors, and Detroit residents 18 and older with "intellectual and developmental disabilities," as well as "caregivers of those residents and home healthcare providers if they travel in the same vehicle during the appointment."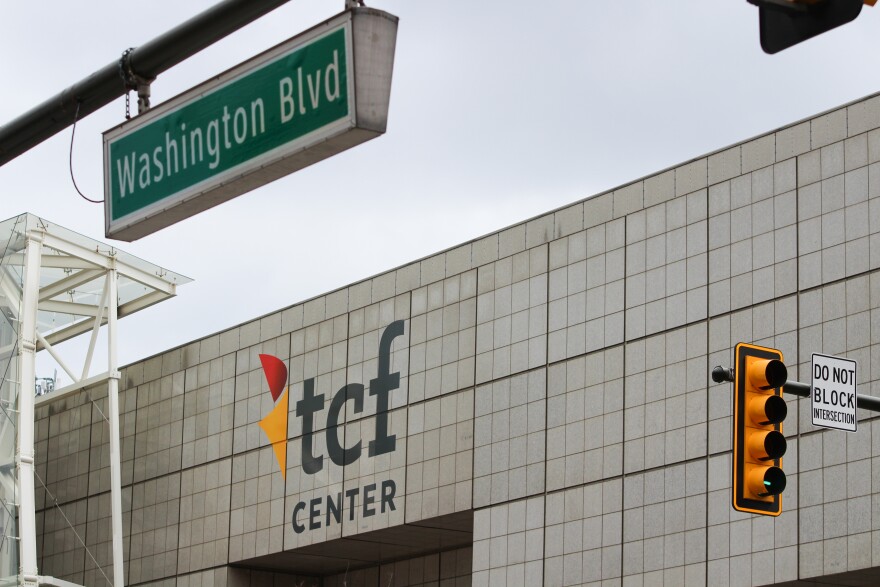 And last week, the city announced a "Good Neighbor" program, allowing Michigan residents 55 and older who "drive a Detroiter age 60+ to the TCF Center vaccine site" to get vaccinated at the same time. (Some 700 people made appointments through the program within just two days, city officials said.)
As of Friday, Detroit's health department "had administered 82,000 doses, nearly half of them to senior citizens age 60 and older with another 50,000 additional appointments already scheduled."
But overall, just 10% of the city is vaccinated, compared with 16% of the state. That's significantly lower than some surrounding areas, like Wayne County (16%), Washtenaw County (18%) and Oakland County (17%).
It's also a city that's nearly 80% Black. A study published in December found that during the pandemic, Black Michiganders' COVID mortality rate was three times higher than white residents. And Black residents under 65 without comorbidities "had a mortality rate 12.6 times that of their white counterparts."
But so far, Black residents are getting vaccinated at far slower rates than white residents.
"The percent of vaccinated people who are Black has more than tripled between the first three weeks and the last week of vaccination (0.5% to 3.8%)," Michigan Department of Health and Human Services officials said in a statement last week. "but the proportion of vaccinated adults 16 and older who are Black is far lower than the proportion of Black residents in Michigan."
Mayor Mike Duggan talked about his frustrations with the vaccination rollout at a February 17 press conference.
"The hospital distribution system, and this is true everywhere in the country, the hospital distribution systems being used in this country for COVID vaccines are being done through electronic health records to people with primary care doctors," Duggan said.
"And, the Black and brown communities are not tied into primary care doctors, are not tied into electronic health records at hospitals at the same rate…[J]ust because you send vaccines to a hospital in a poor community, doesn't mean the neighbors are the ones who get into the hospital...And so, in Oakland and Macomb county, the hospitals are doing a really nice job of vaccinating people. In Detroit, we have to pretty much carry the whole burden, and I think our team is doing it well."
Note: Chris Hall contributed to this reporting.