A new art installation in Detroit encapsulates loss, encourages healing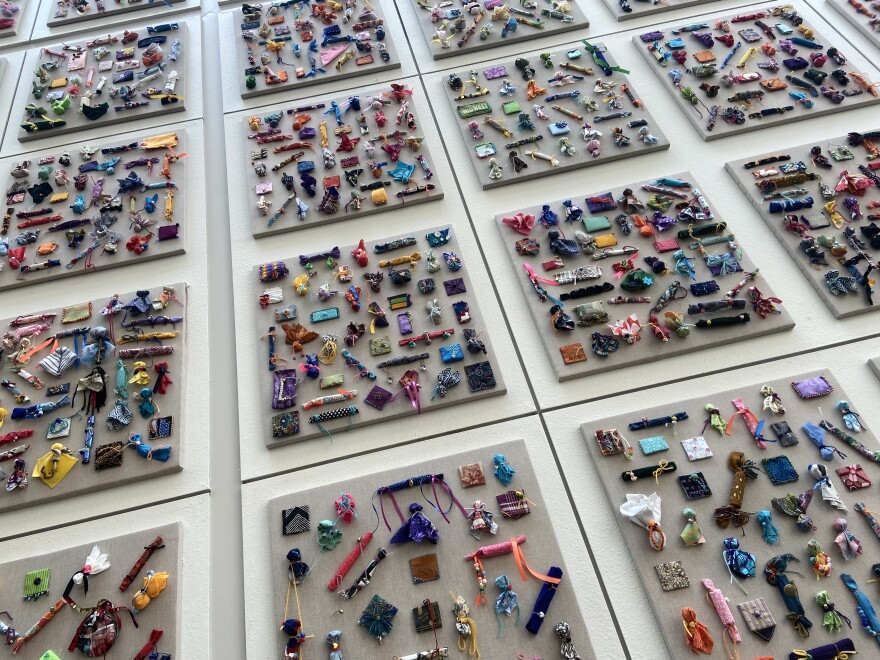 An art installation unveiled at the TCF Center in Detroit on Tuesday features hand-written notes that pay homage to the losses faced by metro-Detroit residents during the pandemic, wrapped in cloth pouches.
More than 1,200 people across the region have taken part in this participatory art project imagined by the Amherst, Massachusetts-based artist Sonya Clark, and developed in partnership with the City of Detroit, the Detroit Riverfront Conservancy, the Cranbrook Art Museum, and the TCF Center. The project is called The Healing Memorial, and it doesn't just encompass the loss of loved ones to Covid, but also the loss of homes, jobs, hobbies, hopes, and more.
"For the past year, we focused on pain," Rochelle Riley, Director of Arts and Culture for the City of Detroit said at an event to open the art installation to the public. She recounted how a previous memorial featured photos of Detroiters who died during the pandemic to the Belle Isle, and said this new art project has a different intention. "For the next year we're going to focus on healing and feeling better and honoring those that we lost in ways that show that we continue to live the way they would want us to live."
Riley said she lost several friends to Covid early in the pandemic, but, she said, one of the hardest losses to contend with was that of her dog, Desi, who she has had for 17 years. "We were together every day almost, except when I was traveling out of the country." A pouch made by Riley that bears a photograph of him is affixed to one of the many canvas squares that make up the exhibit.
Rachel Frierson of the Detroit Riverfront Conservancy has been heading up "making stations" at community events, churches, and schools across the region, instructing others on how to make the pouches. She was several months into this work before she made a pouch to commemorate her husband, who died of cancer during the pandemic.
"I took a shirt out of the closet that I hadn't taken out and since a year and a half [ago], a shirt that still smells like him," she said. "So naturally, there's emotion there. And then I'm cutting it because he's not going to wear it."
Even though Frierson said she still speaks to her late husband every day, folding the fabric of his favorite flannel shirt around a note honoring him helped her move through the grieving process.
"It was one of those things that I knew I had to do," she said. "And when I did it, I just felt like I was a part of this," she said, gesturing to the wall festooned with hundreds of similar — but unique — pouches.
Shadora Ford knew just what to write when she sat down to make one of the pouches at a table run by the River Conservancy in Detroit's Hart Plaza following the unveiling of the installation.
"I lost my grandmother, who happened to be my best friend, to Covid," she wrote on one piece of paper. On another, she wrote, "My mom, my grandmother and myself, we all had Covid. I lost friends, families and coworkers, but I gained a new gratitude for life."
She folded one of the notes in red fabric, to symbolize the lives lost, and the other in green which she felt symbolized her sense of gratitude.
Ford works for the City of Detroit, and learned how to make the pouches to help teach others. She hopes to share what she learned with those involved in a nonprofit she founded called Destined for Greatness.
"I believe in art therapy," she said. "I believe in revisiting situations that may have not been the best for us, but having this experience and having it at the wall, and the TCF experience will help me cope and also help others."
The Healing Memorial will be on display at the TCF Center through next year.