Just shut Line 5 down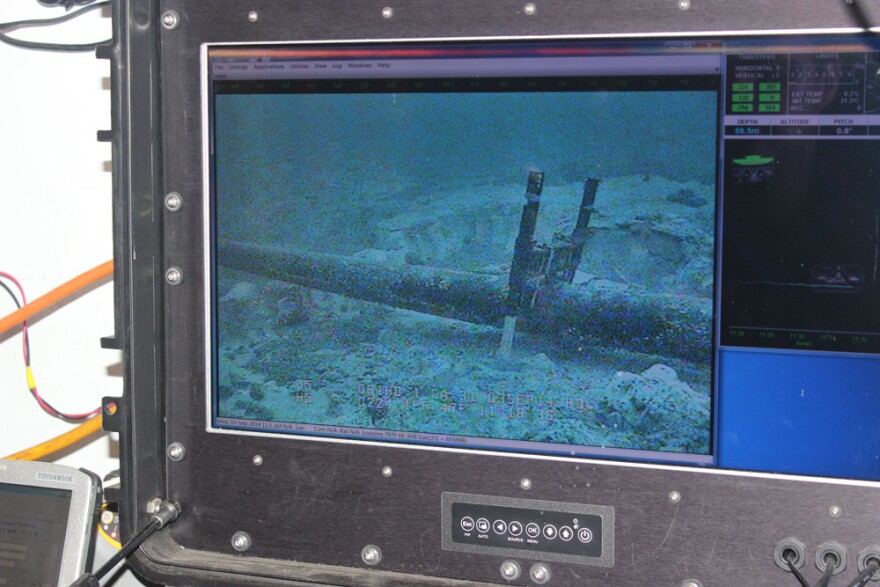 Earlier this week, Michigan Attorney General Bill Schuette officially confirmed what everybody knew: He is running for governor, or more exactly, for the Republican nomination next year.
When he made his announcement, he said a version of what all politicians say; he is doing this, not for himself, but for the people, for all of us. Well, I know a good way he can start to prove that to us and help his candidacy at the same time:
He can file suit to shut down Enbridge's infamous Line 5, before the thing ruptures and essentially destroys two of the greatest lakes in the world. Somebody joked recently that Schuette may have a sentimental attachment to the pipeline under the Straits of Mackinac, because it is the same age he will be next month -- 64. Actually, the four and a half miles of it that are under water are a little older.
But the attorney general did call earlier this summer for a "specific and definite timetable" to shut the thing down. He knows Line 5, which is actually twin pipelines under the water, isn't safe.
However, he's failed to announce a target date for closing it, and he knows very well that unless someone forces Enbridge, the Canada-based firm that owns it, Line 5 will never be shut down.
Or not, that is, until the thing bursts, contaminating Lakes Huron and Michigan beyond repair. We know two things about Enbridge: The firm is not always competent, nor truthful.
Seven years ago, an Enbridge pipeline ruptured in Calhoun County, between Kalamazoo and Battle Creek.
When the alarms went off, Enbridge workers mistakenly concluded that the line was only clogged, so they tried forcing more oil at higher pressure instead. When they finally figured out that oil was pouring into one of the tributaries of the Kalamazoo River, Enbridge officials estimated the cleanup costs at $5 million dollars.
In the end, it was more than $1.2 billion. The potential damage from a rupture under the straits of Mackinac is incalculable.
Recently, we heard that there was some damage to the protective coating covering the pipeline. Enbridge at first denied this, then said the scratches were so small they could be covered by a Band-Aid. But that wasn't true either.
Yesterday, Valerie Brader, the executive director of the Michigan Agency for Energy, said there were areas as large as a square foot where all the protective coating has been scraped away.
The company later admitted part of the damage had been done by a communications line that had caught on fire, in addition to other damage caused by efforts to anchor the line more securely.
Brader chastised the company, and said it was "especially important" that such things "are repaired right away." But what happens if they can never be repaired?
Dana Nessel, a tart-tongued lawyer now running for the Democratic nomination for attorney general, told me that if she is elected, she'd find a legal way to shut Line 5 down on the spot.
And she's the one who badly defeated Schuette in federal court over the same-sex marriage issue. The bottom line is that just about everything else is replaceable; the Great Lakes are not.
We really do need to shut Line 5 down.
Jack Lessenberry is Michigan Radio's Senior Political Analyst. Views expressed in his essays are his own and do not necessarily reflect those of Michigan Radio, its management or the station licensee, The University of Michigan.
In full disclosure, Enbridge Energy is a financial supporter of Michigan Radio.