Seemed like a good idea at the time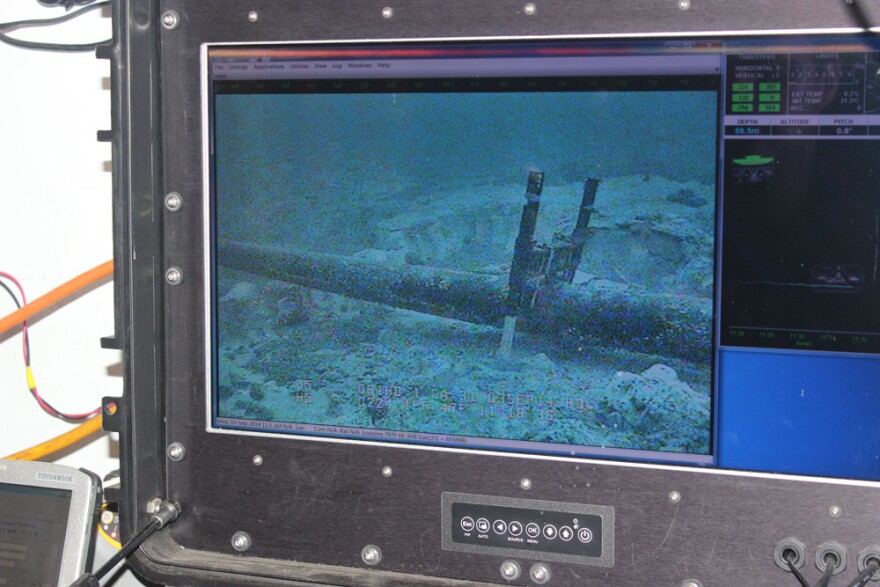 I am not exactly a violent person. Nobody has ever confused me with Norman Mailer. But someday, I may be sitting at a press conference after the twin pipelines under the straits of Mackinac rupture, and 700 miles of shoreline are contaminated and ruined.
And if a politician, or some spokesman for a politician, then says they didn't have sufficient warning, I cannot guarantee I'd be responsible for my actions.
Yesterday, we learned that some "vessel activity" evidently caused three dents in the pipeline, dents that are being called "very small" and are said by the Canadian firm Enbridge, the pipeline's owner, to be posing "no threat to the pipeline." I believe that, only on the sense that the pipeline is an inanimate, non-living, non-feeling object.
Naturally, it is not threatened. However, we are.
We need to shut this thing down, now. The pipeline also has something in common with Michigan Attorney General and gubernatorial candidate Bill Schuette. They both turn 65 this year. I'm not implying Schuette is also past his prime, but I am saying he ought to try and shut this thing down before it permanently blights this hemisphere's greatest asset.
I'm not an alarmist. I am not even completely against nuclear energy. But Line 5 could take out both Lakes Huron and Michigan in one afternoon. The initial response from Schuette's main rival, Lieutenant Governor Brian Calley and his boss, lame-duck Governor Rick Snyder, was interesting. They said we needed to go after the unknown vessel whose anchor is presumed to have caused these dents, a ship that may also have clipped some other transmission lines, causing hundreds of gallons of what's now being called mineral oil to cascade into the straits.
In other words, let's say I piled up tons of gunpowder on an unguarded vacant lot in downtown Detroit. One night a homeless man flicks a cigarette butt at it, and the resulting explosion destroys the entire city. Would you say the homeless man was entirely to blame?
Calley did say we shouldn't take Enbridge's word that the dents are small and harmless. This is the same company that tried to conceal that the protective coating was worn away on some portions of the pipeline. When Enbridge's pipeline ruptured near the Kalamazoo River eight years ago, incompetent operators assumed it was blocked and tried to try and force more oil through it. The cleanup cost more than a billion dollars.
The potential disaster if Line 5 ruptured would be beyond fixing. Governor Snyder wants to put it in a tunnel, which might both protect it from anchors and make it harder to inspect.
The threat isn't worth it. Shut it down, and ship the oil in tankers as they used to do until we figure out a better way. Five years ago, Enbridge expanded their pumping capacity so they could force an extra 50,000 gallons of oil a day through Line 5.
They didn't do anything to make sure the pipes were stronger, just put in more powerful pumps. The brilliant writer Rebecca West once said humanity's epitaph may read "It seemed like a good idea at the time."
No one can even pretend any longer that Line 5 is a good idea. I say we try to avoid speeding up that epitaph.
Jack Lessenberry is Michigan Radio's Senior Political Analyst. Views expressed in his essays are his own and do not necessarily reflect those of Michigan Radio, its management or the station licensee, The University of Michigan.
Editor's note: Enbridge Energy is a financial supporter of Michigan Radio.