Auchter's Art: Michigan's New Year goals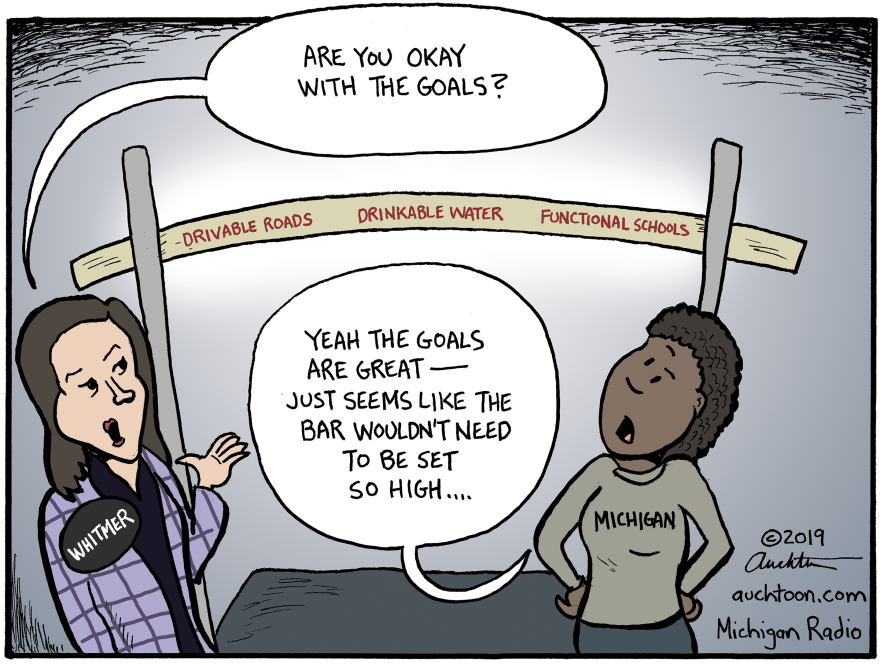 As always, I leave the cartoon open to your interpretation. (My intention is not to tell you what to think — it's more of a nudge to get you to think.)
Also as always, these little essays that follow are not supposed to explain the cartoon. The cartoons should stand (or die) on their own. No amount of "Don't you get it? It's funny because..." can revive a dead cartoon.
Mostly the essays are here to add a little context and provide more depth. Sometimes they explore a different view or present additional axes for me to grind.
Right. So. All that said, I'm going to go right ahead here and explain the cartoon and tell you what you should think about it:
It's actually meant to be hopeful. Yes, it is disheartening that drivable roads, drinkable water, and functioning schools should be fairly simple to achieve. But they aren't. Michiganders have been fooling ourselves for far too long to think it should be easy. There is no magic solution. We can't cut taxes or throw money or political gimmicks our way to where we need to go. It will take planning and commitment and real work. I think Governor Whitmer set the right tone with her speech at the swearing in ceremony this week. Let's hope it carries through 2019.
John Auchter is a freelance political cartoonist. His views are his own and do not necessarily reflect those of Michigan Radio, its management, or its license holder, the University of Michigan.