Stateside Podcast: Road trip folk songs with The Accidentals
Eclectic folk-indie-rock-bluegrass-and-more band, The Accidentals, has returned to tour Michigan with their new members and new albums. Sav Buist and Katie Larson met in high school in Traverse City, MI in 2012. The pair later transferred to Interlochen Arts Academy to major in singer-songwriting, which is when they officially formed the band. All of the members are multi-instrumentalists, and can pick up a bass guitar one day and an electric cello the next.
After some bandmate fluctuation, The Accidentals recently welcomed Katelynn Corll and Patty PerShayla to the group. Together, they wrote their newest album, "Time Out," which is a fascinating collaboration between other folk artists who inspired them. A studio manager introduced the group to singer-songwriter Beth Nielsen Chapman, and the co-writing began. The album includes acclaimed artists such as Tom Paxton, Dar Williams, Mary Gauthier, and more. The group repeated their band mantra, "ask for what you need," to find the courage to invite such artists to collaborate.
"It's one thing to respect an artist, but it's another thing to put them on a pedestal," Larson said. "And I think a lot of times artists want to be reached out to and they want to be asked for advice. They want to know that they're leaving a trail of inspiration."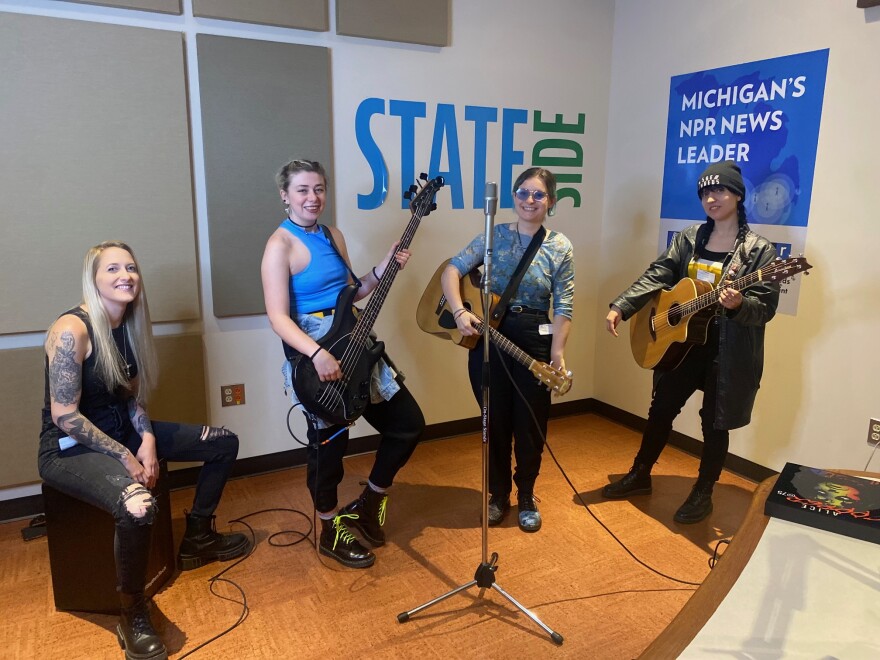 Corll joined the band this year, after the group's drummer left to pursue other projects. PerShayla joined after the release of "Vessel," the Accidentals' 2021 album.
"They like to take in strays," PerShayla said jokingly. "I'd never done a big tour or anything, and I was like, 'Well, they're really cool. I'm really intimidated, but I think I could learn a lot.'"
The group is about to start a string of June-July tour dates across Michigan where they will be performing songs from their album "Vessel," including their single "Cityview." Listen for "Cityview," a song that the group sees as unique to the rest of their music. Unlike the bulk of their songs which are written from personal experience, "Cityview" is an amalgamation of outside perspectives they've observed while on tour.
"[It came from] my personal observations of all the places we stayed on the road," Buist said. "All the people who offered up their couches, or let us pet their dogs, or from all the bookshelves we looked at. All the people struggling with something. I tried to put stories that I saw over and over again into every verse."
Listen to today's podcast to hear more from The Accidentals on band life and catch some snippets of a few songs performed in-studio.
And check out this video of The Accidentals singing in the Stateside studio.
[Get Stateside on your phone: subscribe on Apple Podcasts, Google Podcasts, or Spotify today.]
___
Looking for more conversations from Stateside? Right this way.
If you like what you hear on the pod, consider supporting our work.