Stateside Podcast: MI's Republican Party post-Trump presidency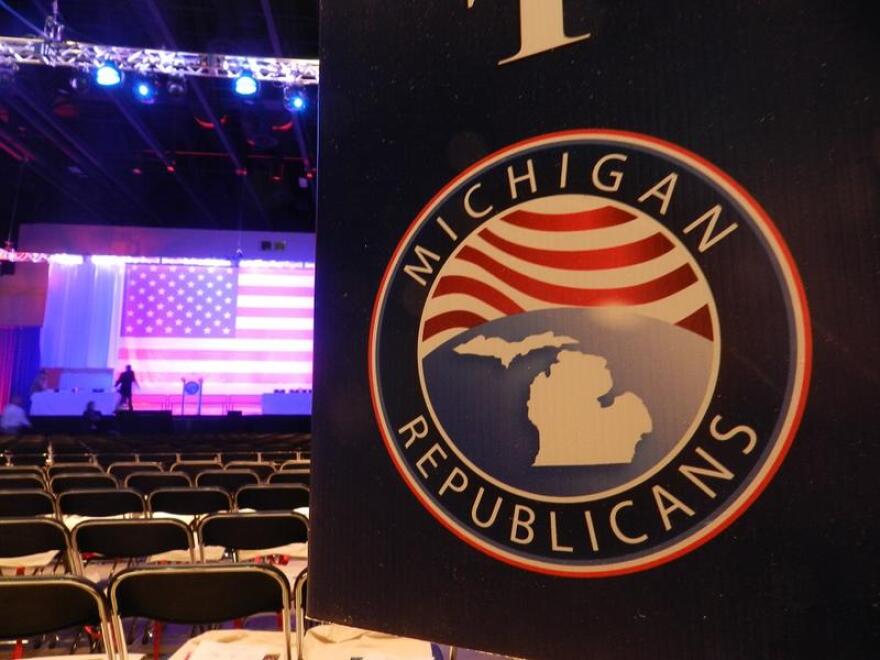 Michigan's Republican party has had some struggles in the post-Trump era, from disagreements over leadership, to physical altercations, to changes in opinions from voters. Jordyn Hermani, a politics and culture reporter for MLive, and Craig Mauger, a politics reporter for the Detroit News, joined Stateside to talk about the future of the party, and the way Republican voters are thinking about their ballot in 2024.
Transparency Issues
Kristina Karamo, new chairwoman of the Michigan Republican Party, promised to make the party more transparent, but that hasn't happened.
"There's been growing frustration among Michigan Republican insiders that the party has not been more transparent, that they don't know how much money Kristina Karamo has even raised so far," Mauger said. "They don't know what she's spending the money on. They don't really know what she's doing as the leader of the party."
Physical Altercation in Clare
Recently, the Republican State Committee meetings have been more exclusive, meaning not all members are allowed in the meeting. On Saturday, July 8, Republican delegate James Chapman drove to Clare to air his frustrations with Chairwoman Karamo at the Republican State Committee meeting, but he was not allowed in. Mark DeYoung, chairman of the Clare County Republican Party, noticed a person trying to get in the meeting, and opened the door for the individual, thinking it was a venue staff person. After that, an altercation broke out between Chapman and DeYoung.
"And as [DeYoung is] walking over there, he notices someone is flipping in a profane hand gesture at him through the window," said Mauger. "DeYoung thinks a staffer of the hotel is giving him this profane gesture. So he goes over to open the door to yell at the person. He opens the door and is immediately kicked in the crotch area by a foot."
DeYoung claims that Chapman charged at him and threw him on top of a chair. Chapman alleges that DeYoung had threatened him first by pulling back his fist upon opening the door, as if gearing up for a punch.
Viewpoints among voters in Atlanta, MI
Hermani said that most people in Atlanta weren't interested in talking about politics, but those who were interested often spoke about former President Trump's behavior.
"His comments, his social media presence was something that was routinely mentioned," Hermani said.
Some people who want to vote Republican feel as though President Trump isn't the right person for the job.
"But there were others that were saying, 'You know what? Listen, I would love for the National Party to put up a candidate that I could get behind as a lifelong Republican. But I don't see anybody who fits that bill for me personally yet,'" Hermani said.
Entry points for politics
Hermani explained that for most people, everyday experiences are an entry point for politics. Changes in grocery bills or gas prices often get people to vote in elections or rethink the party that they typically vote for.
"The everyday person, interact[s] with politics more or less in a very limited sense." Hermani said. "What your gas bill is when you fill up your car each week, what your grocery bill is. . . And so, when that starts to impact in that way, that's largely how a lot of people are forming, what their political opinions are.
[Get Stateside on your phone: subscribe on Apple Podcasts, Google Podcasts, or Spotify today.]
*CORRECTION:
A previous version of this post misspelled Jordyn Hermani's first name. We regret the error.