On this page you'll find all of our stories on the city of Detroit.Suggest a story here and follow our podcast here.
Detroit voters approve new city charter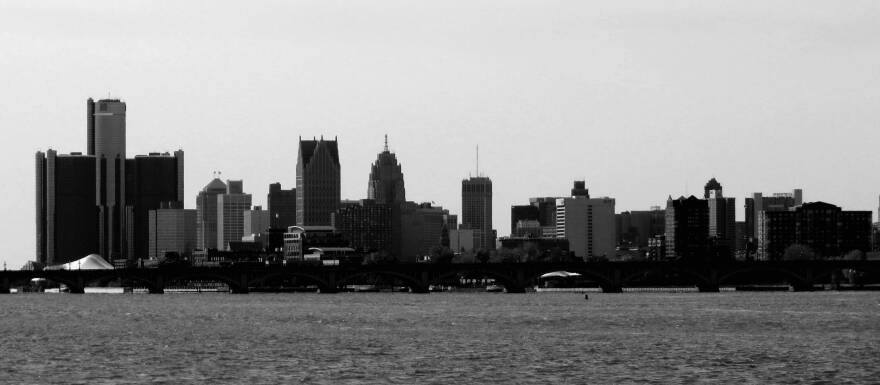 Voters in Detroit have capped a two-year process by approving a new city charter.
Detroiters voted to open the charter up for an overhaul in 2009, amidst questions about whether the current city charter enabled corruption.
An elected charter commission spent two years putting together the proposal. It faced stiff resistance from some prominent Detroit figures, including several Detroit City Council members.
But in the end, the new charter passed overwhelmingly, with about 58% of the vote.
Vince Keenan runs the open government website publius.org. He says this is an opportunity to open up Detroit government.
"We have an opportunity here to move the city forward, and we're breathing life into a system that has sort of been sealed up for a long time," Keenan says.
Keenan adds it's a means to truly tackle the city's "major, major issues."
The revised charter changes the City Council in a way proponents say should foster more direct citizen participation in government.
The city will be divided into 7 districts, with one Council member elected from each district, and two elected citywide. It also sets up citizen advisory councils within the new districts.
Advocates say that will create a more responsive government that better reflects the city's different communities.
The charter also puts ethics and anti-corruption measures in place. It calls for the creation of an Inspector General to serve as watchdog.
Former Detroit State Representative Lamar Lemmons says all in all, it's a big step in the right direction.
"We had some loopholes that people walked through, and we closed those," Lemmons says. "It's not a perfect. But it's a vast improvement over what we had."
But the change comes at a time when the future of Detroit's local government is in question. The city is running out of cash, and Mayor Dave Bing warns it could face a state takeover that could effectively strip the city's elected officials of power.
Update 11:00 p.m.
Barring a huge statistical aberration in the last batch of votes, it appears the new Detroit city charter has passed.
With more than 86% of precincts reporting, Proposal C was winning 58%-42% - despite an organized opposition that had challengers in most polling places across the city.
Several City Council members also came out against Proposal C. The new charter divides the city into seven districts, with one council member elected from each district and two members elected citywide.
10:00 p.m.
With 35% of precincts reporting, the vote on Proposal C, which would revise the Detroit city charter, has 58% voting in favor.
Detroiters overwhelmingly voted to re-write the city charter in the wake of ex-Mayor Kwame Kilpatrick's scandal-ridden tenure.
But the proposed new charter, which would change the structure of the City Council to a district system, and institute an Office of the Inspector General to serve as government watchdog, has proved controversial. In fact, it's been so controversial that the Detroit Charter Commission, which technically could not campaign in support of the new charter's, felt compelled to issue this document to counter what it called "myths" about the proposal.
9:01 p.m.:
Another race we'll be watching is the vote on a new Detroit city charter.
Michigan Radio's Sarah Cwiek is following this race. Cwiek reported on the Detroit Charter Commission last December as the body sat down to draft a new blueprint for city governance.
The Detroit Free Press reports that the new charter's goal is to "snuff out corruption and cronyism, bolster the local economy and create a more representative City Council":
The proposed charter revision was crafted over a two-year period by an elected commission that was given the task of drafting a government blueprint for Detroit's future. If approved, supporters said, the charter will pave the way for a more transparent government that represents the diverse interests of a city shedding residents, jobs and city services. Some critics argued that the charter creates expensive, extra layers of government and does not go far enough in allowing council members' input on mayoral appointments.