On this page you'll find all of our stories on the city of Detroit.Suggest a story here and follow our podcast here.
Governor names review team to examine Detroit's finances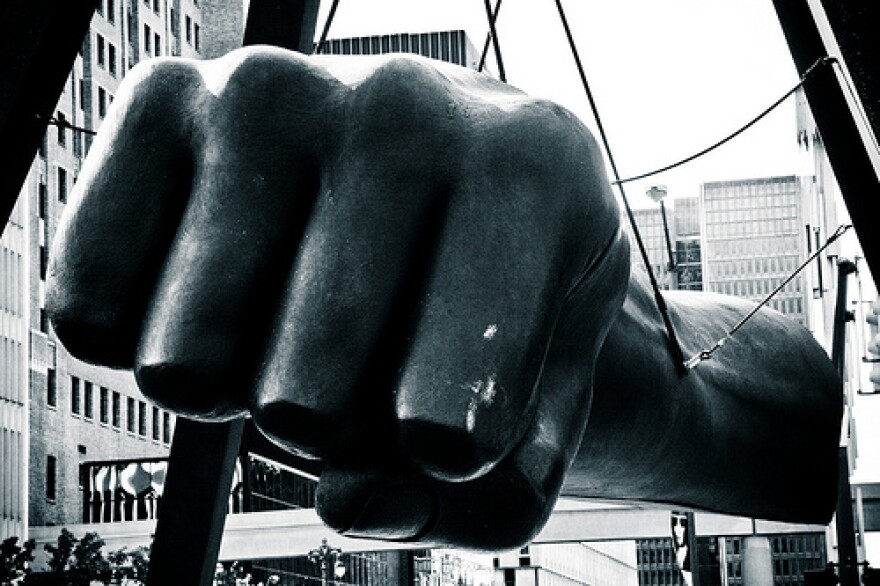 Update 4:17 pm:
Mayor Dave Bing released this statement in response to the review team's appointment: "We will continue to fully cooperate with the state review process and the newly appointed financial review team. At the same time, my staff and I have worked through the holiday break with union leadership on my plan that seeks savings of $102 million for this fiscal year and $258 million in fiscal year 2012-13. We will continue to negotiate until we reach agreement to resolve the city's financial crisis."
2:50 pm:
Governor Rick Snyder today appointed the financial review team that will more closely examine the City of Detroit's finances under Public Act 4 of 2011, the Local Government and School District Financial Accountability Act.
Appointing the financial review team is the next step in the process of possibly appointing an Emergency Manager to run the city. A preliminary review of Detroit's finances by the Michigan Department of Treasury already resulted in a finding of "probable financial stress." The ruling was a result of several issues, including:
the failure to adjust annual budgets in the face of declining revenues and/or increased expenditures; recurring fund deficits of more than $100 million;
failure to file an adequate or approved Deficit Elimination Plan;
failure to follow past Deficit Elimination Plans;
and recurring cash shortfalls that could lead to a negative cash balance as early as April, 2012.
The appointment of a financial review team does not mean a financial emergency will be declared or that an emergency manager will necessarily be appointed.
"My administration has worked – and will continue to work – collectively and collaboratively with Mayor Bing and city officials to ensure a revitalized, strong and successful Detroit," said Gov. Rick Snyder. "The mayor, city council and stakeholders are making some important progress in developing a viable financial recovery plan for the city, but given urgent and time sensitive financial issues facing Detroit and the need to ensure critical services continue to be provided to city residents, the next step simply necessitates the appointment of a financial review team. This review team is the right mix of expertise and backgrounds to tackle this very challenging job and ensure a thorough, objective and fact-based review."
The members of the review team appointed by the Governor are:
Andy Dillon, state treasurer. Dillon was appointed Michigan's 44th State Treasurer by Gov. Rick Snyder. Prior to becoming Treasurer, Dillon served three terms in the Michigan House of Representatives.
Doug Ringler, director, Office of Internal Audit Services in the Department of Technology, Management and Budget. Ringler is the chief audit executive and director DTMB's Office of Internal Audit Services,where he's served since 2008. He previously worked in the state's Office of Financial Management and Office of Auditor General.
Dr. Irvin Reid, retired president of Wayne State University Reid retired as president of Wayne State University in 2007.
Dr. Isaiah "Ike" McKinnon, retired chief of police, city of Detroit.
Conrad Mallett, president, DMC Sinai Grace. Mallett has been president and CEO of Sinai-Grace Hospital since 2003.
Jack Martin, certified public accountant.
Dr. Glenda Price, president emeritus of Marygrove College and member, Compuware Corporation Board of Directors.
Shirley Stancato, president, New Detroit. Stancato is the CEO of New Detroit, whose mission is to improve race relations in Southeast Michigan.
Frederick Headen, director of the Michigan Department of Treasury's Local Government Services Bureau.
Brom Stibitz, senior policy advisor for the Michigan Department of Treasury.
Under P.A. 4 of 2011, a financial review team must report its findings to the Governor within 60 days, unless a 30-day extension is requested and granted or the Governor requests a quicker review.
The review team must reach one of the following conclusions in its report:
No or mild financial stress exists in the unit of local government;
severe financial stress exists in the unit of local government;
a financial emergency exists in the unit of local government.