On this page you'll find all of our stories on the city of Detroit.Suggest a story here and follow our podcast here.
Detroit and state officials close to a deal?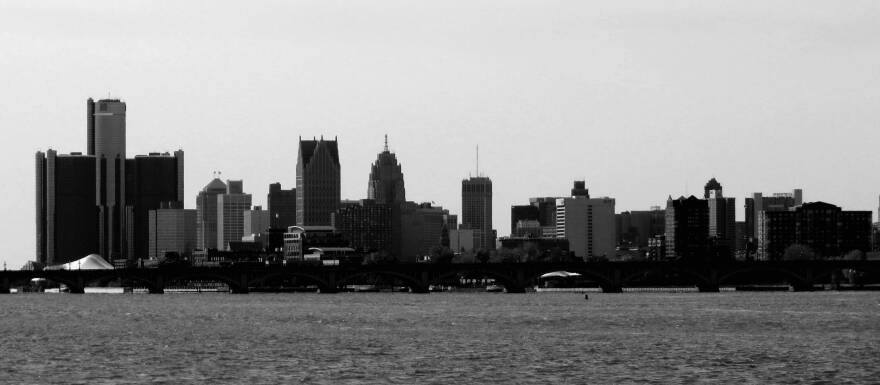 Update 3:30 p.m.
Governor Snyder says he's still talking with Detroit officials about an agreement to keep the city financially afloat.
A state review team has already declared a "severe financial emergency" in Detroit. That means they'll recommend some kind of state intervention to keep the city from going broke.

The Governor says talks continue over what a "financial stability agreement" will look like.
But he says that agreement needs to contain language that could turn it into a consent agreement if the city fails to live up to its promises.
"So to take this financial stability agreement and enhance it, so that it could also qualify as a consent agreement. So it would meet the requirements for Public Act 4. But it would really be this financial stability agreement going forward about how we could work the city as partners."
Public Act 4 is the state's emergency manager law. Under a consent agreement, the mayor or other city officials could get broad powers similar to those of an emergency manager.
2:50 p.m.
Gov. Snyder spoke with members of the media today about a plan to avoid a financial crisis in Detroit.
Sndyer and other state officials are in Detroit today working toward a solution. Snyder said negotiations with city leaders are "fairly far along," and they are a "couple of paragraphs away" from an agreement.
Snyder and State Treasurer Andy Dillon are hoping city leaders will sign off on a consent agreement designed to avoid a looming financial crisis in Detroit.
City leaders rejected an initial proposal by the state and have been working on a plan of their own.
From the Detroit News:
Snyder told reporters Monday in Detroit that both sides are close to reaching a "financial stability agreement," which is what the deal will be called until it can be considered a consent agreement under the law. The governor reiterated he does not want to run Detroit.
City leaders argued that the initial consent agreement proposed by the Governor amounted to a state takeover. The Detroit Free Press reports the city's counterproposal retains powers for local elected leaders.
Officials have been mum on specifics of the counterproposal, but one draft -- not necessarily the final version -- showed the city asking the state to approve a $137-million financial package for immediate relief and change legislation so that the city can raise its income and corporate taxes. The city's plan, called a financial stability agreement, also would return budget authority to the mayor and the council, and essentially leave a seven-member financial advisory board with the power to make only recommendations.
In about ten minutes, the state's financial review team is expected to make its recommendation to Gov. Snyder on whether or not a state-appointed emergency manager is needed for Detroit.
And as all this goes on, the Detroit News reports on a legal appeal to the State Supreme Court aimed at stopping the state's financial review team.
Andrew Patterson, lawyer for activist Robert Davis, said he expects to hear "shortly" from the court on whether the panel will consider the motion. If the Supreme Court agrees, it will consider whether the state Court of Appeals acted appropriately Friday by lifting an Ingham CountyCircuit Court injunction. The injunction prohibited a consent agreement until Judge William Collette can hold a contempt hearing Thursday to determine if Treasurer Andy Dillon and other members of the review team violated the Open Meetings Act.