Arguments surrounding Detroit water shutoff controversy in court today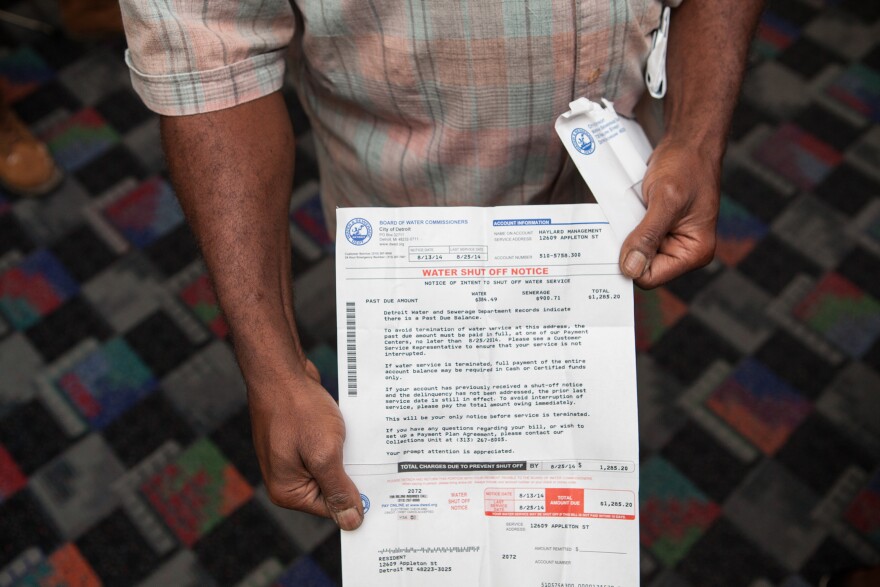 Witness testimony began in federal bankruptcy court this morning, in hearings to determine the fate of Detroit's water shutoff policy.
A coalition of Detroit residents and advocacy groups filed a lawsuit challenging the city's controversial shutoff policy on constitutional and civil rights grounds.
The Detroit water department has shut off around 19,000 customers this year – the vast majority of them residential accounts – in an effort to collect up to $120 million in delinquent bill payments.
Water department officials say the system simply can't continue to function when thousands of people aren't paying their bills.
Critics say the shutoff campaign has been inhumane, and the department is trying to correct decades of mismanagement, corruption, and incompetence on the backs of the poor in just a few months as Detroit speeds through bankruptcy court.
The first witnesses were Detroiters Tracy Peasant and Maurikia Lyda, who experienced the shutoff process.
Peasant became visibly emotional on the stand, as she testified about having to buy bottled water for her family when her water was shut off for 8 months.
From Sandra Svoboda at Next Chapter Detroit, Michigan Radio's partner in the Detroit Journalism Cooperative:
[Peasant] said a large portion of her outstanding bill was due to a faulty sprinkler system at a home she had rented prior to living at her current place. Her water was turned off a year ago and restored in June. "Someone came out to my home driving a DWSD truck. I thought that she was coming to turn the water back on. … She said I'm here to make sure your water is still cut off," Peasant testified. But when the worker saw Peasant's family members, "She said I can't do this with these kids and when she left she said you have water now," Peasant said.
Peasant said she was denied access to assistance funds because her bill was too high, and the city never told her she could ask for a hearing to contest the bill.
Lyda testified that she tried to talk to someone at the water department about getting on a payment plan for her overdue bill, but was never able to get through. Again from Next Chapter Detroit:
"I called them several times. I could never get through. I was calling and no one would ever pick up the phone. There were days I would call and stay on the phone two and three hours at a time," Lyda said. "When I finally got to talk to someone about my bill they was telling me there was so much I had to put down. … I didn't want to put it in my name because I was a renter. … they was telling me I had to put it in my name." Lyda, who lives on the east side, said a DWSD representative told her it would cost $100 to transfer the water service to her name and $500 to have service restored. But the day the lawsuit was filed, her water was restored.
Plaintiffs want Judge Steven Rhodes to issue a moratorium on the water shutoffs.
The water department stepped up shutoffs in March of accounts 60 days behind or owing more than $150. About 15,000 customers had service shut off in April through June.
The city has faced international criticism for the shutoffs, and several groups appealed to the United Nations for support.
The shutoffs were suspended about a month this summer to give water officials time to inform customers about service stoppages and payment plans.