For Mark Schauer, all roads to victory run through Detroit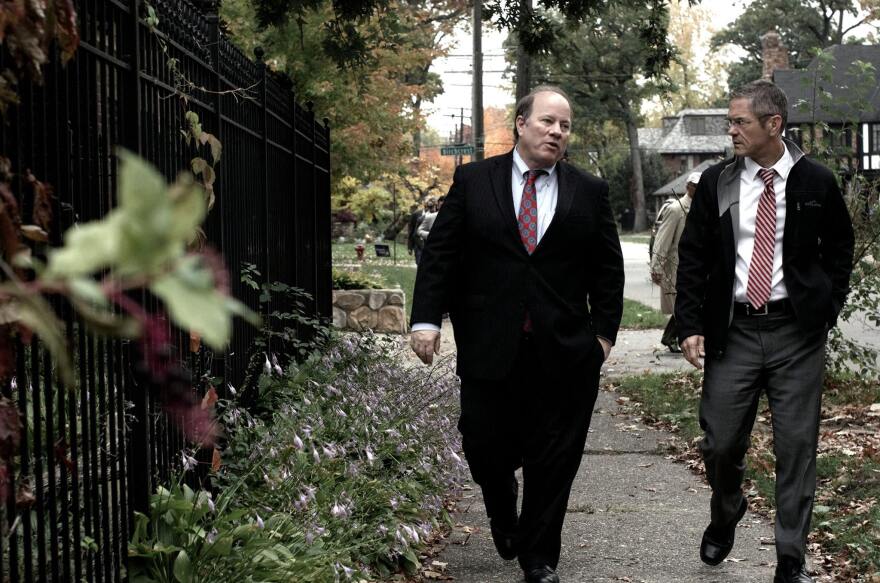 With just days to go before the election, the Michigan Governor's race appears too close to call.
But one thing is for sure: if Democrat Mark Schauer is going to have a shot, voters in heavily-Democratic Detroit need to turn out.
Even though Michigan politics have changed a lot over the years, that one fact has stayed pretty much the same for Democrats in statewide races.
It's not quite as true as it once was—after all, Detroit used to be a much bigger city.
But it's still important. And in tight races, it's critical.
"This is a turnout game, and in a turnout game every vote counts. If you don't find those votes in Detroit, you've got to get them somewhere else, and your options are limited," says Nancy Kaffer, a columnist for the Detroit Free Press.
Kaffer says Democrats got a harsh reminder in 1990. That's when incumbent Governor Jim Blanchard, a Democrat, faced off against Republican John Engler.
"Jim Blanchard and the legendary Detroit Mayor Coleman Young did not get along," Kaffer says. "Coleman did not campaign for Blanchard, and Blanchard lost by 17,000 votes."
The Mike Duggan factor
This year, Michigan Democrats have staked more than ever on a voter turnout-based strategy. And with the Governor's race tight, they know they need to squeeze every vote they can out of Detroit.
So they've brought in some big guns to rev up the party's base—like First Lady Michelle Obama, who rallied support for Michigan Democrats in early October.
"Detroit, you alone can change the nature of this election," Mrs. Obama told an energetic crowd at the Detroit Music Hall. "Right here in this city. You can do it!"
Other speakers echoed that same turnout message, including Detroit Mayor Mike Duggan. He told the crowd that Democrats can prevail—even if Republicans have the edge when it comes to money.
"As much money is spent against them [Democrats], one thing is true on election day—their vote counts exactly as much as yours, as long as we come out and vote!" Duggan said.
Duggan has endorsed Mark Schauer, and the two have campaigned together.
The two men certainly don't have the kind of strained relationship that Jim Blanchard had with Coleman Young.
But as Free Press columnist Nancy Kaffer points out, there's a widespread sense in political circles that Duggan's support for Schauer has been less than enthusiastic.
"I'm not sure that the campaigning and the stuff that he's been doing for Schauer is quite as vigorous as it could be," Kaffer says.
There's also a sense that Duggan has a good working relationship with Gov. Snyder—a definite edge for the mayor of a city facing continued state oversight after bankruptcy.
On an early September episode of the Fox 2 Detroit show "Let it Rip," host Charlie Langton brought that up with Michigan Democratic Party Chair Lon Johnson.
"Will Mike Duggan endorse Mark Schauer?" Langton asked Johnson
"He already has," Johnson replied.
"But he's working so well with the Governor," Langton pointed out.
"Well, you know again, there's government and there's politics," Johnson said. "And he's already endorsed Mark Schauer, he's working very actively to help us in the city of Detroit…we have every faith and confidence that he'll be there."
Have Democrats done enough?
But Johnson's confidence isn't shared by some in Detroit political circles.
Adolph Mongo, a longtime, controversial city political consultant, has loudly criticized the Democrats' efforts in Detroit this campaign season.
Recently, on the local political show Detroit Wants 2 Know, Mongo accused the party of taking African American support for granted for too long—and said its rhetoric just doesn't connect with most Detroiters anymore.
"They [Democrats] don't want to spend the money," Mongo said. "They give a couple dollars to some of these preachers in this community, and they think that's all they need to do."
Schauer and Democrats say that's just not true. And they have made Governor Snyder's heavy-handed use of emergency managers a big campaign issue.
Democrats note that at some point under Snyder's rule, about half the state's African Americans lost the right to a meaningful vote in local elections.
But Mongo says that issue won't help Democrats generate turnout.
"They got to get all these people out to vote," Mongo said. " And those urban areas have been on lockdown with emergency financial managers. People feel that their vote don't count."
Clearly, Democrats hope any sense of disenfranchisement will have precisely the opposite effect on black voters—to Mark Schauer's benefit.
They also hope a weekend visit from the biggest Democrat of all—President Obama—will energize enough Detroiters to push Schauer over the top next Tuesday.