The Detroit Journalism Cooperative is an integrated community media network providing insight on the issues facing Detroit. It features two radio stations, an online magazine, five ethnic newspapers, and a public television station-- All working together to tell the story of Detroit.The DJC includes Michigan Radio, Bridge Magazine, Detroit Public Television, WDET, and New Michigan Media. To see all the stories produced for the DJC, visit The Intersection website.Scroll below to see DJC stories from Michigan Radio and other selected stories from our partners.
Detroiters looking for help with water bills hit barriers, funding confusion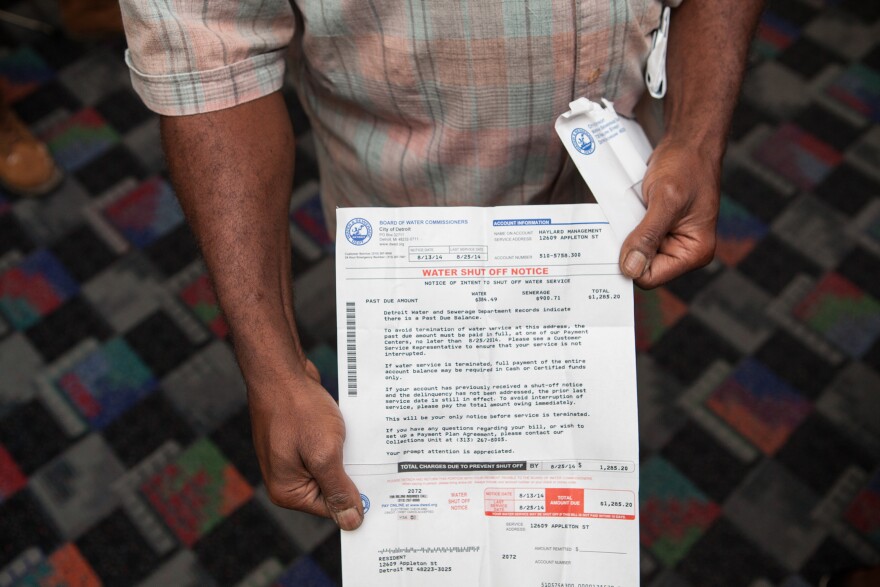 Detroiters looking for help with their water bills are hitting some barriers, as a new aid program tries to get a handle on its funding situation, and navigate confusion between the different agencies involved.
The Water Residential Assistance Program (WRAP) just launched in March. It was touted as a comprehensive solution to Detroit's chronic problem with delinquent water bills, and the subsequent service shutoffs that have hit tens of thousands of households over the past three years.
But program administrators say it's already committed nearly all the funds allocated to the city of Detroit for the program's first year, and some applicants are being told the program is closed for now.
Nicole Hill discovered this last week, when she called to see if she could enroll in WRAP.
"And they had no funds, and they didn't have any other agencies they could forward me to," Hill said. "They said they might have something around mid-fall. It's so many people either in need of water, or in need of shutoff assistance."
That's true, says Mia Cupp of the Wayne Metro Community Action Agency, which administers the WRAP for the Great Lakes Water Authority. Cupp says the program's structure is one reason it's going through money so fast.
"They [GLWA] want to kind of do some behavior change. I think that's what the program is designed to do--you stay current for six months, we reward you with a lump sum payment…it's creating this [situation where] we have to hold back funds. They're committed to people [already enrolled.]"
WRAP provides customers with $25 a month to cover current bills, while freezing their arrears. Customers who stay current for six months are then eligible for money to cover a portion of their debts, and for more debt relief after twelve months of successful repayment.
But Cupp says the bigger reason is the overwhelming need for assistance in Detroit, where 23,000 households faced imminent water shutoff when WRAP launched in March.
"The need is crazy," she said. Furthermore, the average arrearage has come in around $858 per household—about $200 higher than projected.
Wayne Metro has already committed additional funds from its own budget, and informed the GLWA board about the situation. The program will reach its "budgeted annual target for Detroit" by August 31, according to a letter presented to board members.
But the Detroit Water and Sewerage Department, which helped craft and implement the program, takes a somewhat different view of the situation.
WRAP has earmarked nearly $2 million for Detroit residents, and also has "additional funding once the original amounts have been expended," said DWSD spokesperson Linda Clark.
"DWSD maintains that WRAP is not nearing the end of the dollar allocation for Detroiters, and encourages Detroit residents to reach out to Wayne Metro should they require assistance."
Clark said DWSD and Wayne Metro leaders will meet to iron out any difficulties with the program.
If those funds are forthcoming, "That's awesome," Cupp said. "We'll take it, and we will start enrolling people again after August 31. Those funds will probably not last beyond the calendar year."
A new dedicated revenue source for the program will kick in on March 1, 2017. That's when the GLWA will begin committing 0.5% of the system's total revenues to WRAP.
UPDATE: The above story was updated to include comment and additional information from the Detroit Water and Sewerage Department.
Support for the Detroit Journalism Cooperative on Michigan Radio comes from the John S. and James L. Knight Foundation, Renaissance Journalism's Michigan Reporting Initiative, the Ford Foundation and the Corporation for Public Broadcasting.