Our first Issues & Ale event of the election season: a recap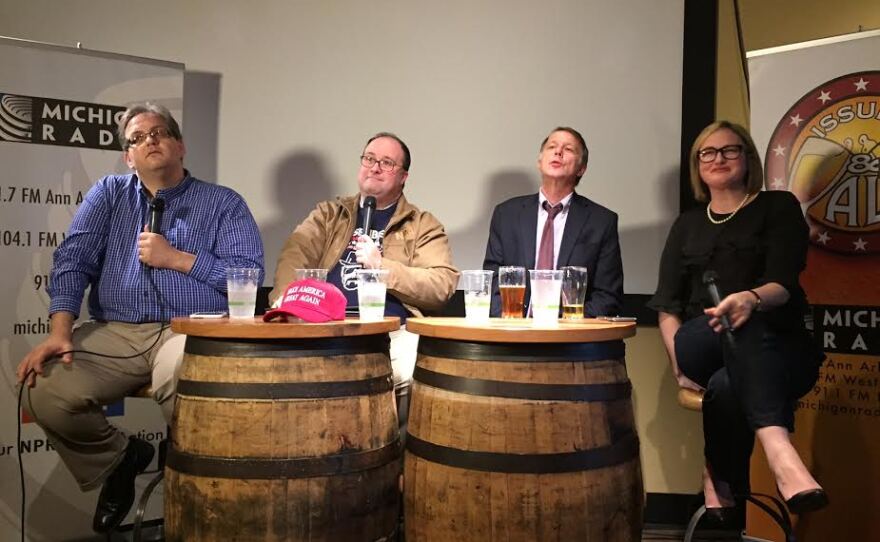 From left to right (not necessarily politically speaking): Joe DiSano, Joe Munem, Rick Pluta and Zoe Clark
Jodi Westrick / Michigan Radio
A button from the event
Jodi Westrick / Michigan Radio
The event was held here, at the Beer Grotto in Lansing.
Jodi Westrick / Michigan Radio
Joe Munem makes a point
Jodi Westrick / Michigan Radio
The audience waits for the show to begin.
Jodi Westrick / Michigan Radio
An audience member speaks with host Zoe Clark.
Jodi Westrick / Michigan Radio
We kicked off our first Issues & Ale event of the election season Monday night at the Beer Grotto in Lansing.
Zoe Clark and Rick Pluta, Michigan Radio's It's Just Politics team, led the discussion. The evening's panelists were political consultants Joe DiSano and Joe Munem, co-hosts of the podcast Two Guys Named Joe. The night's conversation revolved around Michigan's role in the upcoming presidential election.
When everyone settled on their stools with pints in hand, Clark began the event. She posed a question many voters in the state are asking as we inch closer to the election:
HOST QUESTION: Is Michigan in play?
From the Democrats' point of view, DiSano said, "Not quite."
"But I think it is being watched very, very carefully," he said.
Michigan is what he'd call a "maintenance state" for Hillary Clinton. Donald Trump, on the other hand, needs Michigan. He needs a win in the upper Midwest, DiSano said.
From the Republican point of view, Munem said Michigan "is absolutely in play."
Candidates weren't visiting our state four years ago, he said, but they are now.
"Believe me, if Hillary Clinton and Donald Trump didn't think there was some wiggle room to win votes here, they wouldn't be here," he said. "They'd be elsewhere."
The two main party candidates were not the only focus of last night's discussion, however. In fact, Munem told the audience he will not be voting for Trump this year. Instead, he'll vote for Gary Johnson.
On that third-party note, several questions also came from the audience:
AUDIENCE QUESTION: Does this election suggest potential for a future of more than two parties in this country?
DiSano said for the health of the country, he'd love to see a competitive third party come forth.
"But I really don't see it happening," he said. "Because, as we've seen over the history of this country, one of the two parties usually absorbs the ideas and the energy of the emerging parties."
AUDIENCE QUESTION: I realize some people say Trump is not part of the establishment and that's why they like him, but does that mean they're willing to look over the racism, the misogynistic tendencies and the xenophobia?
Munem said Trump faced 16 different opponents during the Republican primary.
"They ranged the spectrum of Republicans," Munem said, "and he demolished all of them."
"Because everything you just described – the racism, the misogyny – that's a selling point," DiSano said. "It's a feature."
HOST QUESTION: What issues will make people go from being apathetic to deciding it's important to cast their votes?
"I find issues that make you very, very angry," DiSano said.
He said "the heart beats the brain" is a rule many voters operate under, and resentment toward others gets a lot of people to the voting booths.
Like Trump supporters, he said Democrats do this too.
"It's just a little bit more polite," he said. "I mean ,what do you think taxing the one percent is? It's resentment too. It's sound policy in my mind, but it's also a motivator and it's based in resentment."
Once at the ballot box, Munem said voters this year still might wonder what to do next.
"Take a selfie!" an audience member suggested.
Listen below to hear Pluta explain why you can't legally take a selfie at the ballot box in Michigan.
For the full Issues & Ale conversation, listen above.